With the Code Vein release date of September 27 on PS4, Xbox One, and PC, Bandai Namco lifted the lid on the Butterfly of Delirium, one of the game's many bosses at Gamescom 2019. The trailer shows off what the company is describing as a 'poisonous pollinator' that has two heads and wings along with a second set of jaws that can strike players any time. Throw in spores that can be used for area-of-effect attacks and players will have their hands full with this latest addition to Code Vein's beautifully ruined world. Check out the trailer right here.
In addition to this, there's a new Code Vein developer diary that discusses how its world was brought to life. You can watch it below.
Code Vein demo release date
The Code Vein demo release date is September 3 for PS4 and Xbox One. A PC demo has not been announced yet.
Code Vein PS4 and Xbox One India price
Code Vein for PS4 and Xbox One is available for pre-order on Games The Shop for Rs. 3499. As of now, no pre-order bonuses have been mentioned on the retailer's listing for Code Vein. This is Rs. 500 more than the PC price of Rs. 2999 on Steam for India.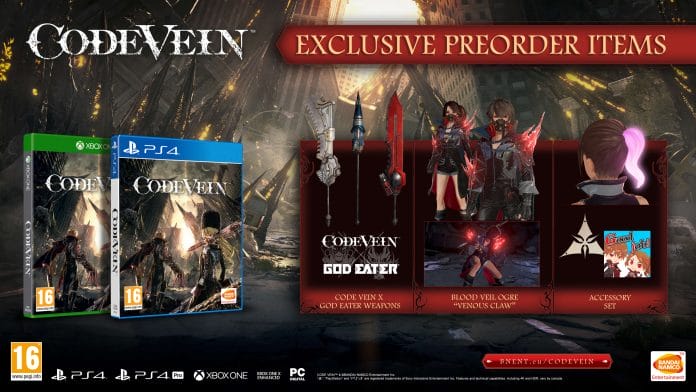 Code Vein PC, PS4, and Xbox One pre-order bonuses
Code Vein X God Eater Weapons: The Blanched Greatsword, Cerulean Spear and Crimson Longsword; three of the fan favourite weapons from the successful Bandai Namco's series God Eater are making their way to Code Vein.
Blood Veil Ogre 'Venous Claw': Venous Claw is an exclusive type of Blood Veil Ogre; a devastating short-range weapon that'll prove a Revenant's best friend in their fight against the lost.
Accessory Set: Coming with a brand-new blood code 'Harbinger' for special character stats; exclusive communication stamps for multiplayer's coordination and customisation options to make one's Revenant truly shine.
Code Vein releases on September 27 for PlayStation 4, Xbox One, and PC with the first two seeing a retail release while the PC version is digital and only available on Steam.