Persona 5 Royal from Atlus West is set to release worldwide on March 31 for PS4 but physical copies will not be reaching customers on time in India. While publishers like Capcom have issued statements for customers on social media, expect more given the current situation worldwide. Specialist retailer Games The Shop has begun sending emails to customers who pre-ordered the Persona 5 Royal SteelBook Edition notifying them about the delay. As of now, a new release date has not been announced. Expect emails or calls for a delay if you haven't already been notified for Persona 5 Royal. The email sent out to customers who pre-ordered Persona 5 Royal is below: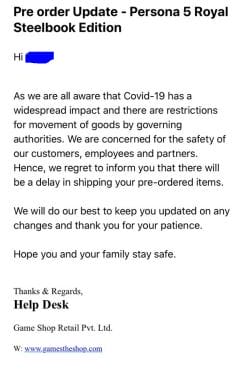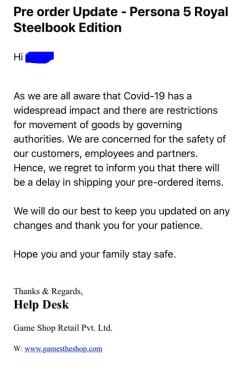 This delay shouldn't surprise anyone given the current lockdown across India where non-essential goods will not be shipped anywhere for the time being. Expect this to carry over to any games releasing during the lockdown including Resident Evil 3 Remake and Final Fantasy VII Remake.
Persona 5 Royal is a fantastic enhanced version of Persona 5 with a plethora of additional content, quality of life fixes, and upgrades. Read what we think about it here. This delay does not affect the digital release and is only for the physical edition. Details for the digital editions and DLC is here.
Persona 5 Royal releases on March 31 for PS4. When we have an updated time frame for the physical release in India, we will post about it.