The PS4 version of Shenmue 3 is getting an India release. According to a listing spotted on specialist retailer Games The Shop, Shenmue 3 for PS4 is expected to hit store shelves on November 19, the same time as the rest of the world. Although there's no price for Shenmue 3 for India just yet. Considering that Games The Shop is owned by Deep Silver distributor e-xpress Interactive, it's pretty much a given that Shenmue 3 would make it here. There's no listing for a PC physical edition of Shenmue 3, it's something European countries like France and Germany are getting. Considering India falls under Europe for Deep Silver, it's a perplexing omission.
As for the lack of price, The Mako Reactor has got in touch with e-xpress and will update this story if we hear from the company.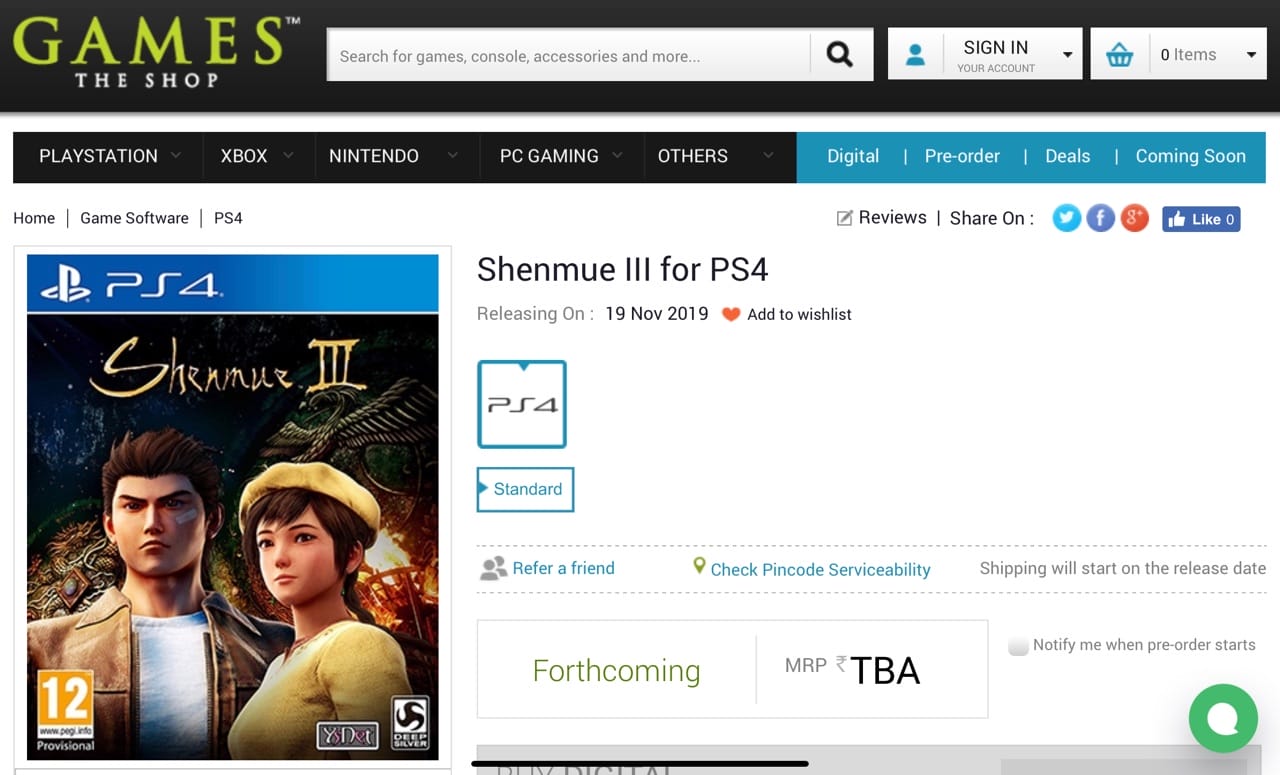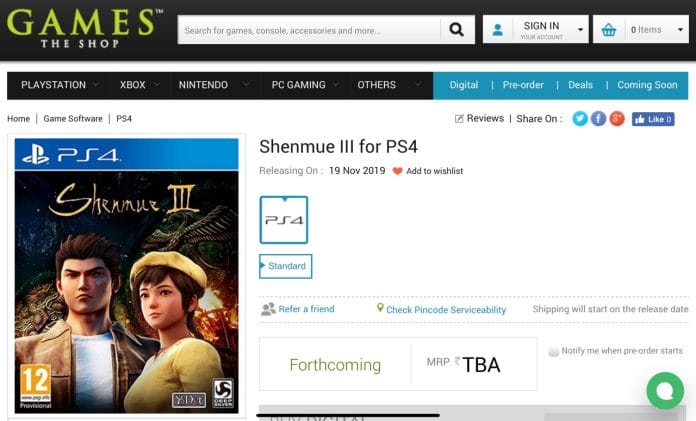 That said, the lack of price for Shenmue 3 in India may have to do with possible changes customs duties that are yet to roll out. Though if you were expecting Shenmue 3 to wrap up protagonist Ryo's epic tale of revenge, think again.
According to an interview with creator Yu Suzuki at E3 2019, the game will only take Ryo's story forward to around 40 percent. What this means is, Shenmue 3 probably won't be the last game in the series. Considering that the first game graced the Sega Dreamcast back in 1999 and continued with Shenmue 2 in 2001, Suzuki's grand plans for Ryo may need a few more years and a couple of more games to come to fruition.
When asked if Shenmue 3 will conclude Ryo's tale, Suzuki put his water bottle on the table and pointed to a spot midway along its length. "Whole story of this bottle, about here," he said via translator. Not quite halfway, though: "40 percent," he stated in an interview with USgamer.
The fact that the story Suzuki set out to tell two decades ago won't end with Shenmue 3 could leave long-time fans disappointed.
Shenmue 3 has had its fair share of controversy, what with the PC version skipping Steam.
"Shenmue 3 for PC will be will be an Epic Games Store exclusive. Development for Shenmue 3 has been moving forward using Unreal Engine and the support we have received from Epic has been excellent. But most importantly, in looking for the most enjoyable experience on PC, it was decided together with Deep Silver after much discussion that the Epic Games Store would be the best distribution platform option," reads a Kickstarter post from Shenmue 3 developer Ys Net.
There's no telling if it would hit Steam at a later date. Metro Exodus, which was also published by Deep Silver was pulled from Steam and would reappear a year after launch. Perhaps a similar deal was struck for Shenmue 3. You can check out the E3 2019 trailer for it right here.
The Shenmue 3 release date is November 19 for PS4 and PC.