While Sakura Wars is a PS4 game slated for April 28 of this year, it's also the latest entry in a 24-year old franchise of the same name that has its origins on the Sega Saturn. What's more is, it's only the second game in the franchise after Sakura Wars: So Long, My Love for the PS2 and Nintendo Wii to have an English release. From Sakura Wars' unique setting and premise to having contributions from the talent behind One Piece, Bleach, and Pokemon, here's what you need to know about Sakura Wars.
You don't need to play previous Sakura Wars games
Sega claims that Sakura Wars for the PS4 is a soft reboot for the series with no knowledge of past entries to understand it. That said, there are some hallmarks from the older games that old-timers will recognise what with it sporting similar mecha designs and familiar-looking characters.
Sakura Wars setting
Sakura Wars for the PS4 is set in 1940s Japan with a fictionalised rendition of the country's Taisho period. There's a heavy emphasis on steampunk elements as well with a 19th century design aesthetic too.
Sakura Wars mecha
Mecha in Sakura Wars are known as kobu and are powered by spirit crystals, making the world of Sakura Wars an interesting mix of sci-fi and magic. Kobu aren't gigantic robots akin to those seen in Macross or Gundam, rather they're just a bit bigger than their human pilots. Kobu used for anti-demon defence are known as Spiricle Armor.
Sakura Wars gameplay
Previous mainline Sakura Wars games were an amalgamation of tactical RPG, dating sim, and visual novel genres. Sakura Wars for the PS4 cribs from its legacy with visual novel and dating sim mechanics, however it eschews tactical RPG combat in favour of real-time gameplay in combat, allowing you to directly control Spiricle Armor and attack or evade enemies as you see fit. The non-combat sections of Sakura Wars have you managing a theatre as Seijuro Kamiyama, captain of the Imperial Combat Revue — a troupe of theatre artists that pilot Spiricle Armor to stop demon invasions. You'll manage actors, take fan feedback, and deal with rival factions all while trying to keep your establishment open.
Sakura Wars anime format
Each section of Sakura Wars, much like its predecessors, is bookended like an anime episode. There are intermissions, eyecatches, next episode previews, and last episode recaps. This approach keeps the pacing consistent while keeping you hooked on what happens next.
Sakura Wars' One Piece, Pokemon, and Bleach connection
Kohei Tanaka (One Piece) composed Sakura Wars' opening song while Bleach creator Tite Kubo worked on main character designs. The game features a host of renowned guest artists too. These include Yukiko Horiguchi (K-On!, Lucky Star), BUNBUN (Sword Art Online), Fumikane Shimada (Girls und Panzer, Strike Witches), Shigenori Soejima (Persona), Noizi Ito (Melancholy of Haruhi Suzumiya), and Ken Sugimori (Pokemon).
Sakura Wars Digital Deluxe Edition contents
Legacy of Love Add-on Bundle: a pack of costumes and background music (BGM) paying tribute to:

The Flower Division of the Imperial Combat Revue (Sakura Wars 1, Sakura Wars 2: Thou Shalt Not Die)
The Flower Division of the Paris Combat Revue (Sakura Wars 3: Is Paris Burning?)
The Star Division of the New York Combat Revue (Sakura Wars: So Long, My Love)

Charming Accessories Add-on Bundle, which includes

Glasses Bundle
Dog Tail Accessory Bundle
Angel Accessory Bundle

Swimsuit DLC Bundle
Sakura Wars PS4 dual audio
Sakura Wars will only include Japanese voice acting but it will have subtitles in English, French, German, and Spanish.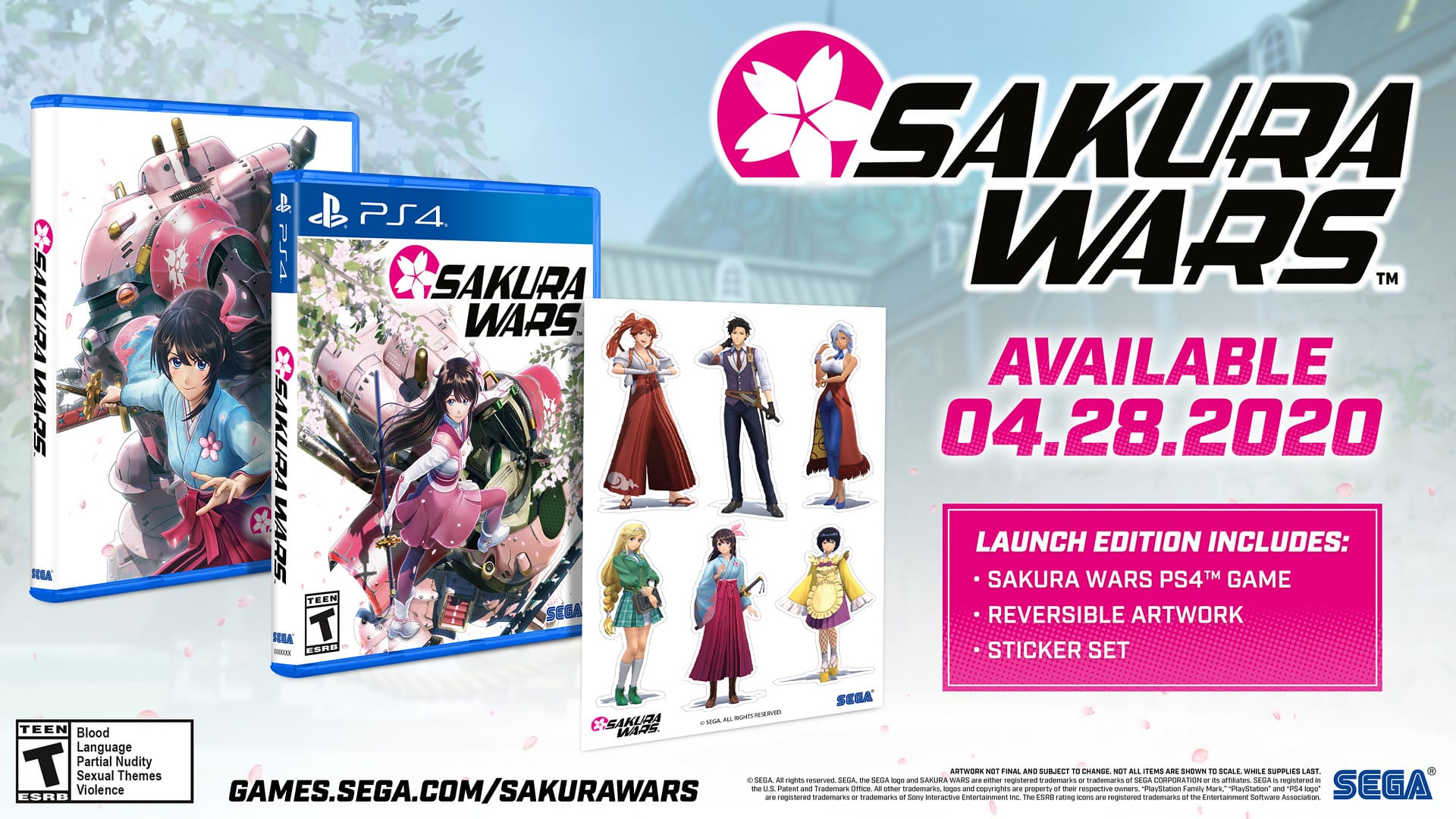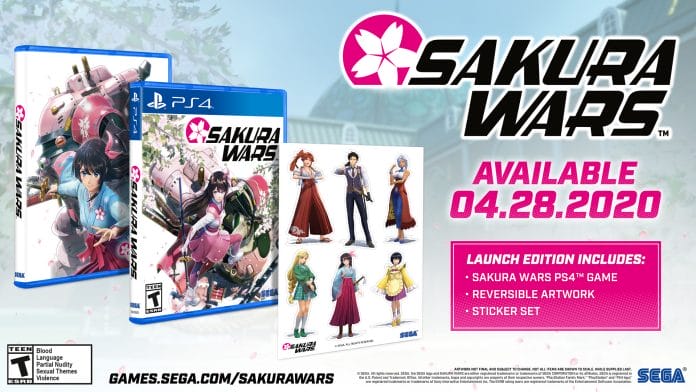 Sakura Wars PS4 launch edition
The Sakura Wars launch edition includes a reversible cover and sticker set.
Sakura Wars releases on April 28 for PS4 worldwide.