Daemon X Machina is out for PC right now via Steam. Released on the Nintendo Switch last year, it was a slick albeit overlooked action game featuring an interesting plot and a lot of customisation. While we found Daemon X Machina PC to be a fantastic port, here's what you need to know before you jump in or if you're deciding between getting it on the Nintendo Switch or PC.
Daemon X Machina PC requirements
Much like recent Japanese-developed PC games, you won't need a ridiculously powerful rig to play Daemon X Machina. In fact you can get by just fine with hardware that's a few years old what with the recommended spec requiring at least a GeForce GTX 1060. This should be no surprise given that it debuted on the Nintendo Switch, a device with far less processing and graphical prowess.
Daemon X Machina PC minimum requirements
OS: Windows 8.1/10 (64-bit)
Processor: Intel i5-3470 / AMD FX-8300
Memory: 6GB RAM
Graphics: Nvidia Geforce GTX 660 / Radeon HD7870
DirectX: Version 11
Storage: 13GB available space
Daemon X Machina PC recommended requirements
OS: Windows 8.1/10 (64-bit)
Processor: Intel i7-6700 / AMD Ryzen 5 2600
Memory: 8GB RAM
Graphics: Nvidia Geforce GTX 1060 / Radeon RX 580
DirectX: Version 11
Storage: 13GB available space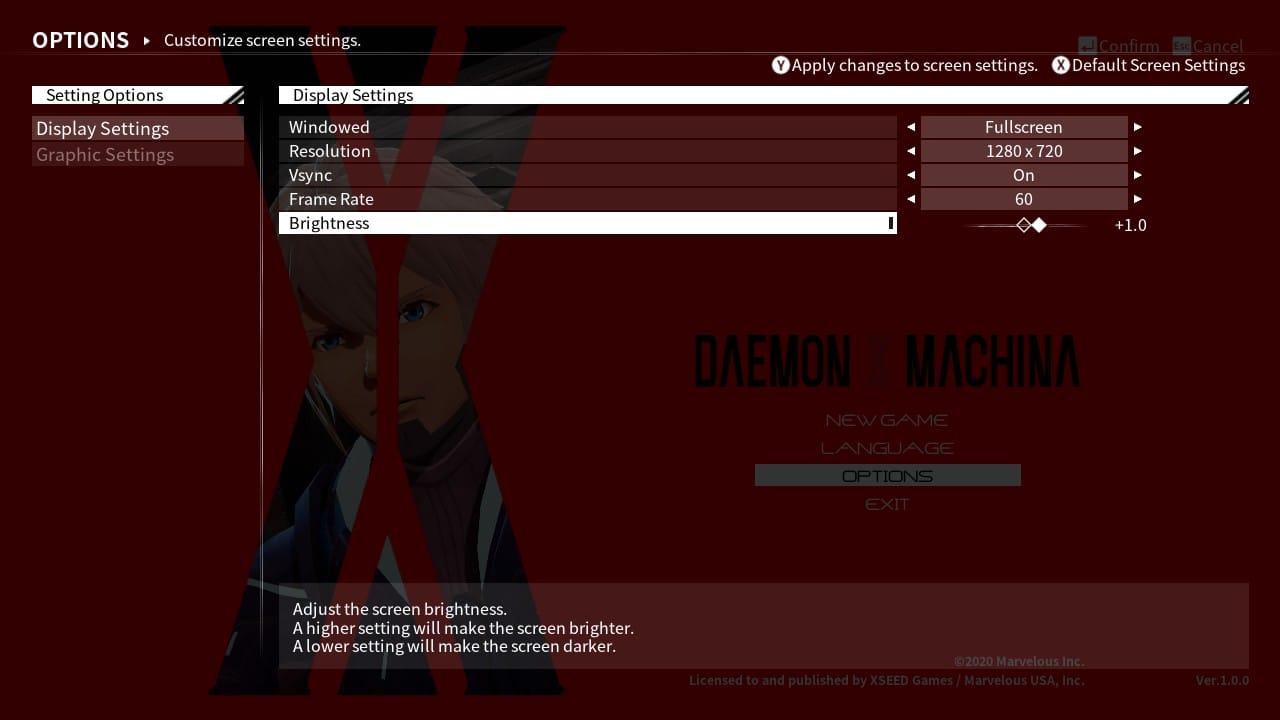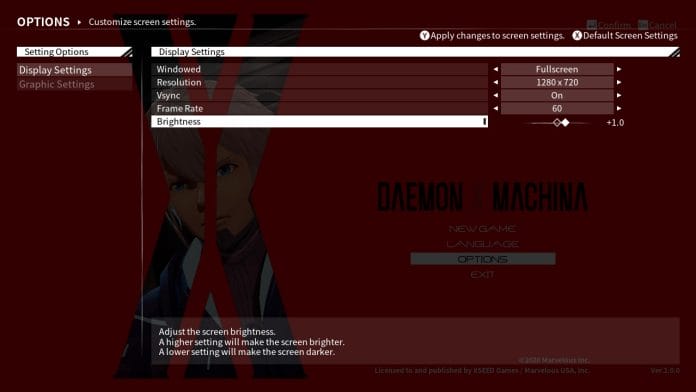 Daemon X Machina PC settings
Considering the game's art direction and visual style, it's no surprise that there are a few options to choose from. Usual suspects such as anti-aliasing, texture quality, and bloom are present in addition to being able to cap the frame rate at 30, 60, 120, 144, or 200fps. Interestingly, you can scale the resolution down to 80 percent of its original value as well with the 3D Resolution setting without impacting the HUD at all. It's a welcome addition particularly if your PC isn't the latest and greatest.
However on the other end of the spectrum, the lack of a resolution multiplier is perplexing. This would allow you to play the game in 4K even if you don't have a 4K screen. This means you can force the game to render at a higher resolution and scale it down it to your screen resolution. Although GPU makers like Nvidia let you force this with options like DSR, having it in-game would be a lot more convenient.
Daemon X Machina PC frame rate and resolution
While Marvelous hasn't stated target frame rate and resolutions for minimum and recommended specifications, our time with the game revealed you won't need too much to hit 60fps with every option maxed out.
Our Asus TUF FX505DT laptop consists of an AMD Ryzen 5-3550H processor (2.1GHz Base speed up to 3.7GHz), 16GB DDR4 RAM, and an Nvidia GeForce GTX 1650 4GB GPU, at 1920×1080 and all options cranked up to their highest, we would get a locked 60fps in all areas of play. From the myriad of levels in which most of the action takes place in to walking around your robot's hangar, there was little amiss with no frame rate drops to speak of. While our laptop is equipped with a 120Hz display, the maximum frame rate we were able to achieve when capping the frame rate above 60 was around 80 to 90fps in most sections of the game. Not too shabby all things considered.
Suffice to say, most modern PCs will be able to handle it at ease. And although we preferred playing Daemon X Machina with an Xbox One controller, it works just fine with a keyboard and mouse though you may need to tune the camera sensitivity to your liking when you fire it up.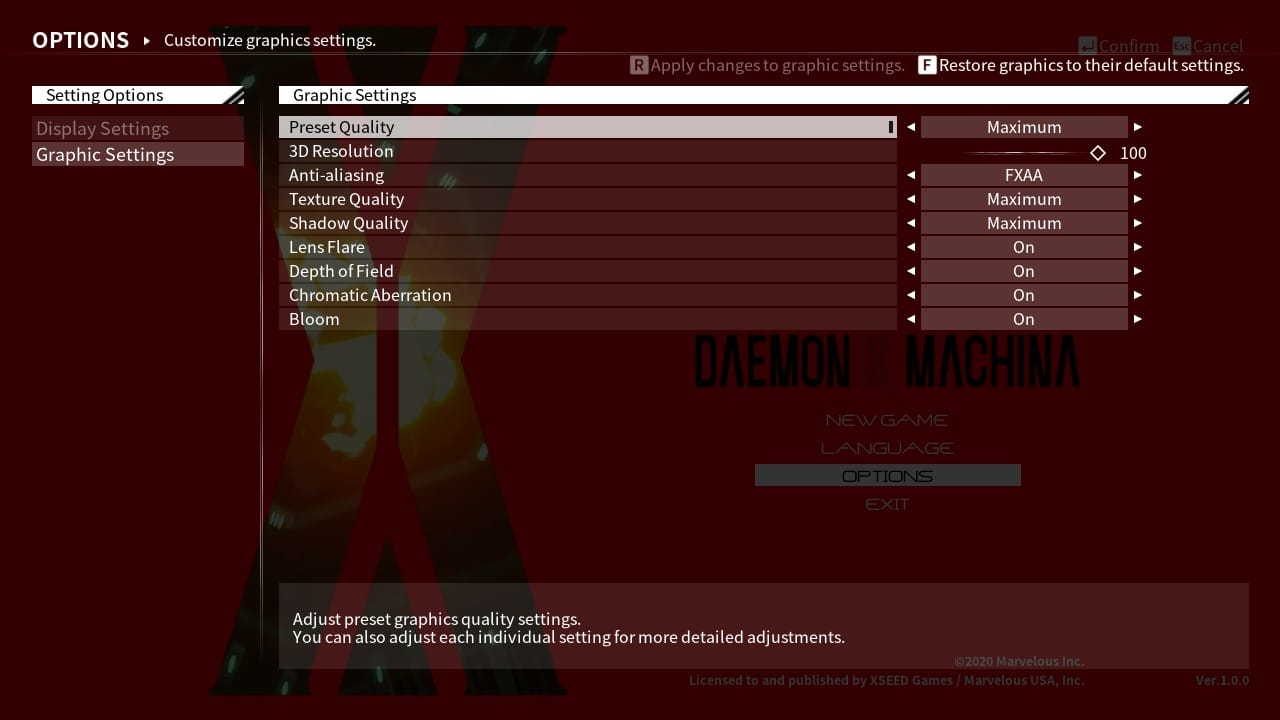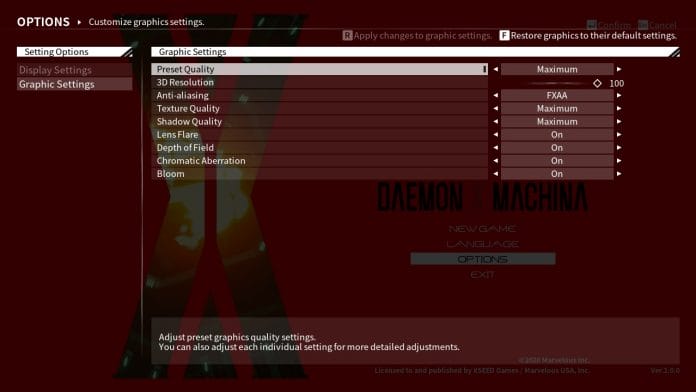 Daemon X Machina PC vs Nintendo Switch – what to buy?
We prefer the PC version of Daemon X Machina thanks to its sharper visuals, smoother frame rate, and scaleability. It is by and far the definitive version of the game in terms of sheer production values. The lower price tag and astute use of Valve's regional pricing guidelines further sweeten the deal for those of us in developing markets. Daemon X Machina is priced at $59.99 (Rs. 1,299 in India) on Steam with a 20 percent pre-order discount bringing the price down to Rs. 1,039 until February 13. The discount will drop to 10 percent off for launch week.
That said, if you prioritise your gaming on the go and are fine with the compromises that come with the Nintendo Switch in terms of blurrier graphics and the odd slow down during busy sections of play (such as an early mission involving two giant bosses), Daemon X Machina is worth considering on it as well.
Thankfully, there's a demo on the Nintendo eShop to help you decide. One thing that the PC version of the game doesn't have is the cosmetic DLC. The Witcher 3 collaboration is exclusive to the Nintendo Switch for those in English speaking markets and Japan while the Code Geass and Eureka Seven sets are Japan-only for Nintendo's console.
Though we can't help but feel that Marvelous missed a trick by not including cross-save like Divinity 2 does between its Steam and Switch offerings.
As we noted in our review, the core contents of Daemon X Machina are great thanks to its story, moment to moment gameplay, and intriguing characters, so regardless what you choose, you're in for a good time. Granted the Switch version of Daemon X Machina may be perfect for some who prefer portability in a convenient form factor above all else, to us the enhanced optimisations on PC make it the way to play.
The Mako Reactor has affiliate partnerships. These do not influence editorial content, though The Mako Reactor may earn commissions for products purchased via affiliate links.