With the Code Vein release date of September 27, retailers have listed what pre-order bonuses you can expect for Bandai Namco's anime take on Dark Souls. These include weapons, some of which have been inspired by the company's Monster Hunter rival, God Eater, an accessory set, and Venous Claw, a Blood Ogre power. All three are touted to be exclusive for Code Vein pre-orders only. It's unknown if these would be timed or permanent if at all.
Code Vein PC, PS4, and Xbox One pre-order bonuses
Code Vein X God Eater Weapons: The Blanched Greatsword, Cerulean Spear and Crimson Longsword; three of the fan favourite weapons from the successful Bandai Namco's series God Eater are making their way to Code Vein.
Blood Veil Ogre 'Venous Claw': Venous Claw is an exclusive type of Blood Veil Ogre; a devastating short-range weapon that'll prove a Revenant's best friend in their fight against the lost.
Accessory Set: Coming with a brand-new blood code 'Harbinger' for special character stats; exclusive communication stamps for multiplayer's coordination and customisation options to make one's Revenant truly shine.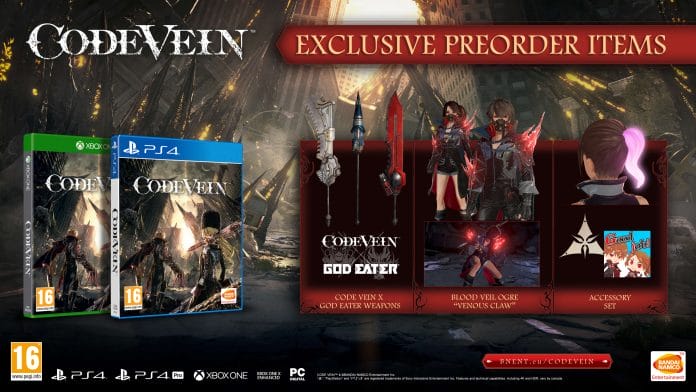 Code Vein India pre-order bonuses for PC, PS4, and Xbox One
While these are also available for Code Vein digital pre-orders, it's unknown if physical pre-orders will have these. Reason being, past Bandai Namco releases like Ace Combat 7 didn't have pre-order bonuses, such as Ace Combat 5 available at local retailers in the country.
Code Vein is out on September 27 for PS4, Xbox One, and PC.