Record of Lodoss War: Deedlit in Wonder Labyrinth developers Team Ladybug and WSS Playground alongside publisher Playism recently announced a Drainus Nintendo Switch port. Drainus is a 2d side-scrolling shoot 'em up that debuted on PC via Steam. Read my review of the PC version here. Today, Playism announced the Drainus Switch release date. It was announced for release this winter, and has been confirmed for February 2, 2023. Strictly Limited Games is doing a physical release and collector's edition as detailed here. Watch the Drainus Switch trailer below:
Drainus Switch physical release pre-order
Check out the limited edition and more here.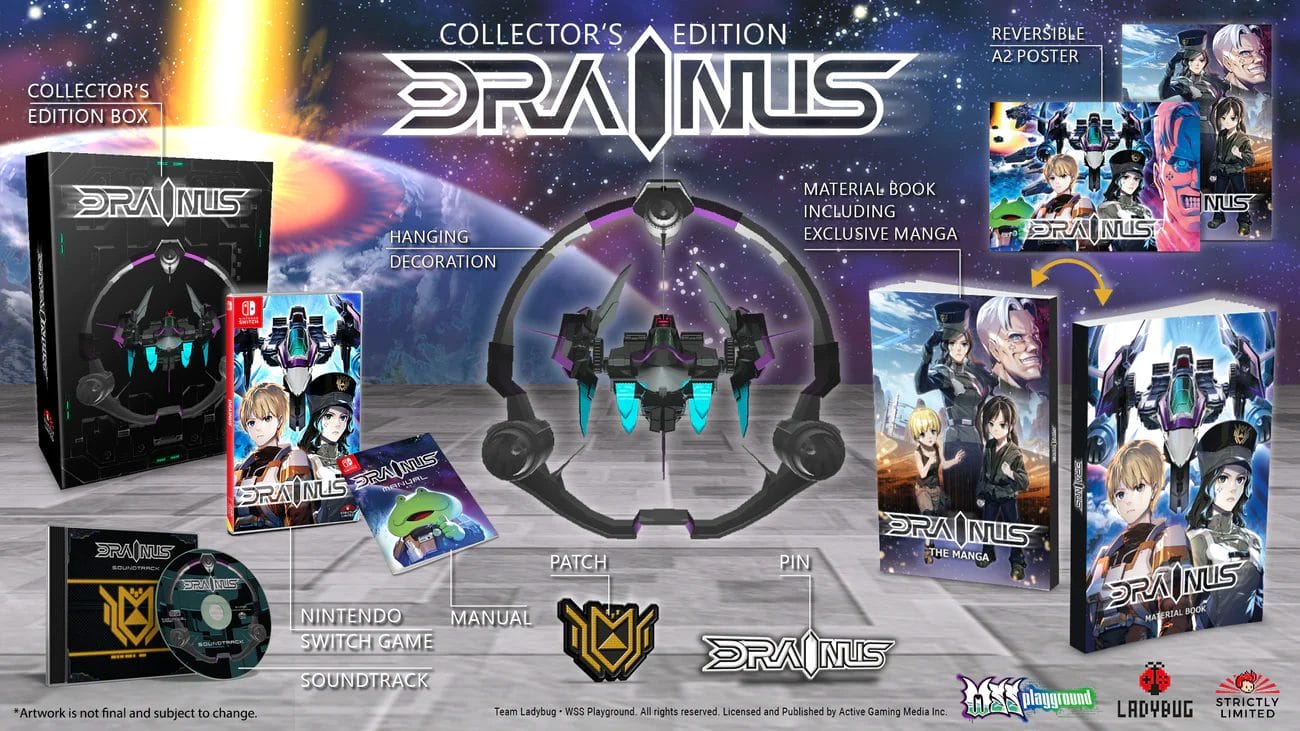 Drainus Switch Collector's Edition
The Strictly Limited Games exclusive Collector's Edition is priced at 69.99€/$69.99. It is limited to 1500 copies worldwide. Pre-order it here.
Game for Nintendo Switch
Collector's Edition Box with magnetic latch
Colorful Game Manual 
Material Collection Book with an exclusive manga and exclusive interview in both English and Japanese, as well as behind-the-scenes material about the development
Details: Hardcover, A5 size (14.8 x 21 cm/5.8 x 8.3 in)
Drainus Acrylic Hanging Decoration
Details: Diameter approx. 14.5 cm/5.7 in
DRAINUS Original Soundtrack, 1 CD
Textile Patch with the emblem of the Kharlarl Empire
Details: Diameter approx. 6 cm/2.36 in
DRAINUS Enamel Logo Pin
Details: approx. 5 x 3 cm/1.97 x 1.81 in
Double-sided Poster
Details: A2 size (42 x 59.4 cm/16.53 x 23.39 in) folded to A5 size (14.8 x 21 cm/5.8 x 8.3 in)
Drainus PC price on Steam
You can buy it on Steam here. It was priced at $14.99. If you, like me, own Touhou Luna Nights and Record of Lodoss War: Deedlit in Wonder Labyrinth, you get 20% off.
Drainus is out now on PC and it releases on February 2, 2023 for Nintendo Switch.