Bandai Namco Entertainment and Spike Chunsoft are bringing the anime arena fighter Jump Force to Nintendo Switch as Jump Force Deluxe Edition that includes some DLC. Jump Force Deluxe Edition will include the first season pass of Jump Force on other platforms while the second pass will be released later on for Nintendo Switch and other platforms. Today, Bandai Namco Entertainment announced the release date for Jump Force Deluxe Edition for Asia, Japan, and Europe. Watch the new Nintendo Switch trailer for Jump Force Deluxe Edition below:
Jump Force Nintendo Switch resolution and frame rate
On Nintendo Switch, Jump Force will target up to 1080p when played docked under a TV and 720p when played portable. The company specifies that this will change depending on what is happening on screen. Jump Force will target up to 30fps on Nintendo Switch. It is worth noting that while the website says 30fps for Xbox One, it drops often on Xbox One X for me. It is going to be interesting to see how much the frame rate fluctuates on Nintendo Switch both docked and handheld.
Jump Force Nintendo Switch pre-order bonus
The early purchase bonus for the physical release is Frieza's small pod that you can use in the online lobby, three in-game avatars suits from One Piece, Dragon Ball, and Naruto, and an item set for the game.
Frieza's Small Pod
3 Avatar Suits: Frieza soldier's Battle Jacket, Pirate Coat, Fourth Hokage Cloak
Item set useful in the beginning of the game
JUMP Logo T-shirt
Pirate Logo T-shirt
V JUMP Hoodie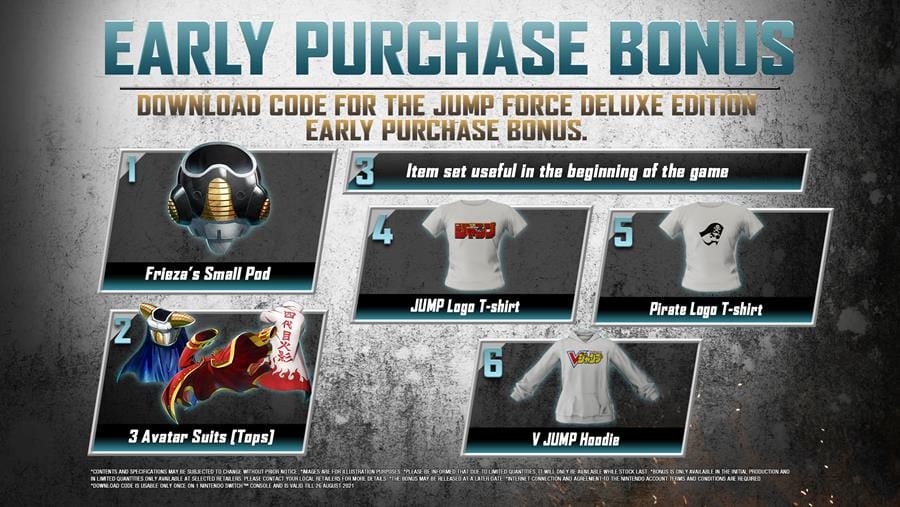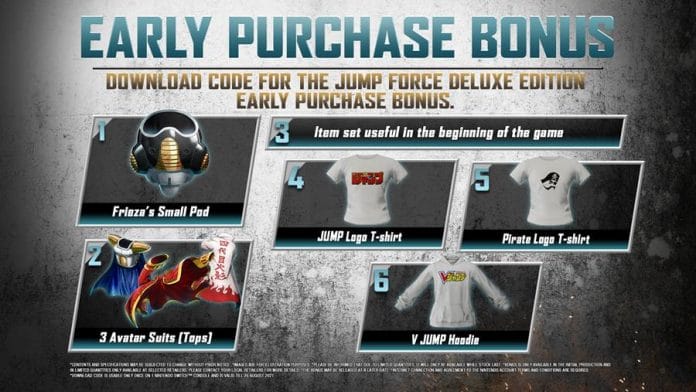 Will Jump Force release on Nintendo Switch in India?
Considering Jump Force made it to India on Xbox One, it is possible the Nintendo Switch version will get a retail release eventually. Games like this usually only see a PS4 retail release in India.
Jump Force local wireless support on Nintendo Switch
On Nintendo Switch, Jump Force supports up to 6 players offline and supports local wireless between two consoles going by the website.
Jump Force is now available on PS4, Xbox One, and PC. Jump Force Deluxe Edition arrives on August 27 for Nintendo Switch in Asia and August 28 in the West.
Update: Added Western release date revealed by Bandai Namco Entertainment Europe.