With Monster Hunter World: Iceborne set to arrive in little over two weeks, Capcom released a detailed developer update video where a lot of the upcoming changes were discussed. In addition to the new story content and various new monster additions, Monster Hunter World: Iceborne brings a plethora of balance changes, new features, and enhancements to the core gameplay of not only the new region but also the base game.
Monster Hunter World: Iceborne patch 10.10 release date
Monster Hunter World: Iceborne patch 10.10 goes live at 5:30 AM on September 5 for both PS4 and Xbox One.
Monster Hunter World: Iceborne patch 10.10 download size
Players who are on the latest update which is 6.02 on PS4 and 6.0.0.2 on Xbox One will need 33GB and 31GB of space for the update. This is only for this major update and not for the updates that follow. Capcom also specifies that Monster Hunter World and Monster Hunter World: Iceborne Master Edition owners who havce the disc version will need 50GB on PS4 and 45GB on Xbox One for the initial update.
Items and headings indicated with a '*' are available to all owners of Monster Hunter World as well as those who own Monster Hunter World: Iceborne.
Monster Hunter World: Iceborne patch notes
Story
A new story that starts after the ending of Monster Hunter: World has been added.
Master Rank added.
New Headquarters and Gathering Hub added.
New locales and endemic life added in line with the new story.
New monsters added in line with the new story.
New weapons, armor, and skills added.
Guardian armor set and items to upgrade your weapons are available by talking to room service. These effective items will help players to advance through the beginning of the game.*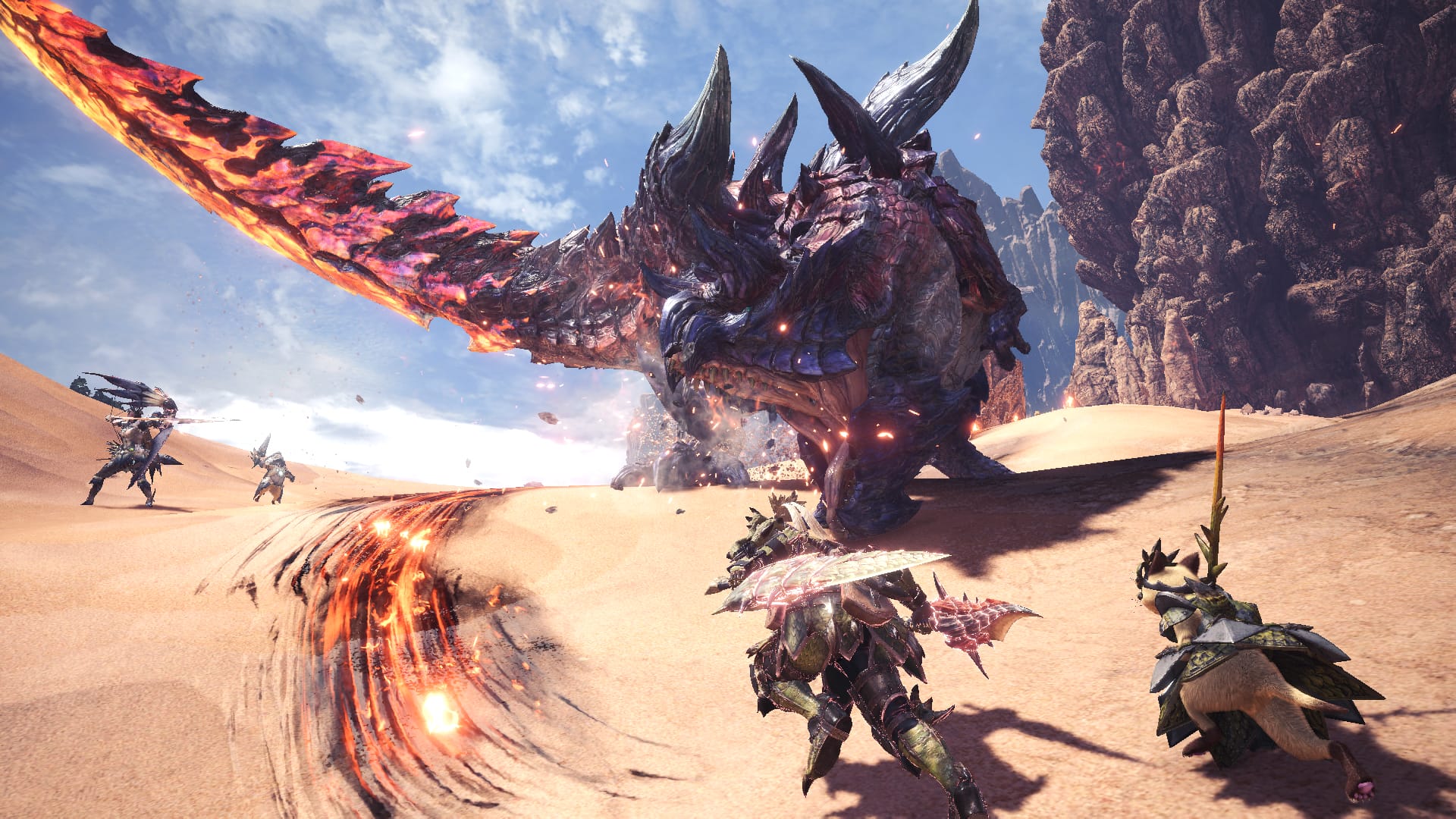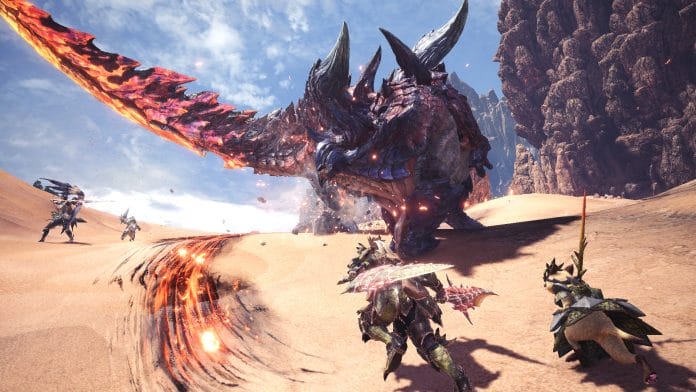 New actions
Clutch Claw added.
New moves and combos, etc. added to all weapons.
All weapons can now fire the Slinger with the weapon unsheathed.
New training area features added.
Increased Palico level and gadget proficiency.
Tailraiders can now be mounted after establishing good relations with the Lynian tribes. Tailraider monsters will automatically move to areas when directed.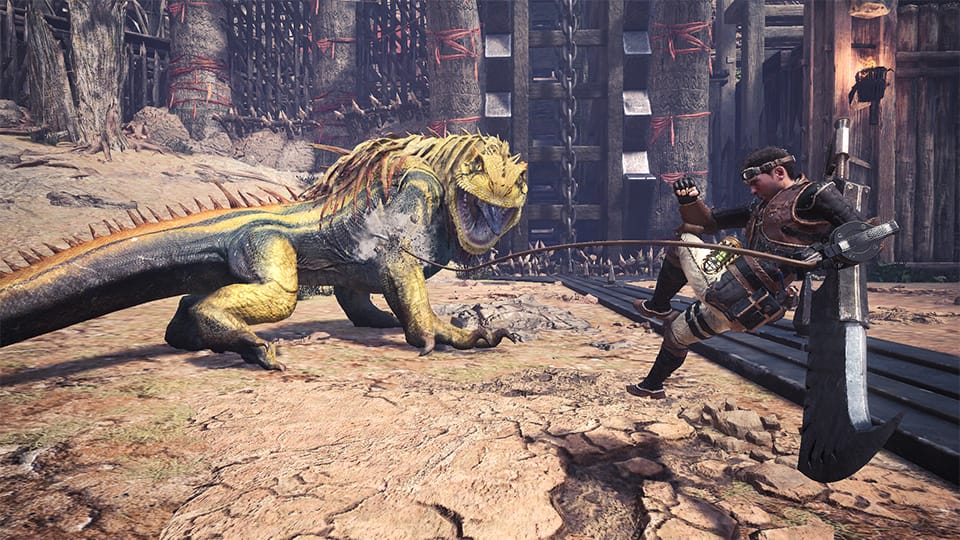 New system features
View Mode for taking screenshots has been added. View Mode can be accessed from the start menu under System.*
New character parts added.
Character creation now features numerical values for your character's customization.
Your room in Seliana can now be redecorated.*
The Radial Menu can now be used while in base for things such as gestures, poses, and stickers.
HUD display options added.
New emblem designs for the squad emblem, as well as the ability to re-edit emblems has been added.
Sub-leaders can now be assigned to a squad.
Squad Card added – A Squad Card is similar to a Guild Card in that only the Squad leader and sub-leader can give it to other players. Players who accept a Squad Card can use it to send a request to join the squad.
Palico Edit Vouchers can now be purchased from the store, allowing you to change the appearance of your Palico.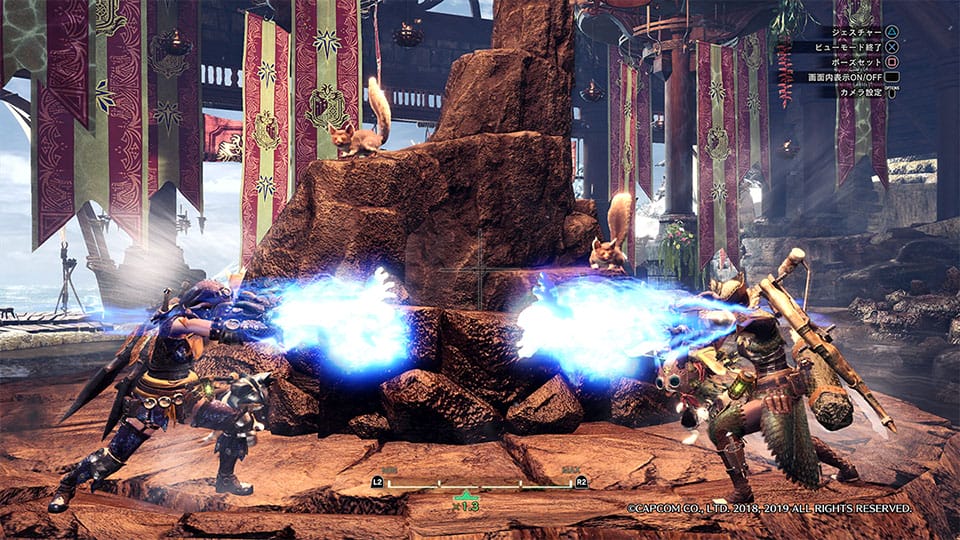 Major changes
Temporal Mantle effects have been changed and adjusted.*
Some skill effects have been fixed.*
Some weapon effects have been fixed.*
The decoration name below has been changed:*
"Smoke Jewel" > "Survival Jewel"*
The skill names below have been changed:
"Sporepuff Expert" > "Survival Expert"*
"Aquatic Expert" > "Aquatic/Polar Mobility"*
Two player difficulty has been added to multiplayer.*
When going on a quest with two players, the difficulty will be adjusted to this setting.*
Extra slots for item loadouts.
Extra slots for the equipment box and equipment loadouts*
Extra slots for your wishlist.*
The Research Base now has a Smithy proxy and Resource Center.*
Layered armor can now be created at the Smithy.*
Some rules for the display colors of character names have been changed.*
Endemic life now appears in a variety of sizes.*
Palicoes
Max level cap raised from 30 to 50.
Gadget proficiency level cap raised from 10 to 15.
Tailraider Unity level cap raised from 5 to 10.
Palicoes will now perform the same gestures as the player when at a table.*
Camera*
When the focus camera is being used, guarding will not follow the monster.
Lock-on and targeting canceling as well as switching targets can no longer be performed with the R3 Button when you are aiming the slinger with your weapon drawn.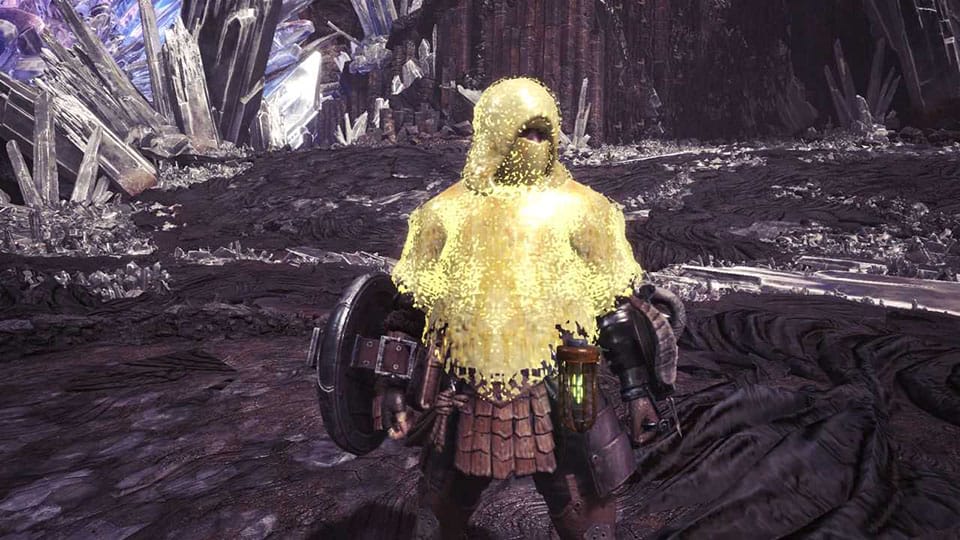 Abnormal status*
The health gauge is always displayed when afflicted with Bleeding.
The health gauge is always displayed when afflicted with the Effluvium.
Stun accumulation goes down faster.
Fixed an issue where the timer would reset and the player would be afflicted with Defense Down (L) when already afflicted with Defense Down (S).
Fixed an issue where the timer would reset and the player would be afflicted with Blight Resistance Down (L) when already afflicted with Blight Resistance Down (S).
Quest adjustments*
Track gathering volume has been adjusted for low and high rank game progression.
When accidentally dropping into an area other than the camp when the quest starts, the player will end up either in an area with good gathering points or in the same area as the monster.
After completing an optional quest, you can now set your return destination in the options.
New acknowledgments have been added to the Hunter Highlights that appear after completing a quest.
These acknowledgements may feature the same person in multiple categories.
A new feature has been added to summarize the Hunter Highlights.
Monster adjustments*
When the player is a certain distance away, attacks from outside the area may not inflict damage.
Monster breath attacks will no longer trigger certain interactables such as Vitalilies or Sporepuffs.
Near death, monsters will no longer go to sleep at their nest if the player is present.
Monsters with friendly relations (Rathalos and Rathian, for example) will no longer flinch when hit by each other's attacks.
Fixed an issue where the abnormal status effect would accumulate even when already afflicted with that status.
Quest difficulty will now scale in real-time according to the number of players in the quest.
Monsters will go into rage mode less easily during low and high rank multiplayer quests.
Guard directional hitboxes of certain attacks that are difficult to block have been adjusted so that players will not be hit by unintended attacks.
Certain attacks of Teostra will now do slightly less stun damage.
Certain attacks of Kirin will now do slightly less damage.
The frequency of how often monster partners (Rathalos and Rathian, for example) will call for each other has been reduced.
Tweaked the effect length of monster roars and tremors on players
Regular attacks will no longer leave wound marks on the monsters, as clutch claw attacks will now do that when a monster part has been wounded.
When a monster calls for a partner, the corresponding monster's roar can now be heard.
Monster dung will be generated from a location between the monster's legs.
Monsters will now build a tolerance to flash attacks. While monsters will be less susceptible to flash attacks or be completely immune to them for a period of time, their tolerance will reset afterwards.
Monsters that appear in a master rank expedition will now stay in the locale longer.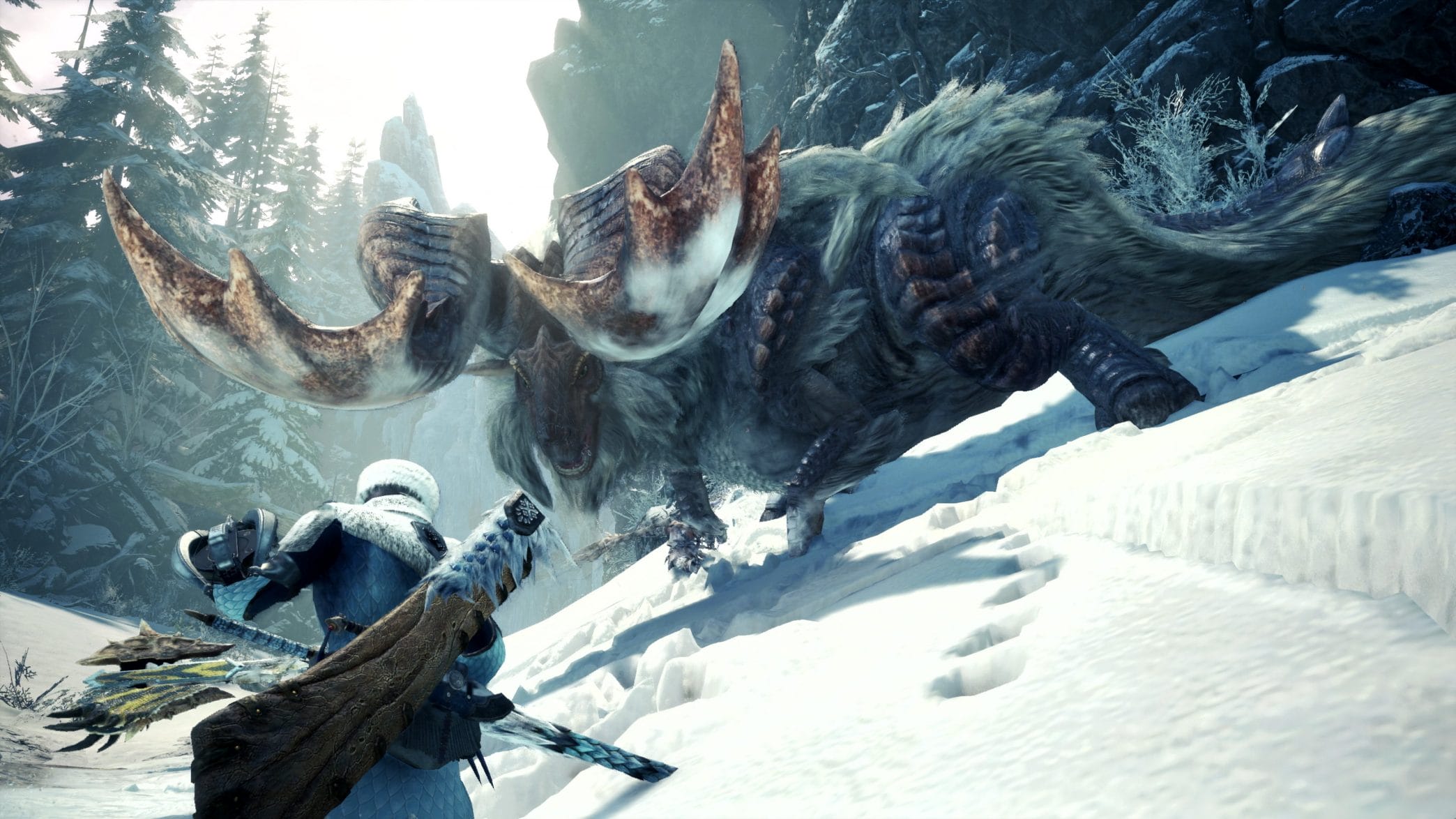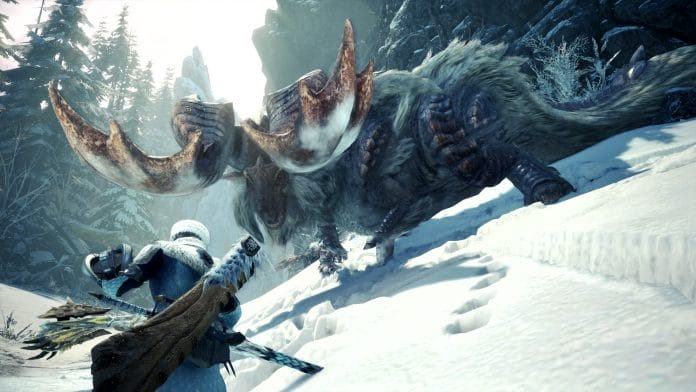 User interface
Options*
Default return destination after a quest can now be changed.
Health and Stamina gauges can be set to display at all times.
HUD On/Off customization options added.
For HDR settings, in addition to brightness and color, you can now adjust contrast. Each option can now be adjusted in greater detail.
Color Blind settings added.
Camera & Scoutfly settings added.
Super Fast option added to camera speed.
Super Fast option added to reticle speed.
Type 4 added to Item Control Settings.
Player Silhouette Display setting added.
Hunting Horn Button Guide setting added.
Character Name display setting added.
Trajectory Reticle Controls added.
Chat Window, Shoutouts, Stickers, Gestures, Poses*
Chat window size, Font size, Weapon icon, and text color display rules added.
Filter feature updated.
New shoutouts added.
Auto-translation feature added to automatic shoutouts.
Custom shoutout space added.
New stickers added.
New gestures added.
Set poses and pose sets added.
Custom radial menu*
Options for linking the Custom Radial Menu to Item Loadouts added.
Custom Radial Menu for use within headquarters added.
Craft All option added to Custom Radial Menu.
View mode*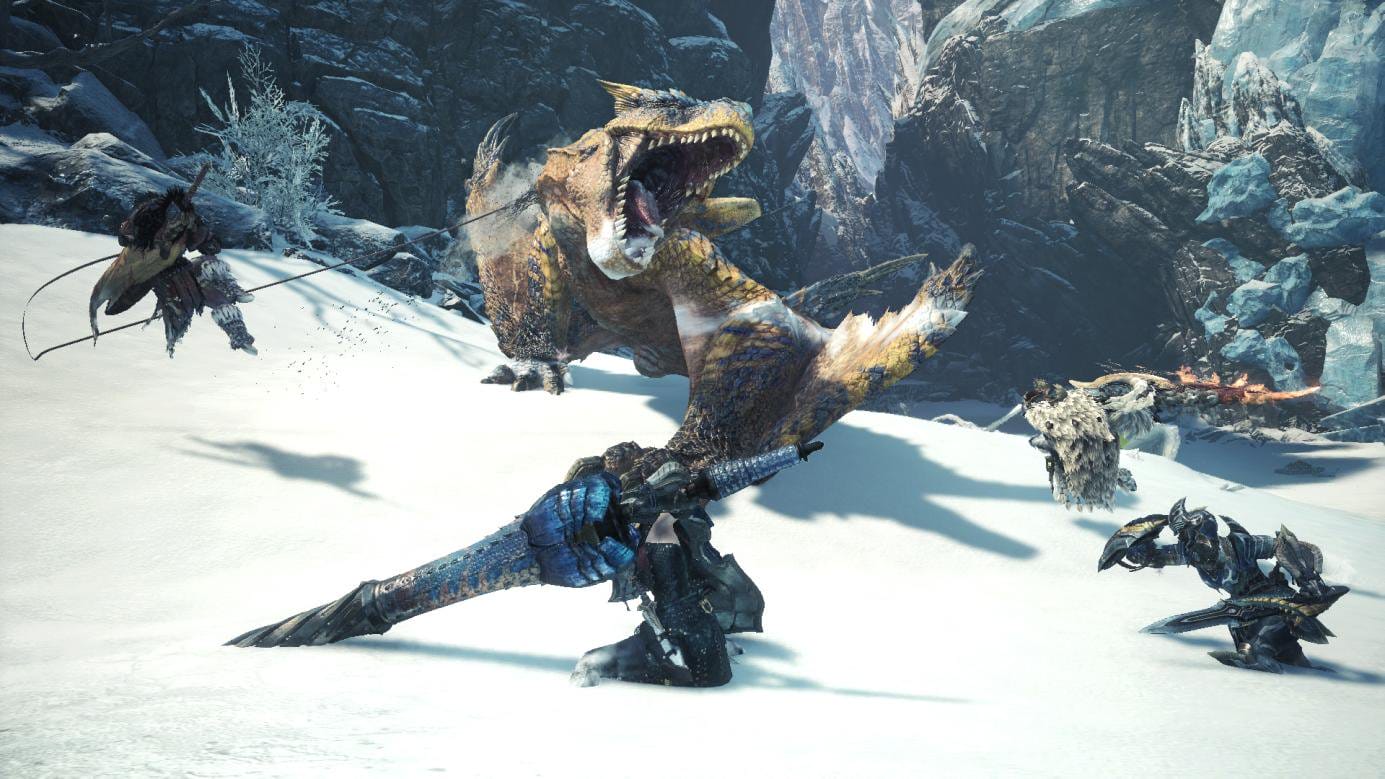 Other
The Randomize setting is now available when creating your hunter and Palico.*
You can now see all settings when creating your hunter and Palico.*
Luminescent added to hunter makeup settings.*
Pages added to the quest reward screen.*
Take All option added to the quest reward screen.*
The display rules for player name color have changed.*
Story summaries added to the loading screens.*
Large monsters, small monsters, and endemic life are separately categorized in the Monster Field Guide.*
Sound options added upon booting the game for the first time.*
The Sharpness gauge now shows how much sharpness is extended by the Handicraft skills.*
The game will no longer save when you exit the title screen's option settings without changing anything.*
Option added to the shortcut menu to accept all guild cards and items from other players.
Facilities
Item box
Up to 80 item loadouts can now be registered.*
The equipment box can now be upgraded up to 100 pages.
Up to 28 equipment loadouts can now be registered.
The Palico equipment box can now be upgraded up to 30 pages.
You can now set custom radial info when registering item loadouts.*
You can now set whether custom radial info is also called up when using an item loadout.*
Layered armor loadout option added.*
Layered armor and regular armor pigment colors are now managed separately.*
When registering an equipment loadout, you can now add layered armor.*
Layered armor menu layout has been revamped to make it easier to use.*
Bowgun customization option added.
Smithy*
You can now forge layered armor.
Checkmarks are added to charms that you have already crafted.
The wishlist feature can now hold up to 36 items.
You can now select between changing hunter or Palico equipment with the Change Equipment option.
Remove all decorations option added.
Sort decoration option added to the Set Decorations menu.
Quest counter*
Threat level is displayed on tempered monster investigations.
Research base*
Smithy and Resource Center facilities will become available in the Research Base as you progress in the game.
Botanical research*
You can now cultivate Dung Pods.
Ecological research*
Large monsters, small monsters, and endemic life are separately categorized in the Monster Field Guide.
Resource Center*
Special reward spots have been added to the Manage Investigation screen.
Delete all unregistered investigations option added.
The number of investigations you can register and maintain has been increased.
Poogie*
Poogie standby points adjusted.
Shake mode added when Poogie is searching for items.
Unity decay slightly mitigated.
Elder melder*
The jewels that can be crafted at the Elder Melder can now be sorted by rarity or alphabetical order.
Materials used for melding items or decorations are now displayed in the same ascending order as items in other locations.
Adjusted how melding is calculated
Endemic life*
Endemic life now have sizes, and a Detailed Settings option is available under Place Your Pets in your room.
Training area*
A cumulative damage log has been added to the training room.
The types of slinger ammo you can pick up has increased.
Other*
Adjustments have been made to the sorting rules to make sorting armor easier when crafting or sorting via slots.
When selling Lifepowder, the price has changed to 190 zenny.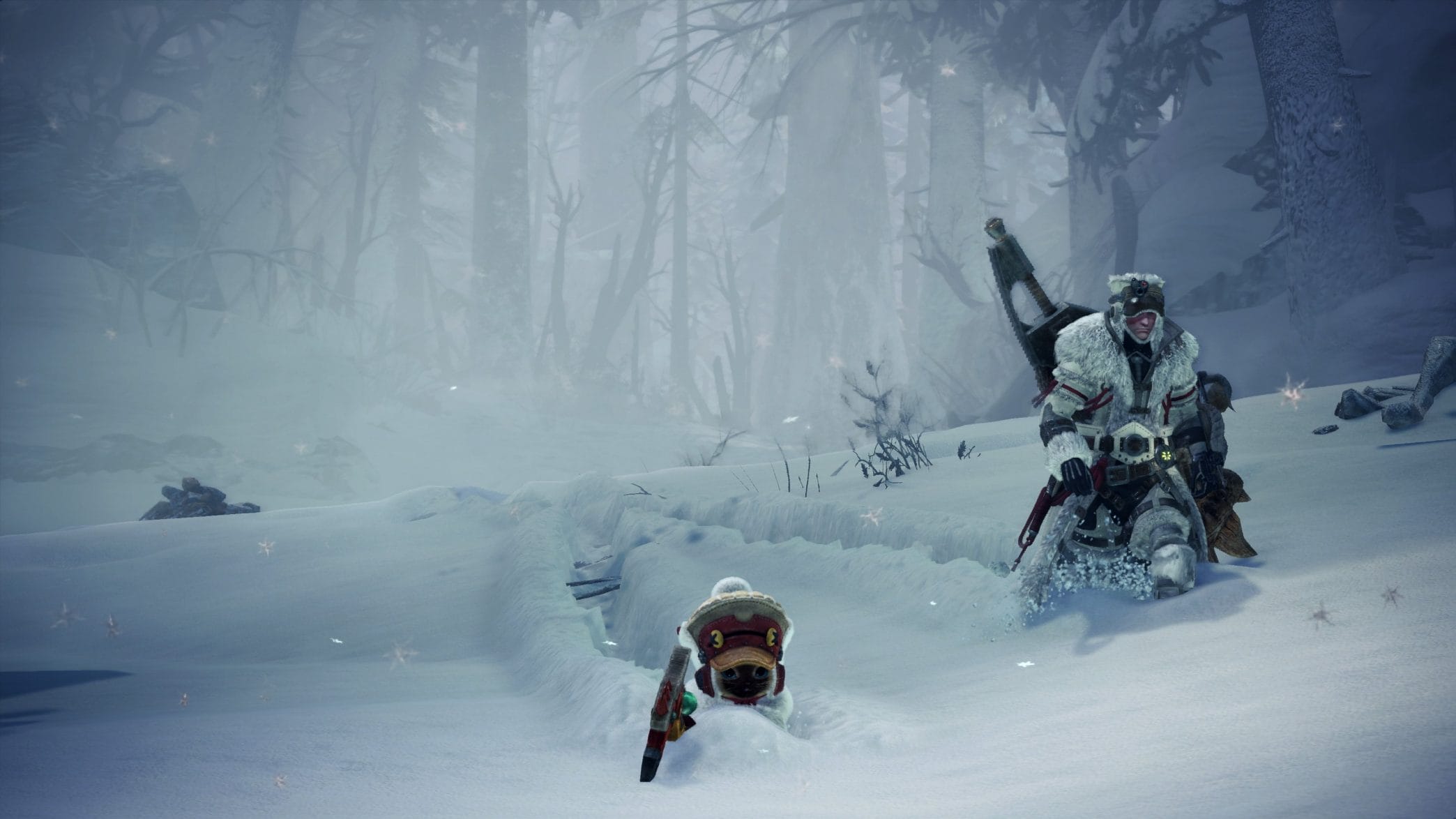 Online*
Online session ID input and display is now shown in segments of 3.
You can now set up to 2 welcome messages in the Gathering Hub.
Squad Card added.
Option available to send your guild card along with a squad card.
Option to display HR, MR, and Language in the squad member list.
Sub-leaders can be set for a squad.
Expanded on the friend invite feature.
Login Bonuses are now available at 5:30 AM.
Option to re-edit your squad emblem added.
20 more options added to squad emblem's shape and design.
Graphics*
The reflection of natural light on water has been made more natural for better quality and to fix a graphical issue.
A Contrast setting has been added to HDR settings and the Color and Brightness settings have been expanded.
Players will now cast a shadow even in areas without direct sunlight, such as caves.
HDR brightness adjustments have been retooled for a more natural-looking brightness.
The shadow of the hunter's face is more defined, making it appear more expressive.
Via options, you can now set whether the player's silhouette will now be displayed when a monster gets between the camera and the player.
When memory is available, background textures may be displayed in higher resolution.
Via options, HUD icon colors for Sharpness gauge, Charge Blade phials, Insect Glaive extract, etc. can now be adjusted.
The complete list of balance changes to skills, weapons, and more is available here.
Monster Hunter World: Iceborne releases on September 6 for PlayStation 4 and Xbox One.