Sony will be permanently dropping the price on PlayStation Plus subscriptions in India from May 1, 2020. PlayStation Plus is Sony's online service that lets PS3, PS4, and PS Vita owners play multiplayer games, upload save data to the cloud, and grant access to free games each month. According to an email received by current Indian PlayStation Plus users that was shared with The Mako Reactor, expect a steep price cut from May 1 due to what Sony is describing as "market conditions".
New PlayStation Plus India prices
One year PlayStation Plus subscription is Rs. 2,999 (previously Rs. 4,439)
Three month PlayStation Plus subscription is Rs. 1,199 (previously Rs. 1,869)
One month PlayStation Plus subscription is Rs. 499 (previously Rs. 599)
"As part of our evaluation of the PlayStation Plus service, we are changing fees in various territories due to market conditions," a spokesperson for Sony confirmed to The Mako Reactor. "This change enables us to continue providing an exceptional world-class service built for our fans at a compelling value. Members will continue to enjoy the benefits and features of PS Plus such as online multiplayer, PS4 monthly games, 100GB of cloud storage for PS4 game saves, and exclusive PlayStation Store discounts."
You can check out the email sent to PlayStation Plus users in full right here: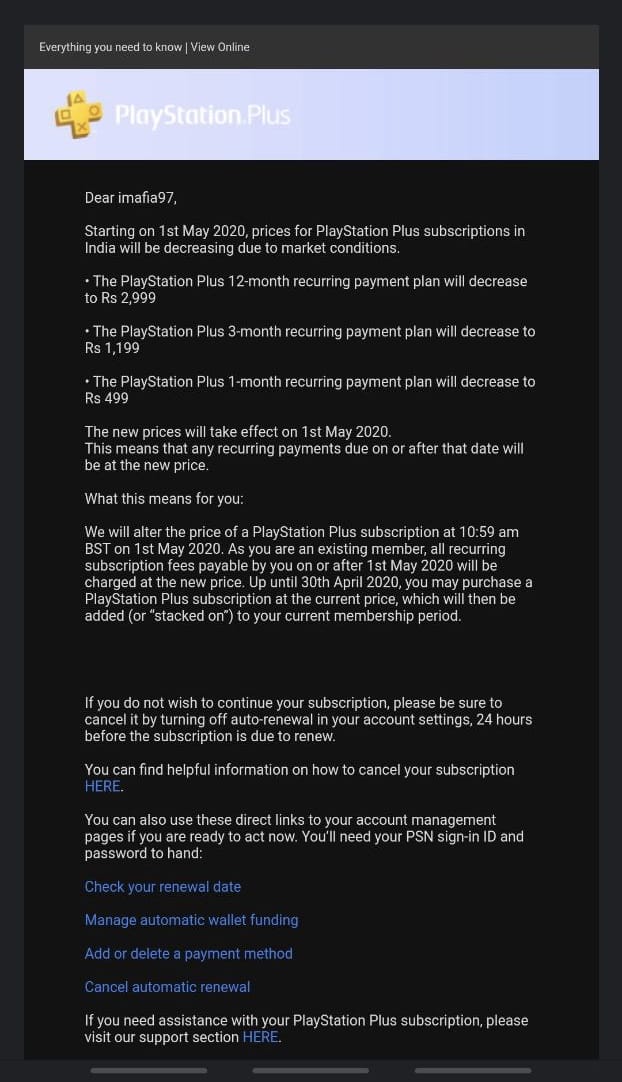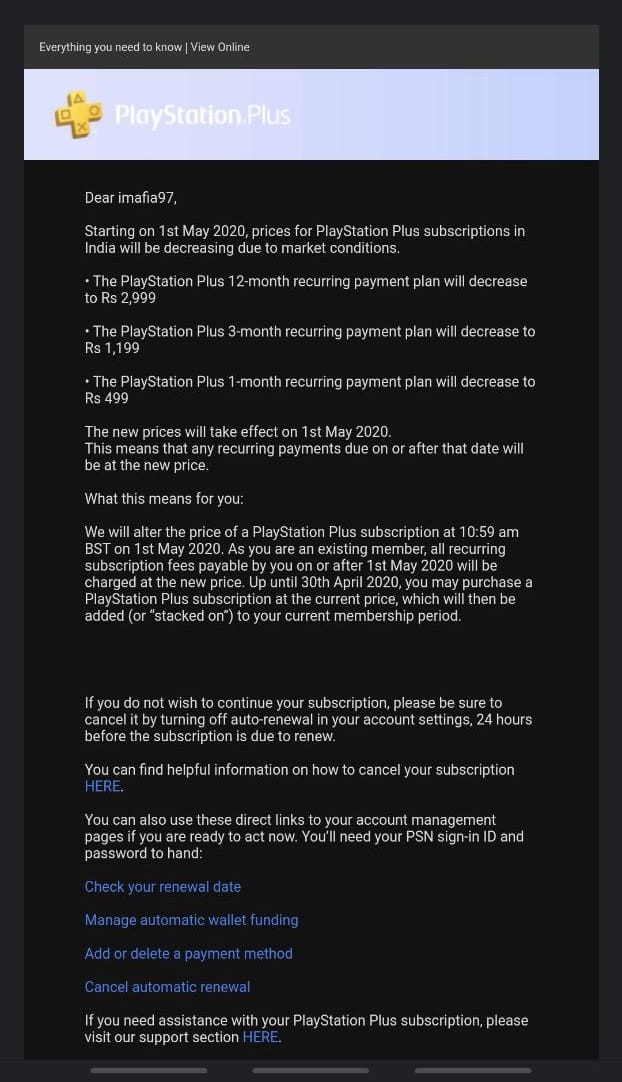 A drop in the price for PlayStation Plus subscriptions comes after Sony permanently reduced the PS4 Slim price in India in late December. The company is expected to launch its new PS5 console as well as its PS Now game streaming service in India this year.
PS Now lets users stream PS2, PS3, and PS4 games to PS4 consoles and PCs. PS2 and PS4 games can be downloaded to play on PS4 with PS Now as well.
Multiple sources in the supply chain speaking to The Mako Reactor on condition of anonymity have confirmed that PS Now will be available this year, complete with prepaid top ups similar to Sony's existing PlayStation Store cards. For its part, Sony had stated it has nothing to announce at the time.
Update, 4:51pm IST, March 1, 2020: story updated with comment from Sony regarding PlayStation Plus price drop.