After announcing a Digital Deluxe Edition for Trails of Cold Steel III in North America, NIS America has finally made the same release available on PSN in India and other EU PSN regions. Since NIS America doesn't have a distributor here, Trails of Cold Steel III will be a digital only release and it is set to release in October on PlayStation 4. Watch the Gamescom 2019 trailer for it below:
Trails of Cold Steel III Digital Deluxe Edition contents
Thors Main Campus Uniform
Altina's "Kitty Noir" Costume
Musse's "Coquettish Blue" Costume
Juna's "Crossbell Cheer!" Costume
Rean's Traveling Outfit (from Trails of Cold Steel II)
Rean's Casual Clothes
Juna's Casual Clothes
Kurt's Casual Clothes
Altina's Casual Clothes
Musse's Casual Clothes
Ash's Casual Clothes
Standard Glasses Set
Mask Set
Hardcore Set
Stylish Sunglasses Set
Rare Eyewear
Ride-Along Black Rabbit
Ride-Along Elie
Ride-Along Dana
Ride-Along School Renne
Ride-Along Ozzie
Mascot Headgear Set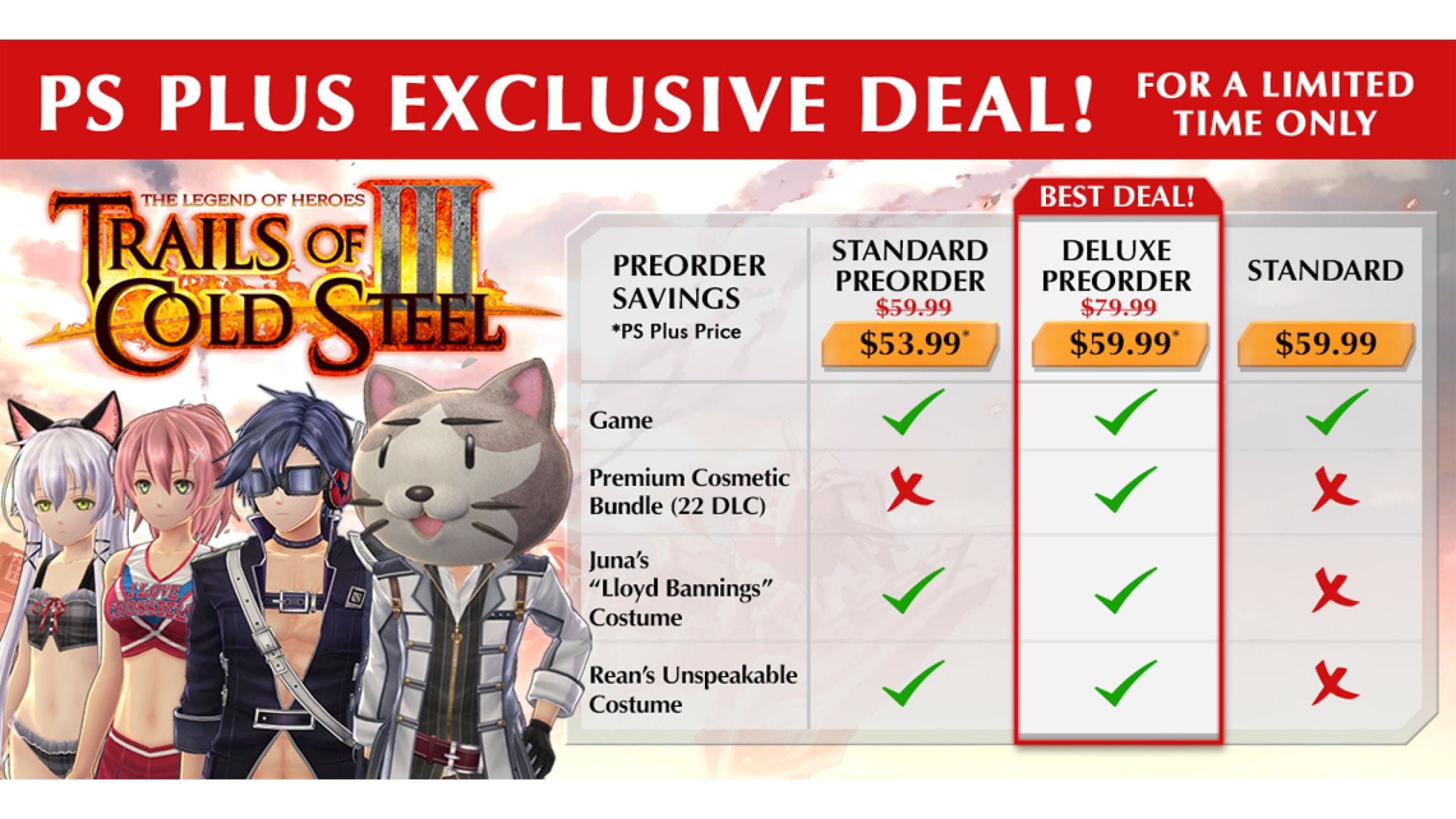 Trails of Cold Steel III digital pre-order bonus
All digital pre-orders include Juna's 'Lloyd Bannings' Costume and Rean's Unspeakable Costume.
Trails of Cold Steel III India price and PS+ pre-order discount
Pre-orders are now live on PSN for India and EU regions. The standard edition pre-order price is Rs. 3,499. PS+ members can pre-order it for Rs. 3,149. The Digital Deluxe Edition pre-order price is Rs. 4,799 with PS+ members getting it at a discounted price of Rs. 3,599.
The Legend of Heroes: Trails of Cold Steel III releases on October 22 for PlayStation 4.