Dragon Ball Z: Kakarot for the PC, PS4, and Xbox One is out right now. Unlike recent games in the long-running anime series, it's an RPG. Published by Bandai Namco and developed by one time Final Fantasy VII Remake studio CyberConnect2, we've spent some quality time with the Dragon Ball Z: Kakarot PC port on a budget gaming laptop to find out if you should bother. Here's what you need to know.
Dragon Ball Z: Kakarot PC requirements
If you haven't upgraded your gaming PC in awhile, you're in luck. The specifications for Dragon Ball Z: Kakarot are on the lower side, with GPUs as old as the GeForce GTX 960 being recommended. Considering that's five years old at this point, it's evident that CyberConnect2 is targeting a wide audience to give it a go.
Dragon Ball Z: Kakarot PC minimum specifications
OS: Windows 7 64-bit SP1
Processor: Intel Core i5-2400/AMD Phenom II X6 1100T
RAM: 4GB
Graphics: Nvidia GeForce GTX 750Ti/AMD Radeon HD 7950
DirectX: 11
Dragon Ball Z: Kakarot PC recommended specifications
OS: Windows 10 64-bit
Processor: Intel Core i5-3470/AMD Ryzen 3 1200
RAM: 8GB
Graphics: Nvidia GeForce GTX 960/AMD Radeon R9 280X
DirectX: 11
Dragon Ball Z: Kakarot PC settings
If you were expecting options akin to Bandai Namco's last major PC release, Code Vein, think again. You can change resolution, shadow detail, toggle Vsync, and upscale the resolution upto 200 percent of its original value essentially letting you play at 4K on a 1080p display for greater clarity and sharper image. You can also downscale it to 70 percent as well. While a welcome addition, the sheer lack of variety makes Dragon Ball Z: Kakarot's PC settings barebones at best.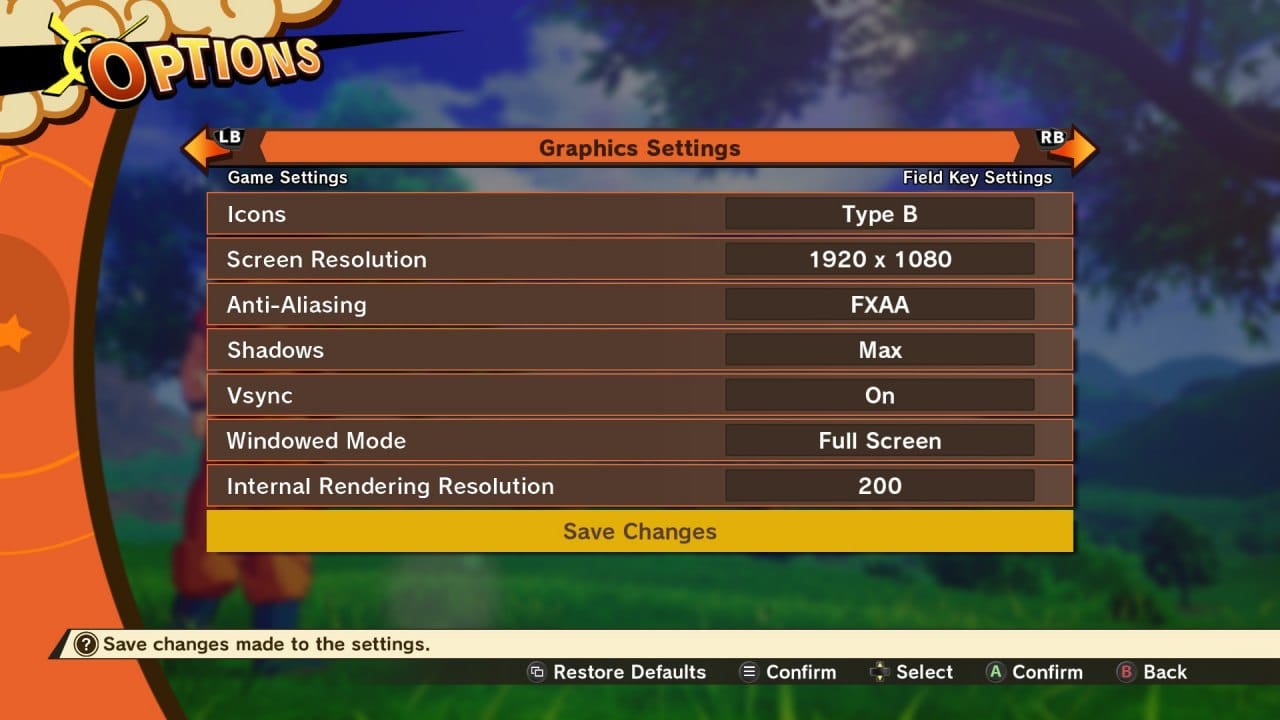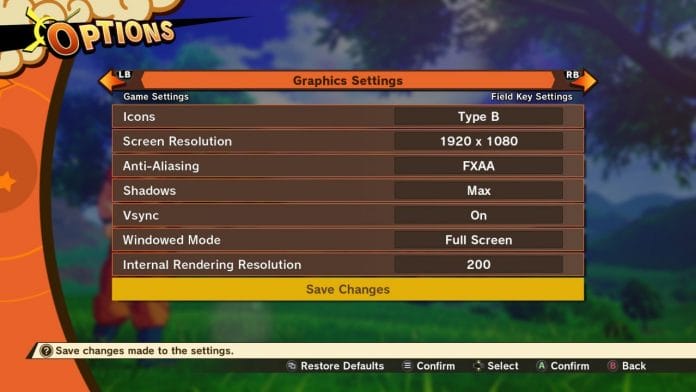 Dragon Ball Z: Kakarot PC performance – frame rate and resolution
Unlike other publishers, Bandai Namco hasn't stated what performance you can expect with a PC that meets the minimum or recommended requirements. For most part, Dragon Ball Z: Kakarot looks consistent. It mimics the series' cel shaded stylings and in some aspects, does it to a fault. There's little in the way of incidental details or intricate animations that were there in Dragon Ball FighterZ. This results in a game that looks sparse even with every visual options set to the maximum.
In such a scenario the trade-off is obvious, you get a game that runs decently on almost any machine with a few hiccups. Our Asus TUF FX505DT laptop consists of an AMD Ryzen 5-3550H processor (2.1GHz Base speed up to 3.7GHz), 8GB DDR4 RAM, and an Nvidia GeForce GTX 1650 4GB GPU, at 1920×1080 and all options cranked up to their highest, we would get around 50 to 55fps traversing the game world.
Flying from island to island in Dragon Ball Z: Kakarot's open world felt fluid enough and in combat we'd see around 46 to 49fps. Dropping shadow detail to medium and switching off anti-aliasing saw us hit 60fps consistently while flying through and around 55fps in battles.
We also tried it out at 4K via the internal upscaler and were able to get an average of around 28 to 30fps in most sections with the frame rate dropping between 24 and 27fps in busier sections. Suffice to say, most modern PCs will be able to handle it at ease. Just keep in mind that this is far from a keyboard and mouse-friendly game. You can use a keyboard and mouse but even with no controller plugged in, all button prompts are for an Xbox controller. To fix this, you'll have to go into the game's graphics settings and change it to the keyboard and mouse option. The other two icon options are Type B for Xbox controllers and Type A for PS4 controllers.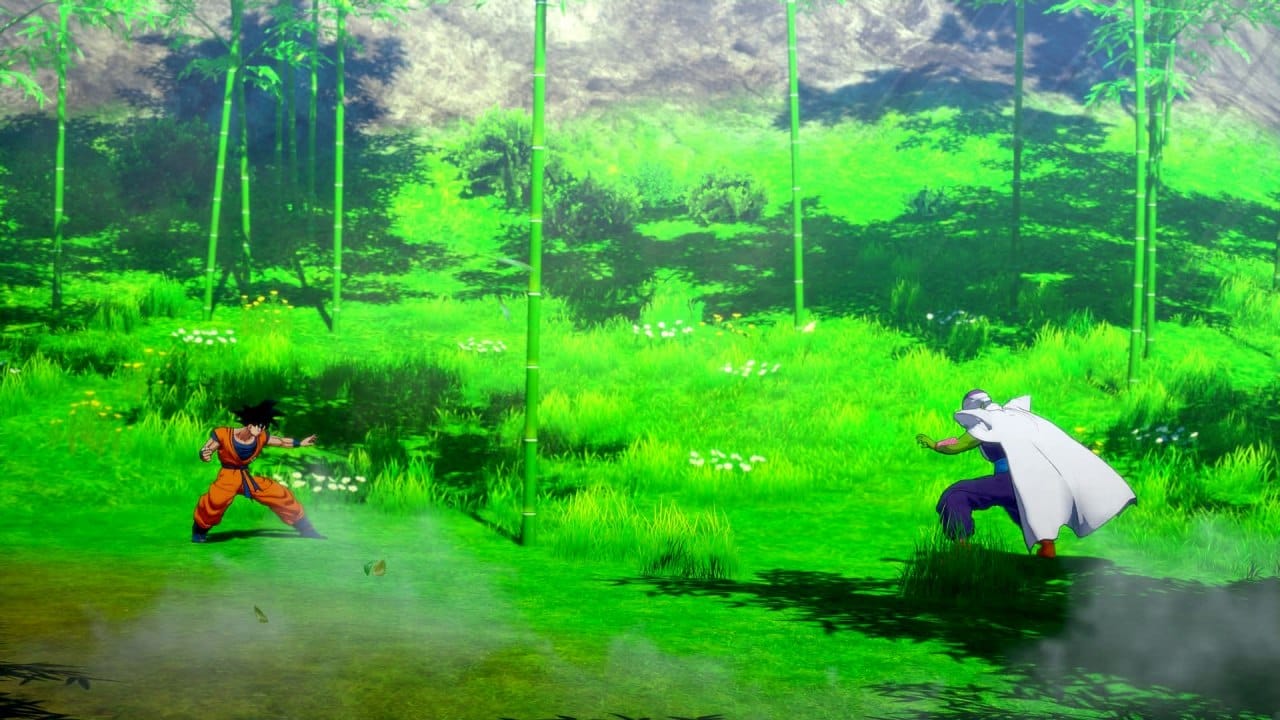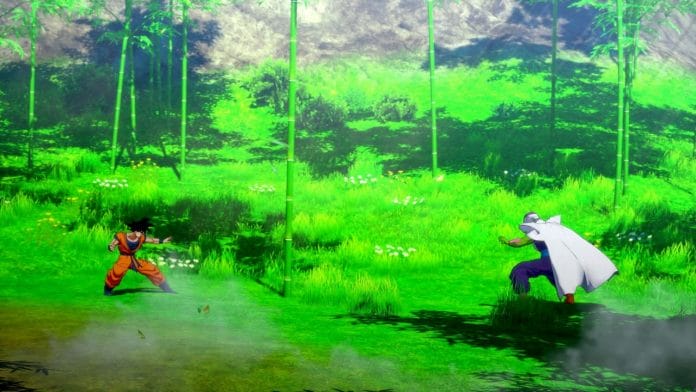 Should you play Dragon Ball Z: Kakarot on PC?
If the game's threadbare visual options wasn't bad enough, what we've played of Dragon Ball Z: Kakarot doesn't inspire much confidence. Granted its a retelling of the show's earlier story arcs but it's far from accessible for anyone new to the series. Furthermore, the production values pale in comparison to the superlative looking Dragon Ball FighterZ.
Sure, it's unfair to compare any studio to the presentation prowess of Arc System Works, but an open-world RPG this late in a generation replete with them demands greater attention to detail. And this is before considering that the gameplay is cookie-cutter at best with simple combat as well as fetch quests galore. Unless you're a massive fan of the show or want to try out some of its mods, you may want to wait for a price drop before bothering.
The Mako Reactor has affiliate partnerships. These do not influence editorial content, though The Mako Reactor may earn commissions for products purchased via affiliate links.