The Hatsune Miku: Project Diva series of rhythm games from Sega has been slowly making its way in the West across portable systems and home consoles to some degree of success. With the PS3 and PS Vita releases, Sega started giving Hatsune Miku fans in the West even more releases through multiple entries but the series finally peaked on PS4 with Hatsune Miku: Project Diva Future Tone which remains the ultimate Miku game across the board. For those who haven't played the PS4 entry yet, it was a massive leap above the prior games with its sheer volume of songs and technically with no visual or performance issues at all. Since that release, the series felt like it was on the backburner for Sega until a new game was announced for Nintendo Switch in the form of Hatsune Miku: Project Diva Mega Mix.
Hatsune Miku: Project Diva Mega Mix uses the PS4 game (Future Tone) as a base. The PS4 game is built on the Japanese arcade game so this is essentially a port of a port with a few changes. Hatsune Miku: Project Diva Mega Mix culls the massive song list featured on PS4 and adds its own flavour through a few more customisation options and control methods available.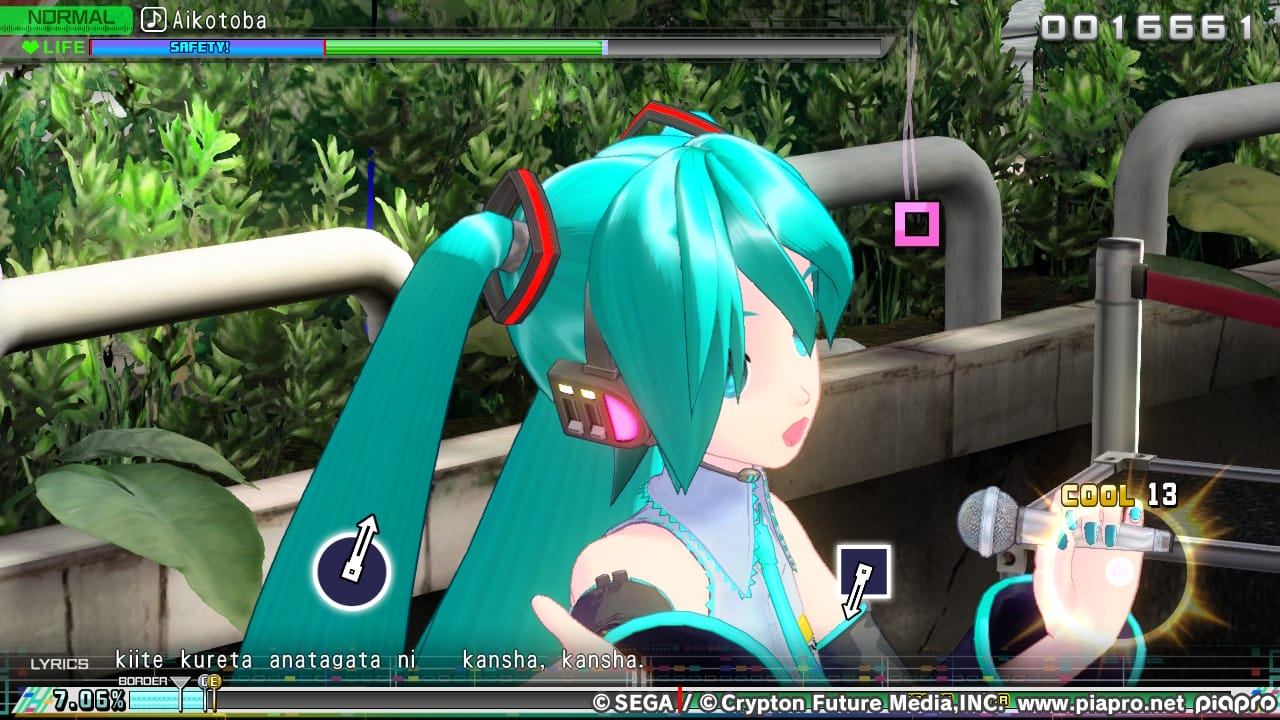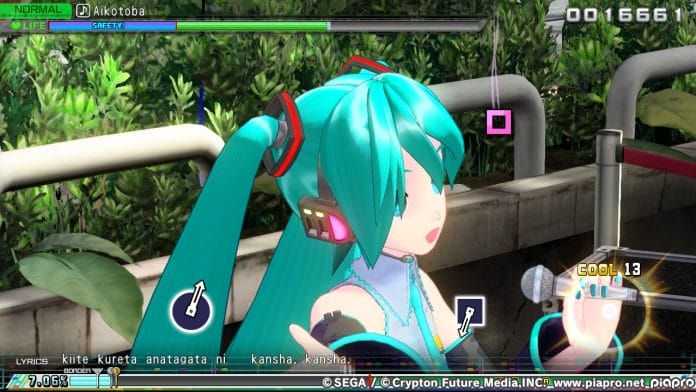 If you've never played a Hatsune Miku: Project Diva game, your aim is pressing buttons to coincide with the prompts on screen in time to raise your score as the song plays in the background. The songs featured are from various artists and the videos in the background use a combination of in-engine ones and pre-rendered music videos. The core gameplay is basically making progress through one difficulty before you feel confident enough to try the harder difficulties.
This game can get very difficult even at normal difficulty given it is using note maps from the arcade version which were done for the arcade controller and not face buttons on a Nintendo Switch or even PS4 controller. I say PS4 controller because Hatsune Miku: Project Diva Mega Mix actually offers the ability to use PlayStation button prompts. This is a welcome addition since most people who are familiar with this series would have played games in the arcade or through various PlayStation releases that all use the PlayStation button prompts.
In terms of contents, Hatsune Miku: Project Diva Mega Mix includes over 100 songs with the DLC taking it to well over that. This list still pales in comparison to Hatsune Miku: Project Diva Future Tone on PS4 though. Compared to prior games on PSP and PS Vita though, this is a big upgrade in terms of songs included. The lack of parity in songs with PS4 is disappointing but the addition of a few control options explains the omission.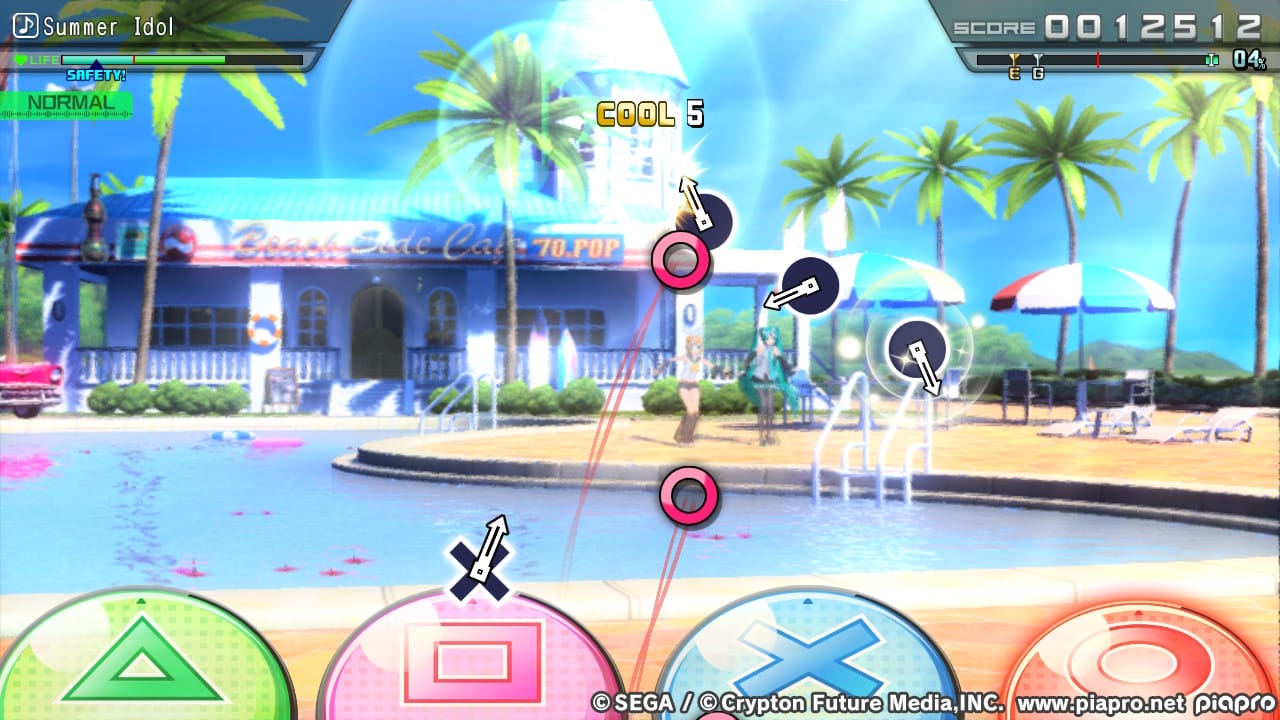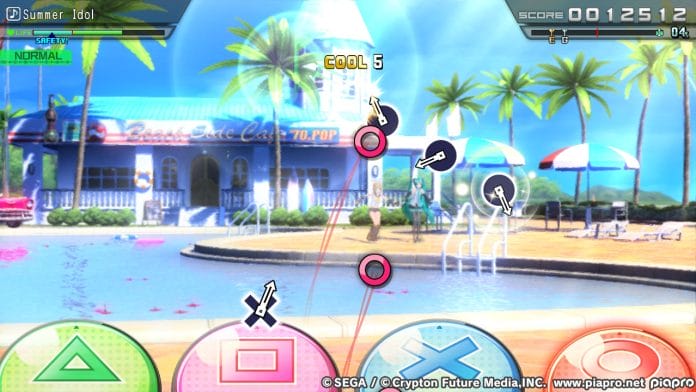 Hatsune Miku: Project Diva Mega Mix offers a regular arcade mode where you play just like you would in an arcade or using the face and shoulder buttons on the controller. There's a motion control option that uses two Joy-Cons. This mode has its own note maps and this no doubt took a lot of effort for the 100+ songs included in the game. It is a shame because the motion control mode is mediocre overall.
The new tap play mode or touch control option added in a patch on the other hand, is a welcome addition. This replicates the arcade controller positions for buttons at the bottom of the screen. If you play on a regular Nintendo Switch, this plays great when the console is kept on a desk or table in front of you. For a Nintendo Switch Lite, it is even playable in handheld mode with both thumbs. Overall, this is a much better control option addition than the motion controls.
Performance for Hatsune Miku: Project Diva Mega Mix is great in both docked and handheld modes for the actual notes. The videos in the background on the other hand are noticeably blurrier than the PS4 version in both docked and handheld. While this was to be expected in some ways, even some static images and art is lower resolution than it should be. The in-engine videos also run at a lower frame rate. It kind of gets distracting having a video in the background run at a lower frame rate than the notes and interface for a song. While I don't really expect a massive performance boost through updates, hopefully Sega can at least fix the static images and art so they aren't blurry.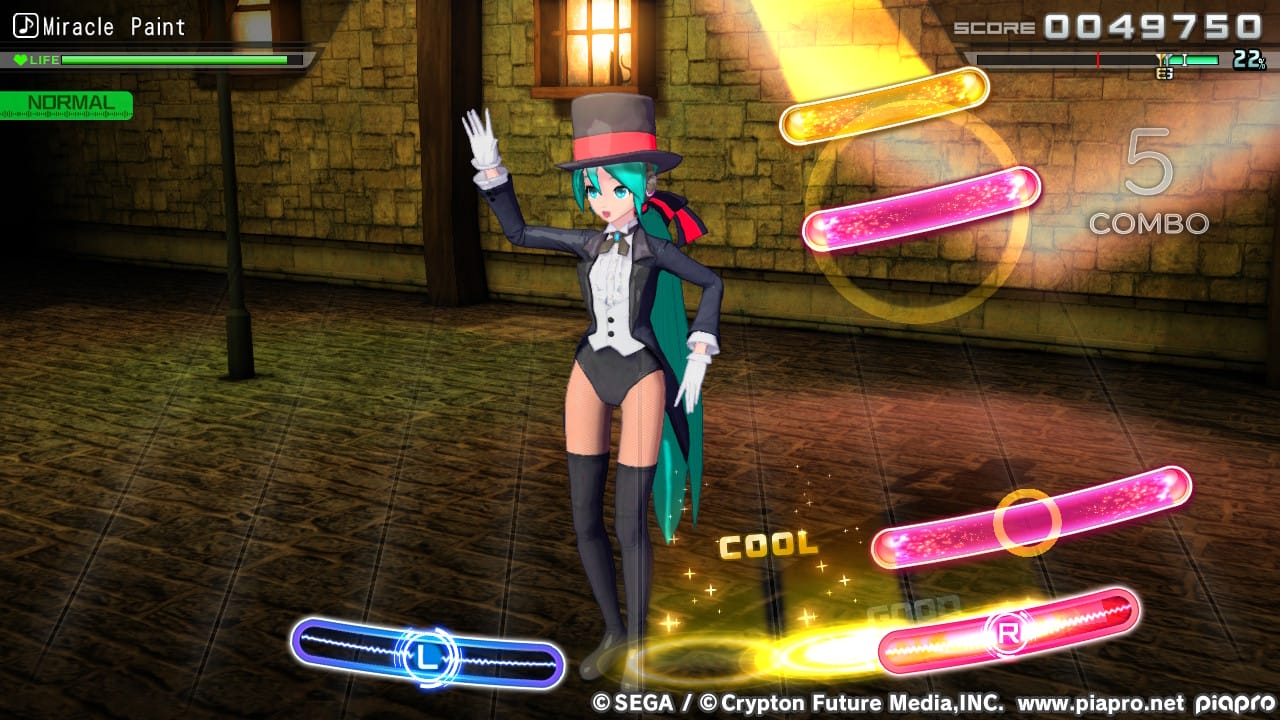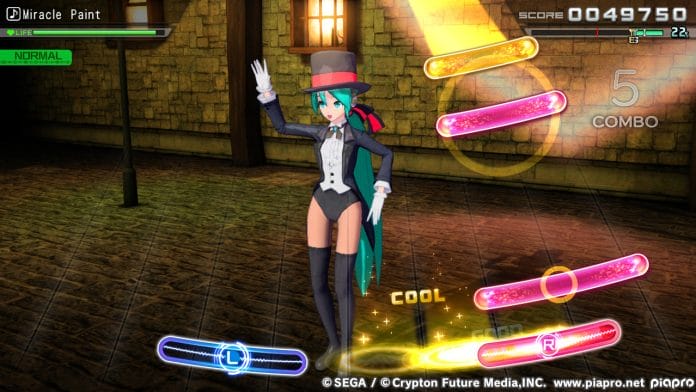 Barring the core rhythm game, Hatsune Miku: Project Diva Mega Mix has the usual customisation options like modules, hairstyles, accessories, and a new T-shirt editor. This lets you make your own patterns by drawing using the touchscreen or analog sticks.
Hatsune Miku: Project Diva Mega Mix is an interesting release for longtime fans of the franchise. It isn't even close to being the best Hatsune Miku: Project Diva game but it excels over prior portable entries by a lot. The asking price is also on the lower end. I would recommend getting the edition that includes all the DLC since it is a much better deal overall for the price. For fans who have wanted a portable entry, Hatsune Miku: Project Diva Mega Mix is worth getting but Hatsune Miku: Project Diva Future Tone on PS4 remains the best Hatsune Miku game.