The Guilty Gear Strive Open Beta Test is now live on PS4 and PS5 worldwide until February 21. Over the last few days Arc System Works has been allowing more people to play the beta through early access codes and then for digital pre-order customers on the PS Store. I've been playing it for the last few days on PS5 through backward compatibility from the early access period and since today with the native PS5 version through the full open beta to see how the Guilty Gear Strive rollback netcode implementation is and also to see how it looks across both the PS4 and PS5 versions.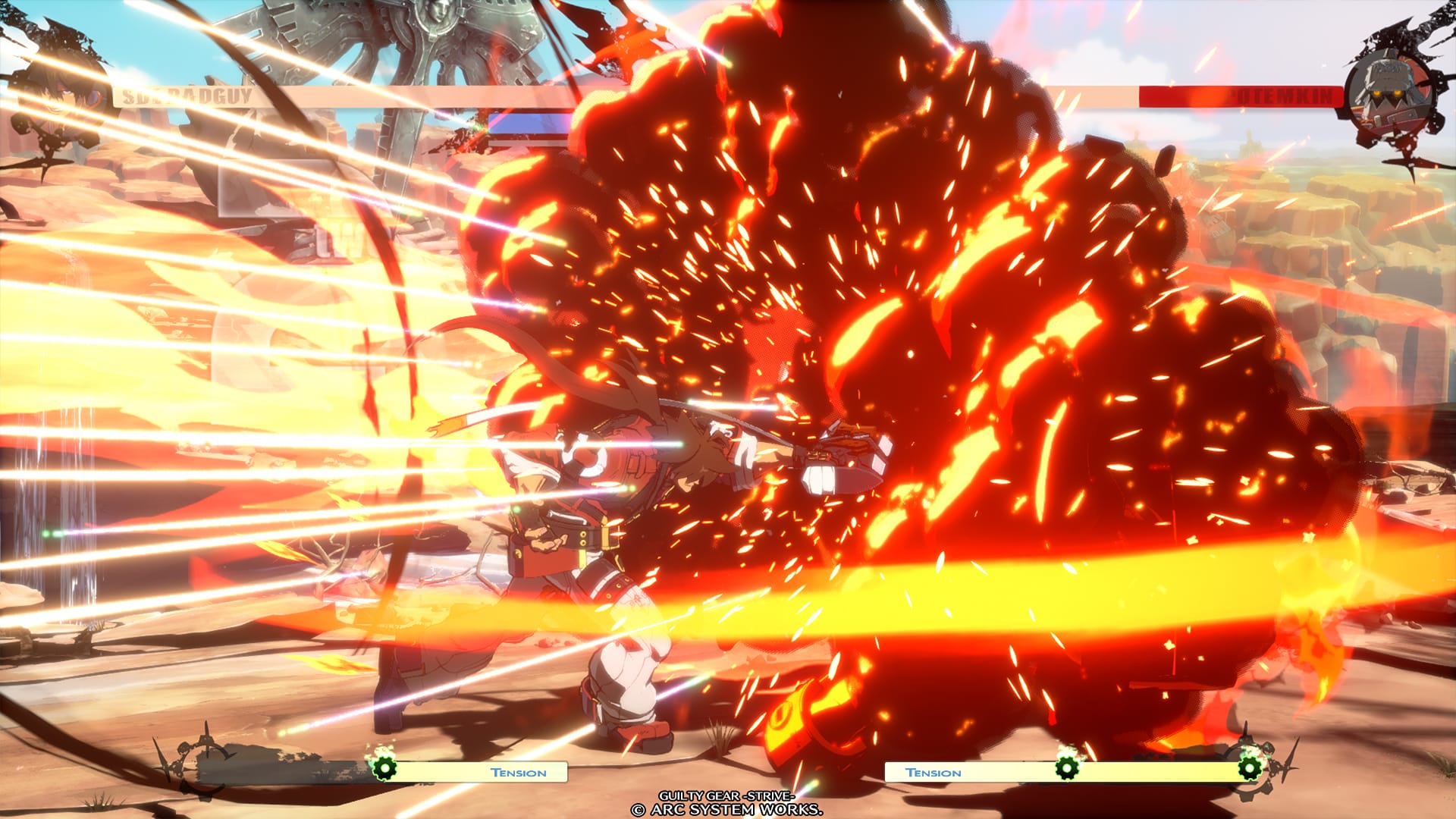 Guilty Gear Strive open beta contents
The Guilty Gear Strive open beta includes training, online, tutorial, and versus modes. The others are locked with "In development" notices right now. It also only includes Japanese voice acting while the full game has been confirmed to also include English voice acting. I wanted to see how the game feels both online and offline so this open beta across two consoles was more than enough to get a taste (or smell) of the game.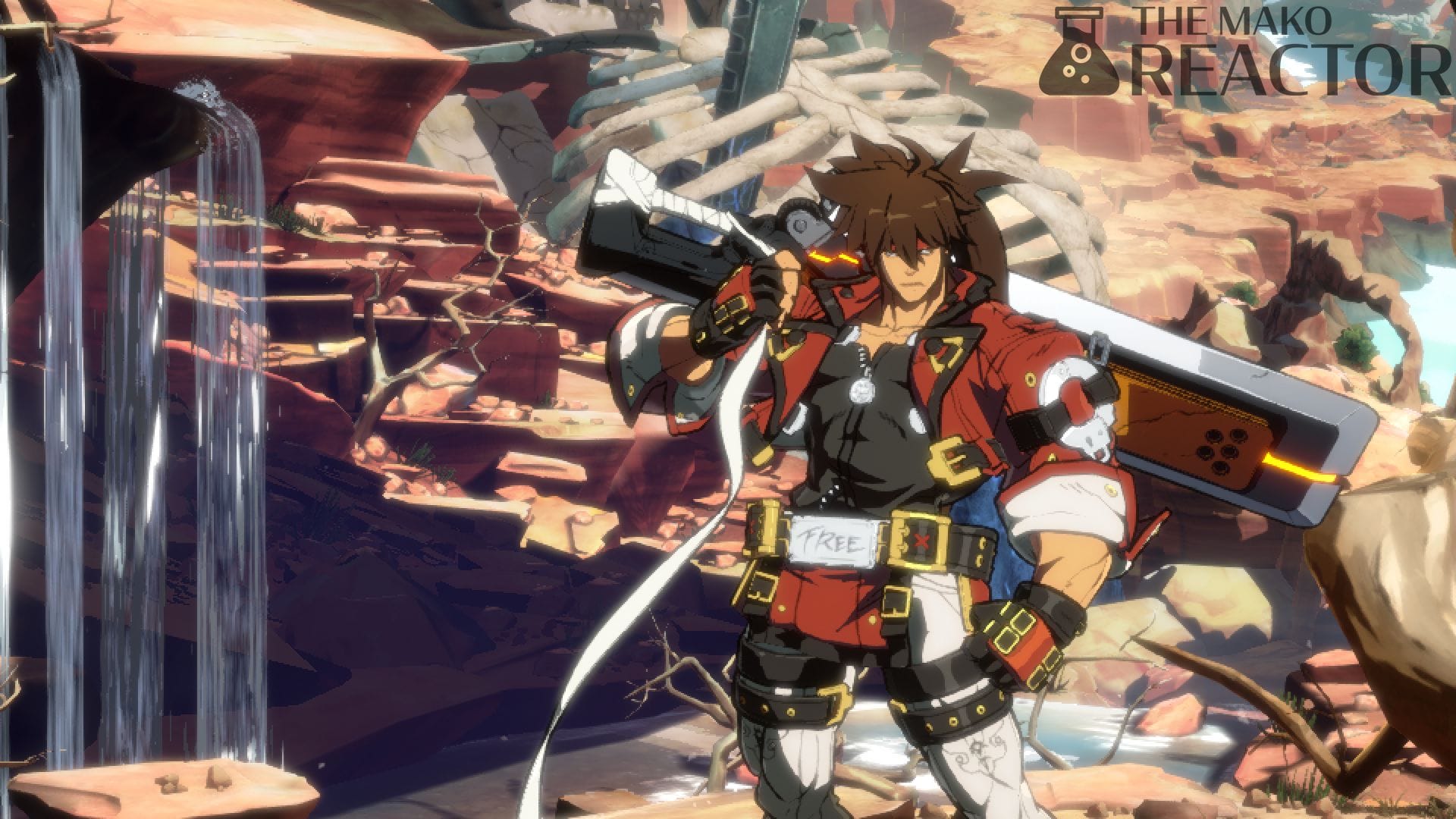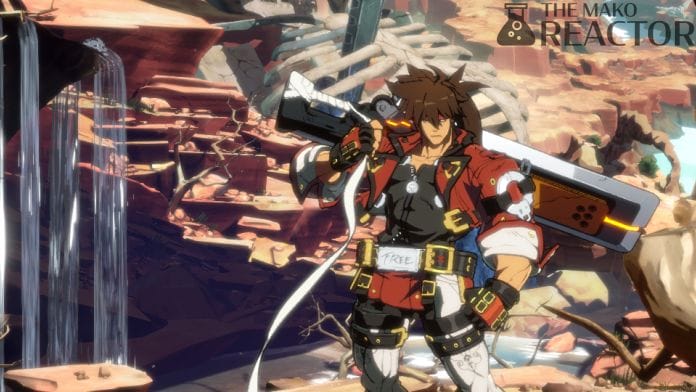 Guilty Gear Strive PS4 vs PS5
Over the last few weeks, I've been playing a lot of games on both PS4 and PS5 platforms to see how native versions and backward compatibility vary across different games. Guilty Gear Strive is getting a native PS5 version on the same day as the PS4 and PC version this April and I was curious to see how the gorgeous fighter looked on PS5 and how it compares to the PS4 version. 
Guilty Gear Strive looks great on PS4 Pro. I had no real complaints with it in my time spent. Having now played the native PS5 version, Guilty Gear Strive looks sharper and loads quicker on PS5. The improvements apply to characters and also the environment. The two zoomed screenshots should give you an idea of the difference between the PS4 version running via backward compatibility and the PS5 version. This specific comparison is important because I know some people who want to play the PS4 version on PS5 for the stick support.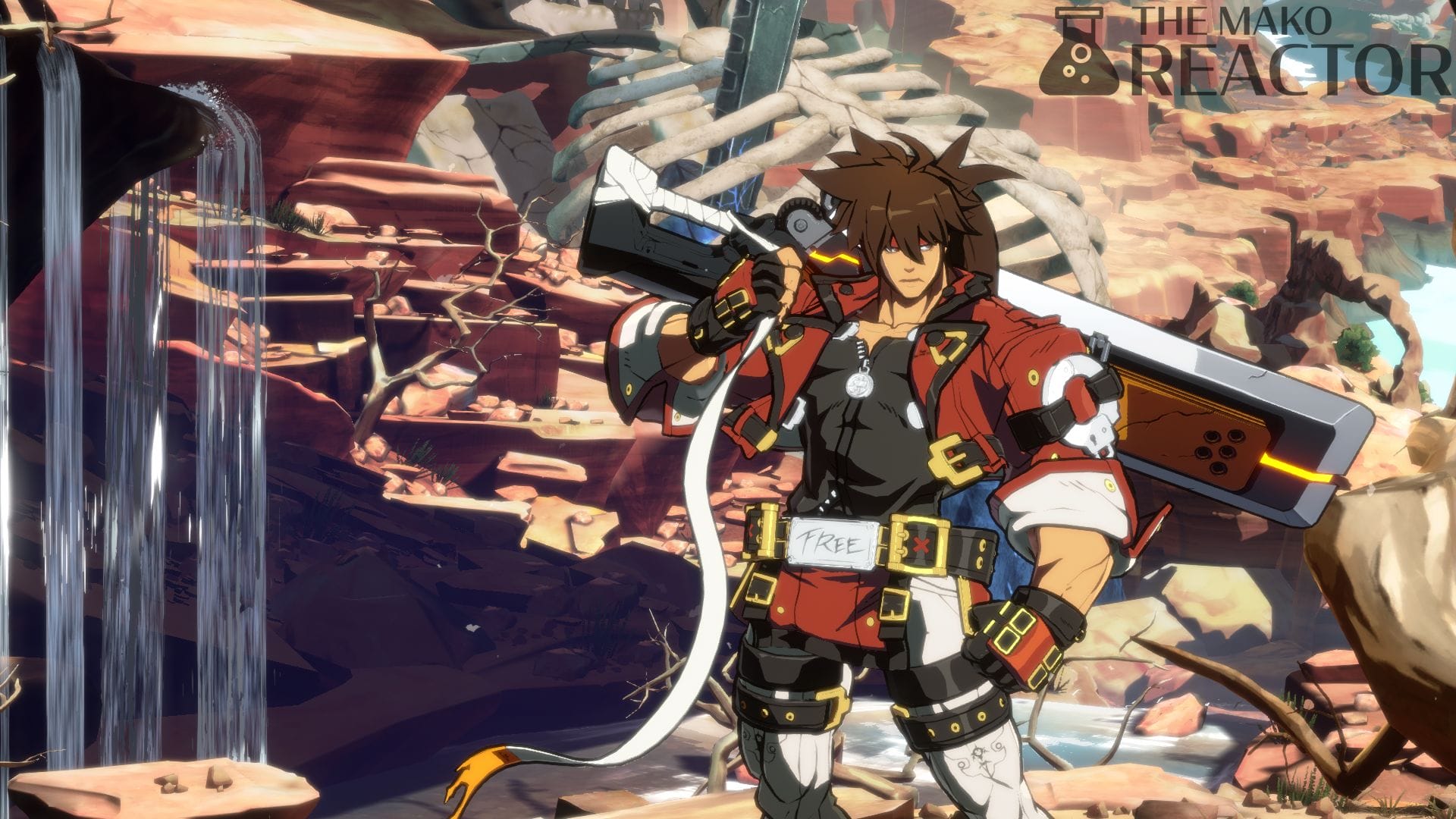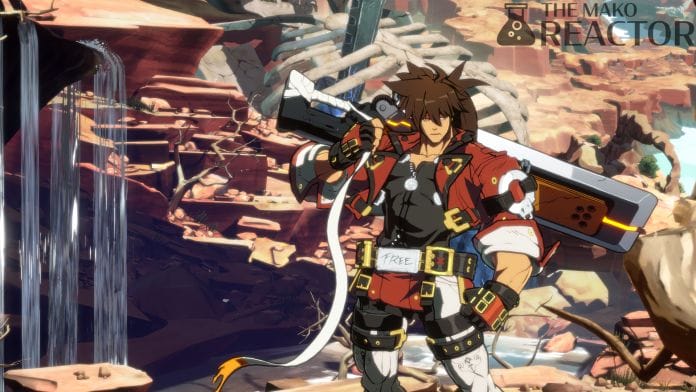 Unlike other instances where the PS4 version feels like an afterthought for some cross-generation games, Guilty Gear Strive is superb on both platforms but definitely is a nice step up visually and load times wise on PS5. I didn't notice any performance issues in either version both online and offline. This is easily one of the best looking fighting games ever and I've only played the open beta so far. 
Guilty Gear Strive online lobby system
My only real annoyance with Guilty Gear Strive in the open beta is the online lobby system. It feels like I'm spending more time trying to initiate a battle or navigate than actually fight people online. While some people weren't fans of the Guilty Gear Xrd and Granblue Fantasy Versus lobbies, I liked them and hope Arc System Works can address feedback to improve the online lobbies in the full version of Guilty Gear Strive or in updates following the launch because this has the potential to be one of the most played fighters.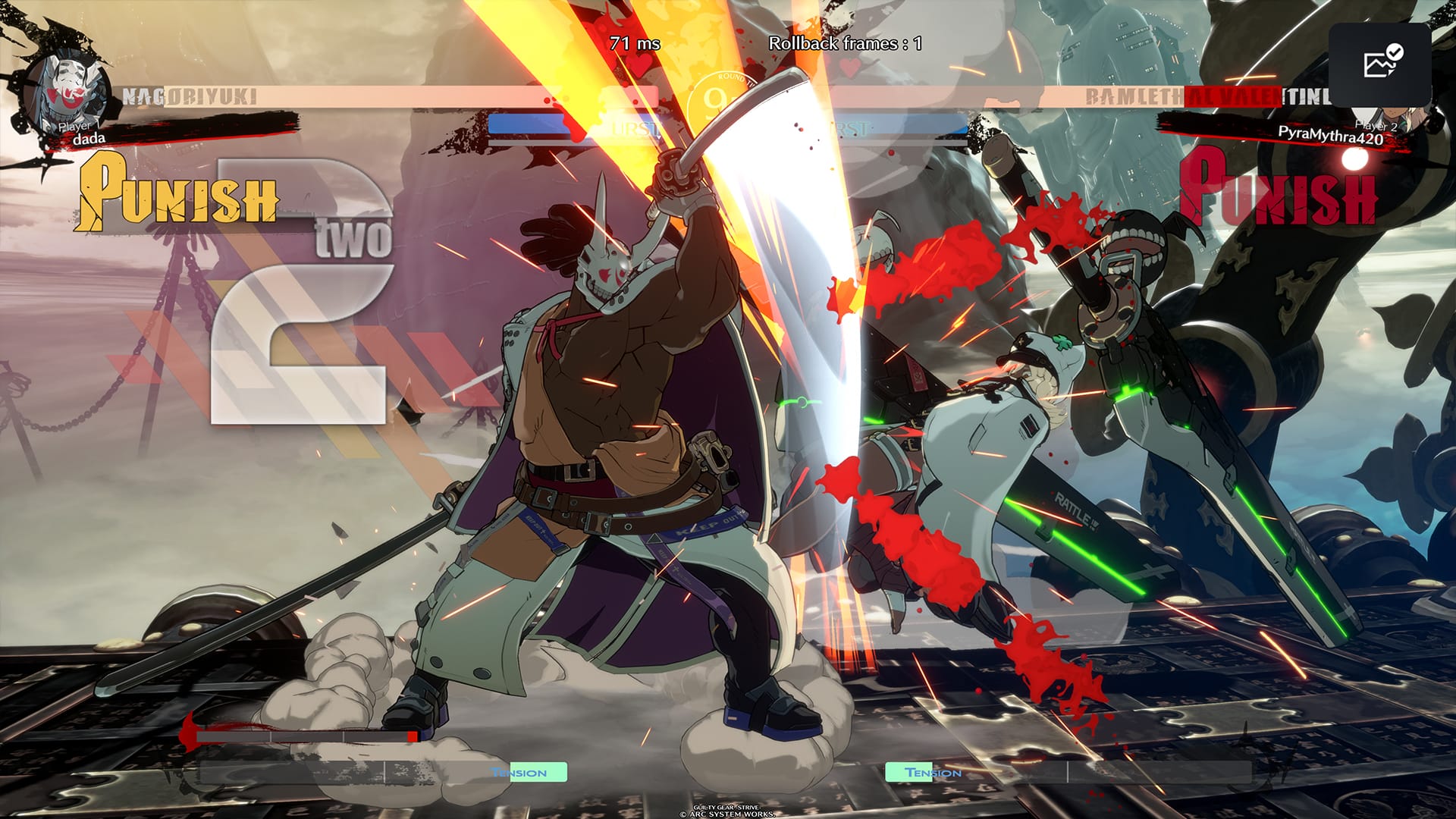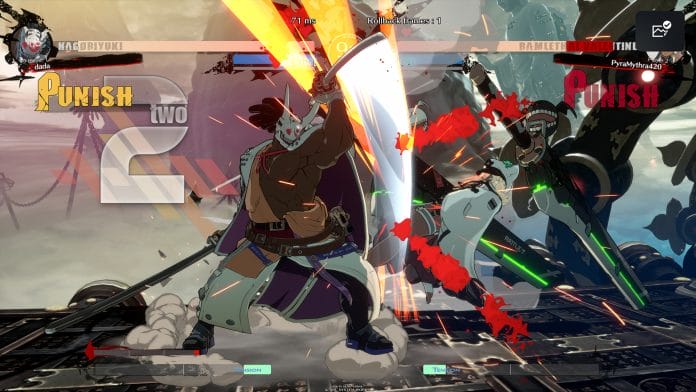 Guilty Gear Strive rollback netcode and the online experience
Once you've navigated your way through the lobby and actually found an opponent, things are a lot smoother. In the beta there is no filtering based on connection strength or displaying it either as already mentioned by Arc System Works. You do get to see the ping and rollback frames on the top between you and the opponent. I played the Guilty Gear Strive open beta with people in lobbies in Asia and Europe for the most part. In the 27 matches I've played over the last few days including a few against people in North America, I only had three games where things got noticeably bad and even those weren't as bad as games like Samurai Shodown and Soulcalibur VI online.
Overall, Guilty Gear Strive feels excellent online. Barring the lobby system that I don't care much for, Guilty Gear Strive is shaping up to be even better than I expected. It looks and runs brilliantly on both PS4 Pro and PS5. I can't wait to play the full game when it releases this April on PS4, PS5, and PC via Steam.