Miner's Mettle is a made-in-India PC real-time strategy game on Steam in early access developed by Mumbai-based studio Singular Scheme. While its standout feature is a focus on artillery-trains, a rarity in games, Miner's Mettle itself is a curiosity in the Indian game development scene. Reason being, this debut effort from the studio is the first real-time strategy game from India on PC in a long time. The last games in the genre on PC from India were Apox and Tryst from Hyderabad's Bluegiant nearly a decade ago and they were critically and commercially panned.
The Mako Reactor spoke to Ahad Oomerbhoy, Managing Director at Singular Scheme to find out how Miner's Mettle came to be and what to expect with future updates.
"This is my first game," says Oomerbhoy. "I was a management consultant before Singular Scheme. I really disliked the work and lifestyle, and when I got laid off and turned 30 a few days later I thought I'd do something that I was actually passionate about."
He tells us it took a year to set up the studio and start pre-production on Miner's Mettle with a team of 10 bringing it to life. And for many on the project it's their first game.
"The art and programming leads have shipped titles before, in mobile and consoles respectively," he says. "For everyone else, it's their first shipped title."
Inspired by Warcraft and Battleship
Despite its sci-fi setting, Miner's Mettle manages to standout from the crowd with its artillery-trains, making us wonder what Singular Scheme's inspirations are.
"Miner's Mettle is inspired by Scorched Earth, and Battleship the board game," he says. "We were also introduced a Russian cult classic called Locoland by someone on our Discord server the day before launch, and the similarities there are striking. If I'd known the game existed, I'd probably have mined it for inspiration too!"
That said, Oomerhoy is aware how "incredibly difficult" independent game development can be. More so with discoverability and visibility being key issues for developers on Steam. This coupled with a love for Blizzard's classic real-time strategy series Warcraft prompted the choice of genre.
"We wanted to make something that was different and helped us stand out from the noise," he says. "At the time there weren't a lot of RTSes [real-time strategy games] coming out, so we felt there was an underserved community out there. I was also a huge Warcraft fan back in the day and trying to put our own spin on the genre appealed to me."
Miner's Mettle single-player story campaign is on the way
If you were expecting a single-player campaign akin to the Warcraft games, you're in for a wait. Miner's Mettle currently offers online multiplayer along with single-player and co-operative horde mode though Oomerbhoy confirmed a single-player campaign is in the works.
"Yes, we're planning on adding in an eight to 10 hour single player campaign," he says. "It's something we've already started work on and when we finish it up is when we make the transition from early access to our 1.0 launch."
In addition to this, there are plans to build on Miner's Mettle's lore and backstory too.
"[E]ven before the campaign comes in which will really help flesh out the lore, we want to make the game more atmospheric and immersive," he says. "Changing our writing style will help us do that, currently it's pretty dry and focused on the mechanics. That's one of our goals in the coming weeks."
The art of balance in Steam Early Access
With story and lore locked in, we wondered what Singular Scheme's plans are in terms of managing the game's balance, a constant bugbear in real-time strategy games.
"There's a lot of moving parts," he says. "Since it's a strategy game, everything is intertwined. And then there's four different factions on top of that too so keeping all four equally balanced and yet fun to play as we deepen the distinctions between them will be a real challenge. I think a unique aspect of our game with it's long range shooting is that while in most RTSes you need to be up close to do damage to enemy bases, here it can be done from a very far distance. We spent a lot of time iterating on how facilities were expected to avoid or mitigate this incoming damage and I think we'll continue to spend some time trying new things there."
And while Miner's Mettle's game balance presents a persistent challenge, it wasn't Singular Scheme's biggest problem in getting the game to early access on Steam. It's camera and controls were.
"The hardest thing was settling on the best camera settings and the controls," he says. "Following multiple units on such a large battlefield in real time is unusual. I don't think we rose well to the challenge because it was the most common complaint upon launch."
To it's credit, Singular Scheme is already working on a fix.
"We're now revamping the controls and made significant progress already and should be done with it this week," he says. "Since it was a unique concept, and there weren't a lot of giant's shoulders to stand upon, we had a really blank page to start with and it took us a while to figure out what sort of game we wanted to be."
The other issue is multiplayer. This made shipping Miner's Mettle tougher than it should have been.
"We knew adding multiplayer to the game would significantly affect the complexity of our work and we thought it was worth taking that risk," he says. "But it does double or triple the time to do certain things."
With Miner's Mettle being in early access, user feedback has flagged the aforementioned issues with Oomerbhoy being "grateful to those who see the potential in the game and are giving regular, detailed feedback."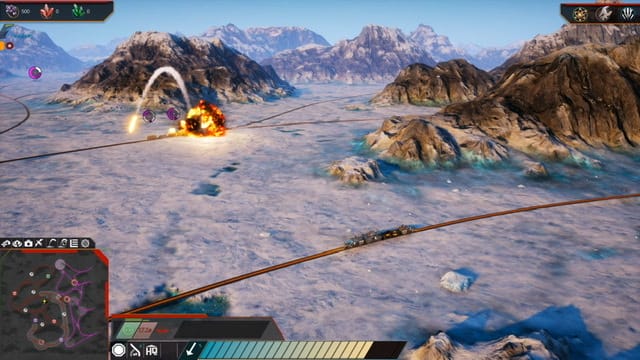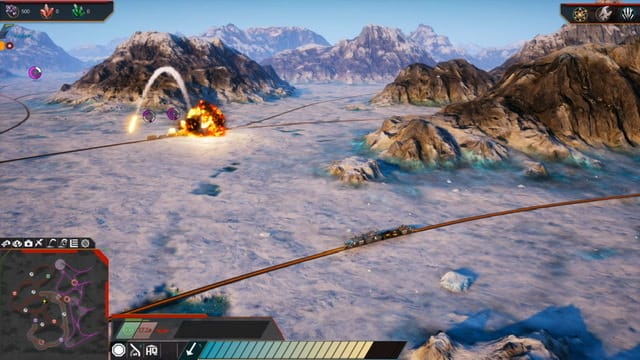 Bringing Miner's Mettle to consoles (or not)
We wondered if Miner's Mettle would be available outside of Steam in the foreseeable future. Singular Scheme is considering it though don't expect this to happen anytime soon. A launch on consoles seems unlikely too.
"Miner's Mettle is built on Unreal Engine 4 so EGS [Epic Games Store] would be a natural fit for us," he says. "That being said, our current focus is on the Steam version and improving the game in Early Access. Once we launch to 1.0 we might consider other store fronts. Consoles are very unlikely because of the game's complicated control scheme. I don't think we'd be able to map all our keys to a controller!"
On the topic of Unreal Engine, we had to ask what made Singular Scheme opt for it to make Miner's Mettle. Most Indian games are built on the likes of Unity making Unreal an interesting choice.
"The central hook of our game is the artillery, and artillery doesn't make a lot of sense in close quarters," he says. "We knew we wanted to have large maps to accommodate the artillery and based on our research it seemed like the Unreal Engine would be able to handle it better."
Releasing a game during Coronavirus lockdown
It also helps that the game's lead programmer, Akshat Gandhi has had experience with Epic's tech and is confident in teaching others on the team.
"Our lead had experience with it and he's had to show the other programmers the ropes," he says. "It's been relatively easy to work with and the updates they've [Epic] been pushing have helped a lot."
Finally, we had to ask how much of an impact did the ongoing coronavirus pandemic have on the game's development and launch? He left us with this.
"It was a challenge for sure," he says. "We had to delay the game a couple of times because of the pandemic. The situation developed really rapidly and the team did a great job preparing us for working from home, but losing time was still inevitable. And we've faced constant electricity and internet cuts for a few of us unlucky to live in areas prone to such things. Most people I know say it's a good time to launch a game, which might have been true in the very earliest days of the lockdown, but I suspect things will have normalised a bit by now."
Miner's Mettle is out now on Steam via early access for Rs. 300 ($20 in the US).