Spike Chunsoft has now released the Chaos;Head Noah / Chaos;Child Double Pack for Nintendo Switch worldwide alongside Chaos;Head Noah for Steam. This double pack includes Chaos;Head Noah and Chaos;Child remastered for Nintendo Switch featuring 1080p visuals and more. Chaos;Child was already localized for PS4 and PS Vita by PQube Games before it was released on Steam by Spike Chunsoft worldwide. Chaos;Head Noah was announced to come to PC via Steam, but the Chaos; Head Noah Steam release date was been cancelled last week. Today, Spike Chunsoft previously confirmed that the Steam release is actually happening as originally planned. Watch the Chaos;Head Noah / Chaos;Child Double Pack English launch trailer below:
Chaos;Head Noah Steam DLC and trading cards
Spike Chunsoft posted this on the Steam page:
The following will be added to the Steam version sometime after release as soon as they are ready.
Costume DLC: All users who purchase CHAOS;HEAD NOAH before and after the release of the DLC will be able to obtain the DLC for free upon its release.
Community Items (Trading Cards, Badges, etc): Unfortunately trading cards will not be distributed for gameplay hours spent prior to the addition of the community items. We apologize for this inconvenience.
Chaos;Head Noah / Chaos;Child Double Pack SteelBook Launch Edition
Spike Chunsoft also announced a SteelBook Launch Edition for the Double Pack on Nintendo Switch. The European release of the Double Pack will be handled by Numskull Games. It includes the following:
CHAOS;HEAD NOAH / CHAOS;CHILD on one game card.
Premium metal SteelBook case with the exclusive new art drawn by character designer Mutsumi Sasaki
Bonus Costume DLC for CHAOS;HEAD NOAH. The manifestation of the protagonist's delusion is included in the Costume DLC. The girls get sexy. *The Costume DLC only applies to CHAOS;HEAD NOAH. Seira's costume is not included in the NA/EU version.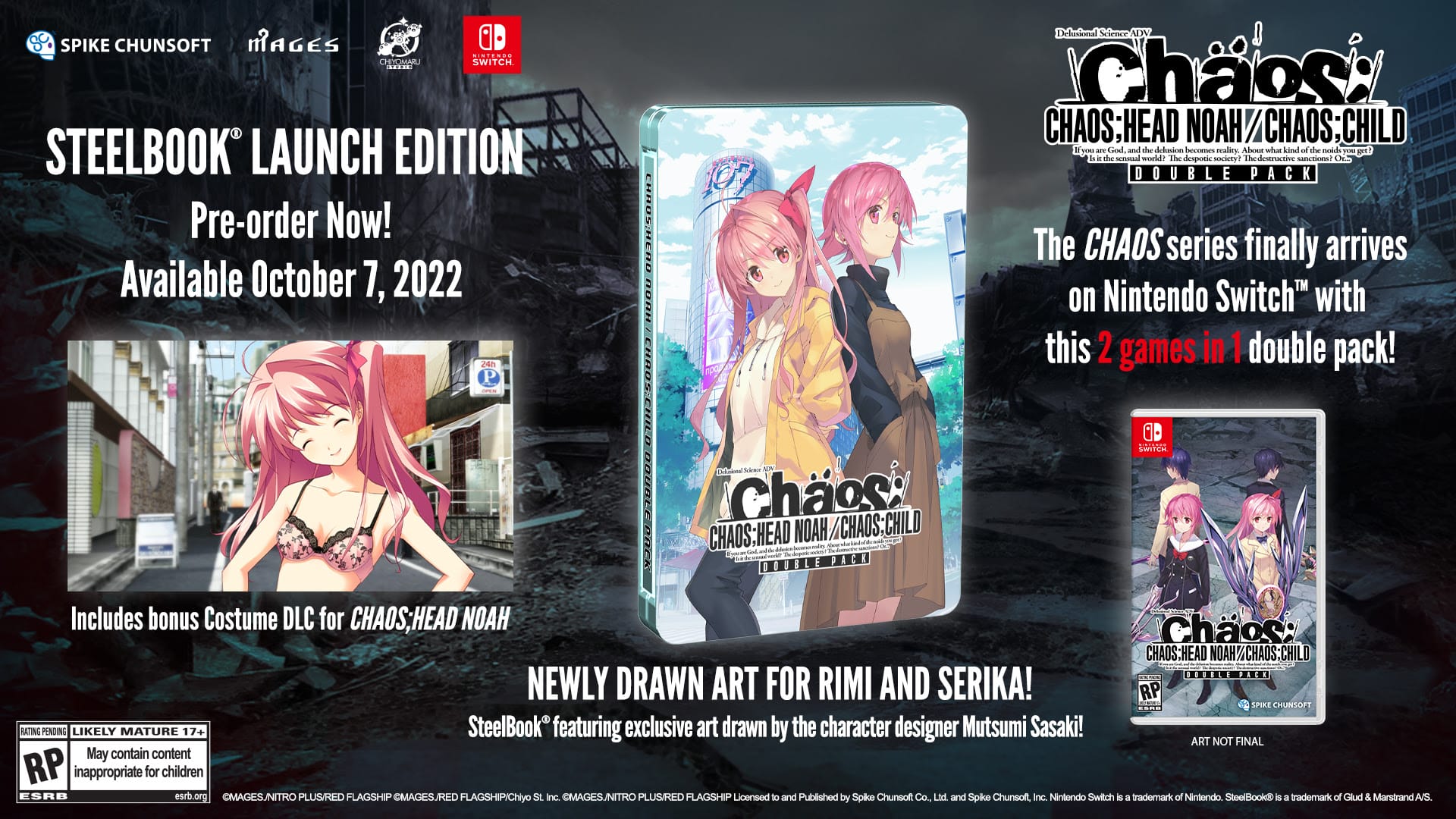 The SteelBook Launch edition is priced at $49.99 / €49.99 / £39.99. Check out the official English website for the release here.
Chaos;Head Noah and Chaos;Child in addition to the bundle are out now on Nintendo Switch. Chaos;Head Noah is out now on Steam. Check out store page here.