While the PS5 has a release date, price, and ongoing pre-orders the world over, Sony appears to have ignored India. Although PlayStation boss Jim Ryan had envisioned the PS5 launch to be simultaneous worldwide, this has been far from the case at least for gamers in the country. However it may appear that if you reside in India and have your eyes on the PS5, you won't have to wait too long.
Readers of The Mako Reactor pointed us in the direction of a report on Indian Video Gamer that has stated Sony will announce PS5 launch plans "soon", which is a pretty odd thing to throw in at the end of a story about Xbox Series X India pre-orders. Nonetheless, we reached out to our sources in the supply chain which seem to confirm this.
According to our sources speaking on condition of anonymity, Sony has a PS5 release date and price ready for India. It is not willing to reveal these details just yet in fear of missing the date due to its own logistical inefficiencies, particularly in light of how Indian fans have been responding to a lack of information, trolling their social handles at every opportunity. If this is the thought process, the company isn't wrong. Just look at how it managed its own PS4 first-party line-up this generation to understand how poorly the company has handled things in the past. We were also told that an India release date and price is on the way the moment it is able to confidently deliver on time which should result in an announcement soon.
While we're likely to believe this given our sources' track record, retailers on the other hand do not appear to have been kept in the loop. Those we spoke to both on Sony's approved list of PS5 sellers and off it have told us the same thing: they're optimistic of the PS5 making it here as per the "late 2020" release window but have not been informed by Sony of any new developments just yet.
@RishiAlwani spoke to sony store he told november 20th they will get stocks for ps5 and the price will be from 35k to 50k, after calculations it's coming upto 39k and 49k for digital and disc respectively this is confirmed but stocks will be less.

— Kaushik choudhury (@KaushikcKaushik) September 23, 2020
The exceptions to this are Sony Centers — Sony's own exclusive stores — appear to have given prospective PS5 owners in the nation a price and pre-order details (as per the tweet embedded above being just one of many instances we've found on Twitter) and Amazon India, whose has told customers that PS5 India pre-orders should begin next week as per chat logs shared with us by our readers that we've posted below.
Historically, Sony hasn't given any stores preference in the past and its unlikely to be the case right now. It's most likely a case of Amazon India and Sony Centers ensuring would be customers don't go elsewhere to buy the PS5 when its eventually available.
All of this should imply that the company has finally sorted out its BIS issues which plagued the PS4 and PS4 Pro launches in India which is heartening to say the least. It'll be interesting to see how much the PS5 is eventually priced at and the initial launch quantity for India.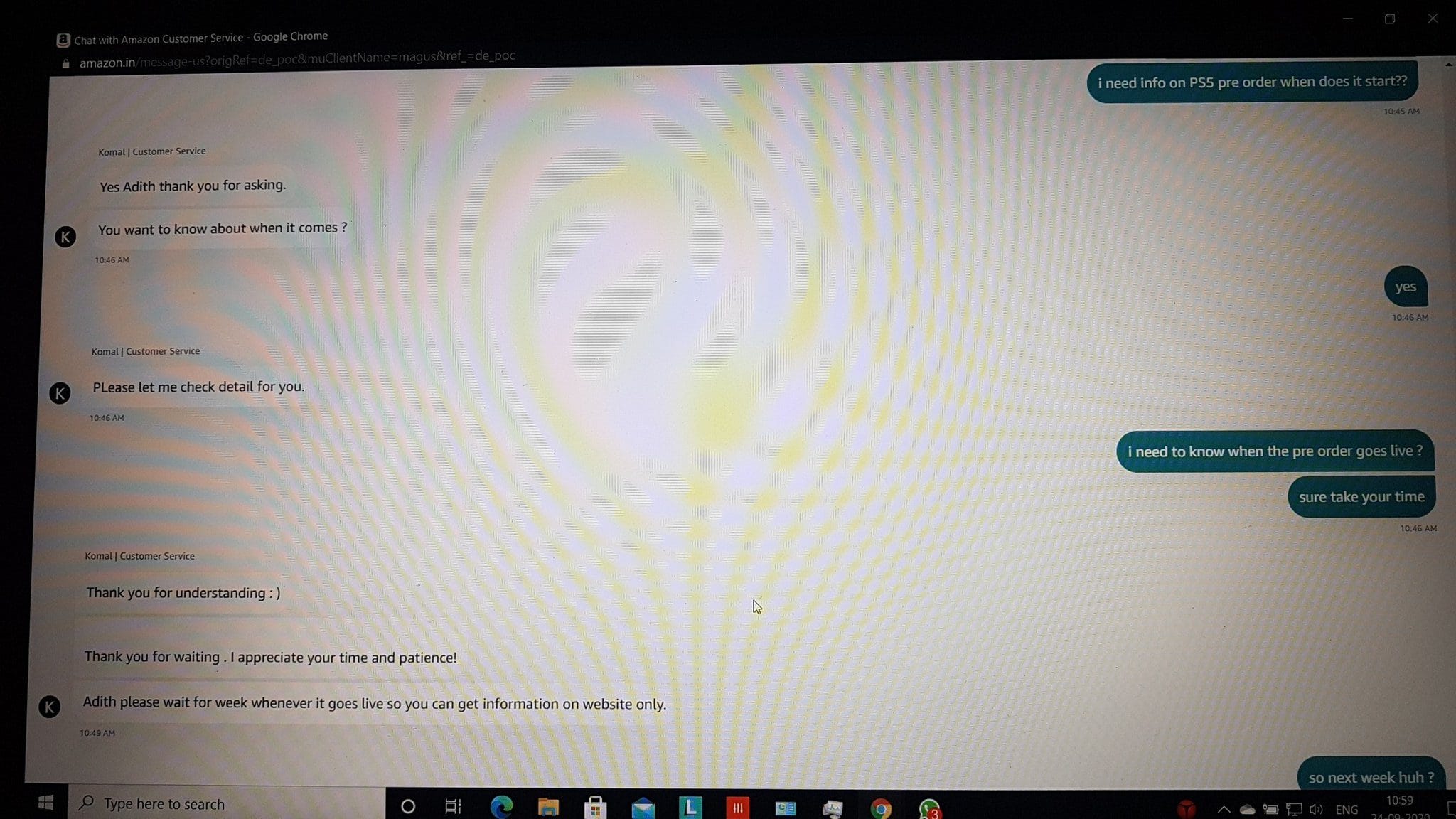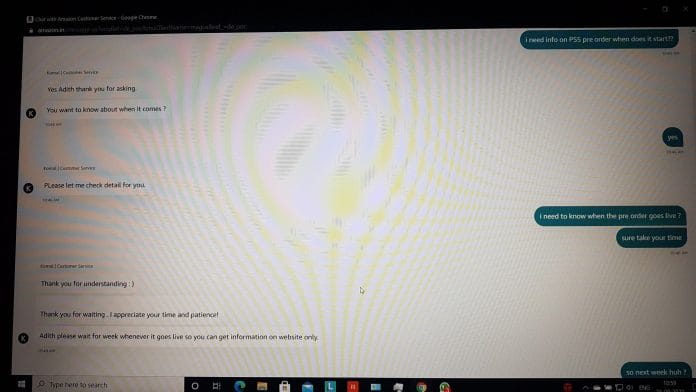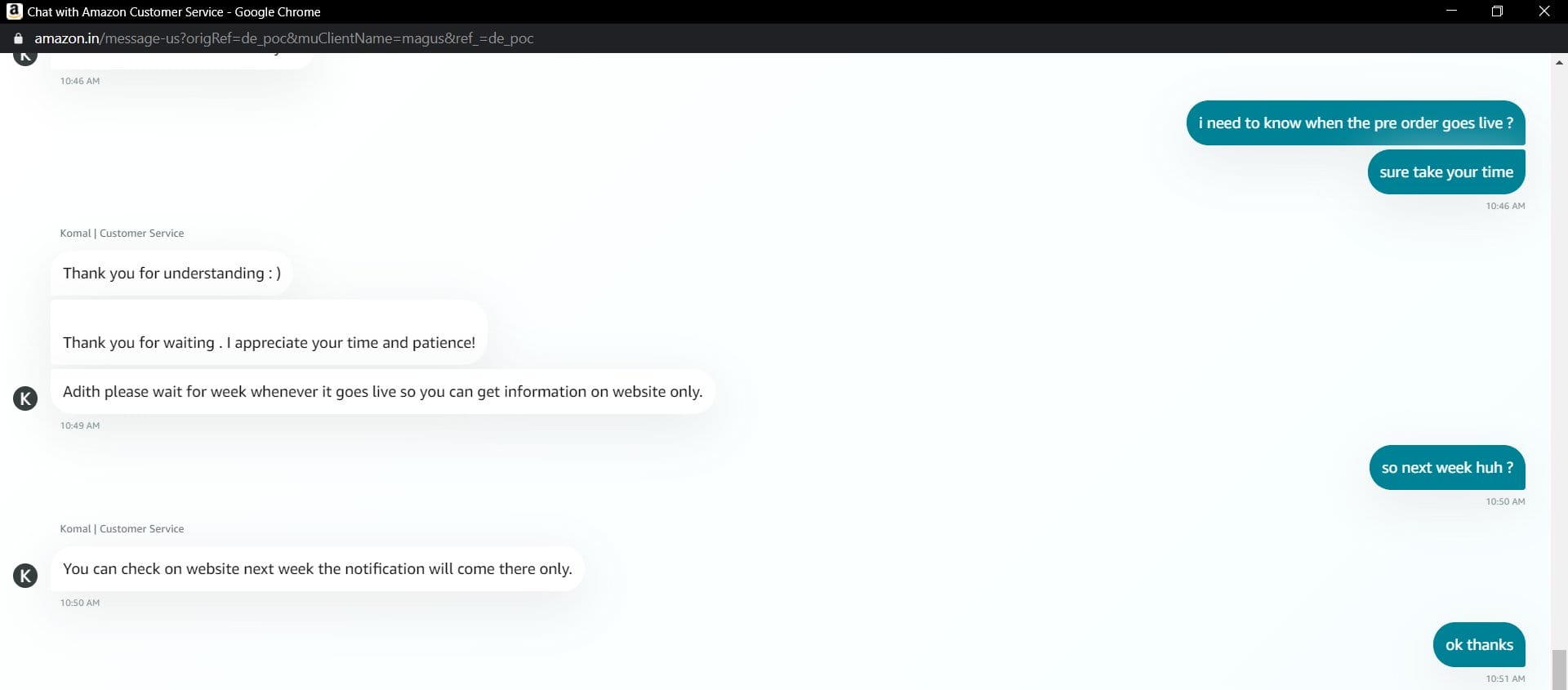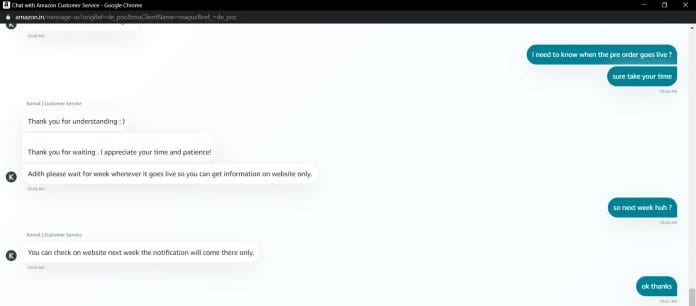 Amazon India has been telling would be PS5 customers that pre-orders go live next week (images credit: Adith).
And what of the usually efficient parallel market? Importers speaking to us have suggested a price of around Rs. 55,000 or so for the PS5 with a disc drive. They have no plans of bringing in the PS5 Digital Edition citing zero demand from their customer base. We would not recommend this option as you will not get any warranty or official support from Sony if you face any issues down the line.
As always, The Mako Reactor has reached out to Sony India for comment and we will update this story if we hear from the company.