Sega just announced the pre-order bonuses, digital deluxe edition, and more for Sakura Wars on PS4 ahead of its release next month in the West. We've been covering Sakura Wars for a while leading up to the Japanese release. Sega recently confirmed the release date and detailed the launch edition with a new story trailer. Today, the company revealed the digital editions for the game and released a new trailer showcasing the relationships within the game. As usual, the music used is fantastic and Sakura Wars is a strong contender for soundtrack of the year. Watch the new trailer below:
Sakura Wars Digital Deluxe Edition contents
Legacy of Love Add-on Bundle: a pack of costumes and background music (BGM) paying tribute to:

The Flower Division of the Imperial Combat Revue (Sakura Wars 1, Sakura Wars 2: Thou Shalt Not Die)
The Flower Division of the Paris Combat Revue (Sakura Wars 3: Is Paris Burning?)
The Star Division of the New York Combat Revue (Sakura Wars: So Long, My Love)

Charming Accessories Add-on Bundle, which includes

Glasses Bundle
Dog Tail Accessory Bundle
Angel Accessory Bundle

Swimsuit DLC Bundle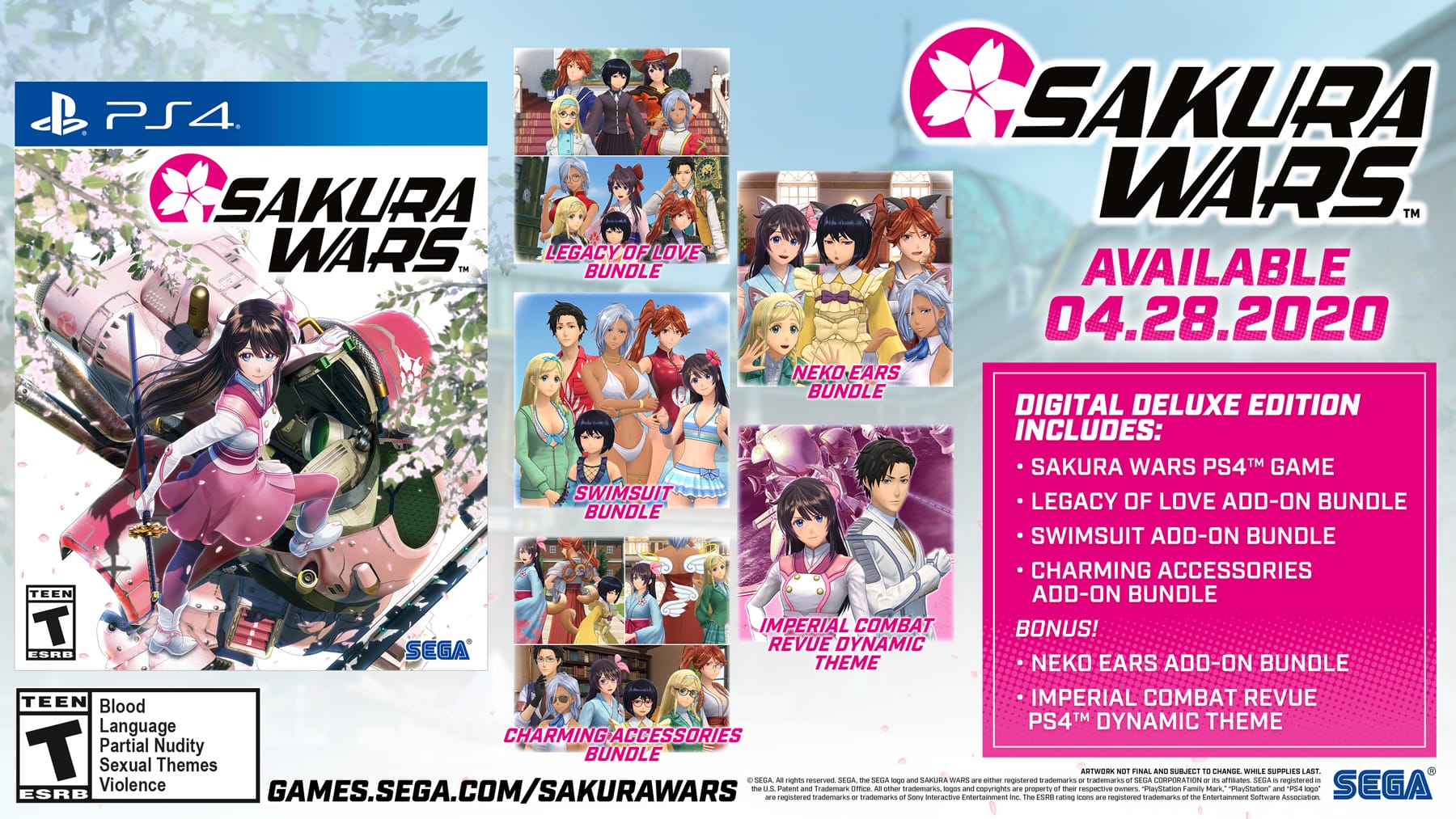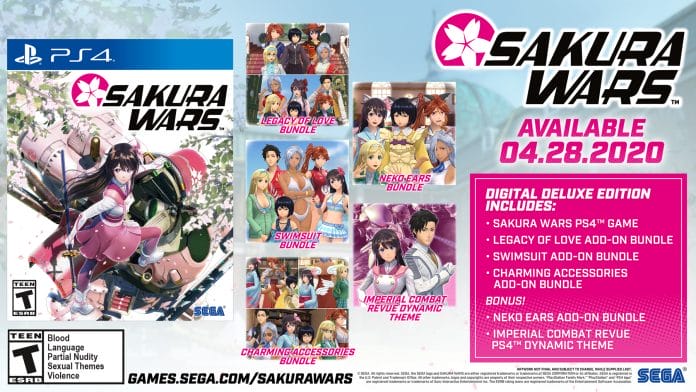 Sakura Wars pre-order bonus
Digital pre-orders include the Imperial Combat Revue PS4 Dynamic Theme and Neko Ears Add-on Bundle. This is for both the standard launch edition digitally and the Digital Deluxe Edition. The physical launch edition also includes the Theater Costume Add-on Bundle.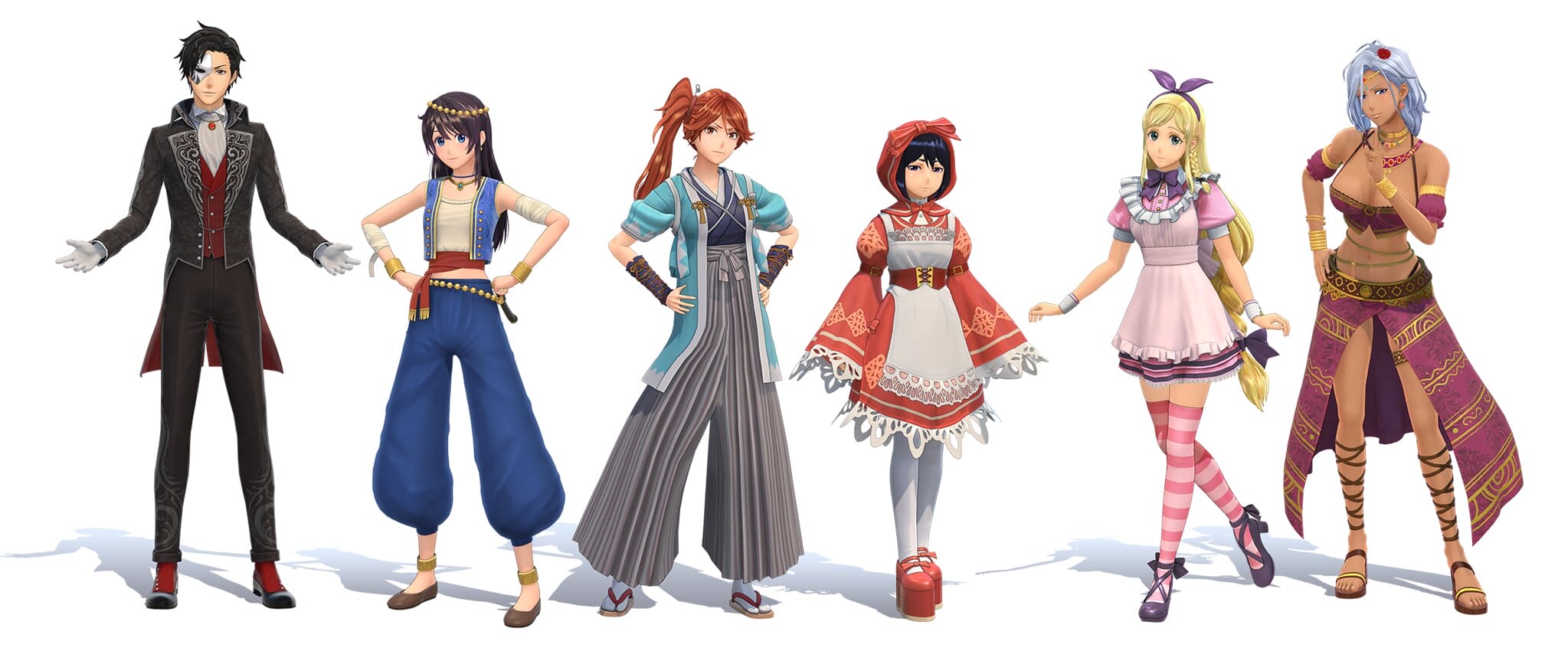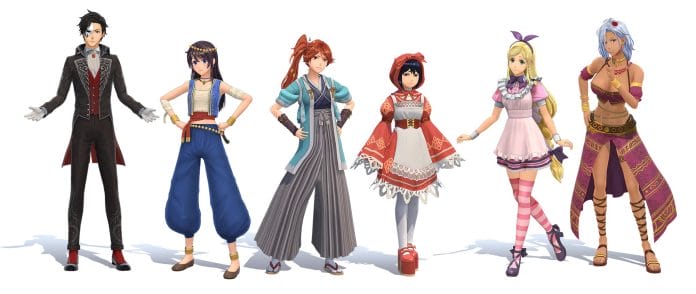 Sakura Wars releases on April 28 for PS4. Check out all our coverage of Sakura Wars here.