Update: Added Street Fighter 6 Steam and Xbox demo download links with some Steam Deck information.
Street Fighter 6 is releasing this June for PS5, Xbox Series X|S, PS4, and Steam. Earlier today at the Street Fighter 6 showcase, Capcom revealed the Year 1 Roadmap, many accessibility options, a free demo, and more. If you've not kept up with the game, the pre-order bonus, collector's edition, ultimate edition, and more were revealed before. I've included everything Capcom revealed at the showcase from the website and more below. Watch the showcase world tour gameplay and avatar battle reveal below:
Street Fighter 6 World Tour details
World Tour
Capcom showed off an all-new location in World Tour called Nayshall, a developing nation tucked away in a remote corner of Asia. Here you meet iconic Masters and experience the world of Street Fighter with your own custom avatar as you hit the streets of Metro City, Nayshall, and other locations around the world in this new single-player story mode.
Capcom also introduced a number of RPG elements as well. You can consume items and food during battle or at eateries to recover Vitality, acquire buffs, or inflict debuffs. As you level up your avatar, you'll earn Skill Points to spend on a Skill Tree to further customize your tailor-made move set.
Become a student of your favorite Masters – including all 18 launch characters – by Enrolling in their style and learning their Special Moves. Increase your bonds with Masters by giving them presents and completing Missions. Combine all of this to unlock new cutscenes as you form personal connections with these legendary fighters.
Street Fighter 6 Custom Avatar Battles
You can build up your unique character in World Tour and then head into Battle Hub to join custom Avatar Battles against other players online. You can also use your avatar with Dhalsim's fighting style, Zangief's Screw Piledriver, and Ken's Hadoken, or any other combination of abilities you've learned in World Tour to show off your own personal fighting style.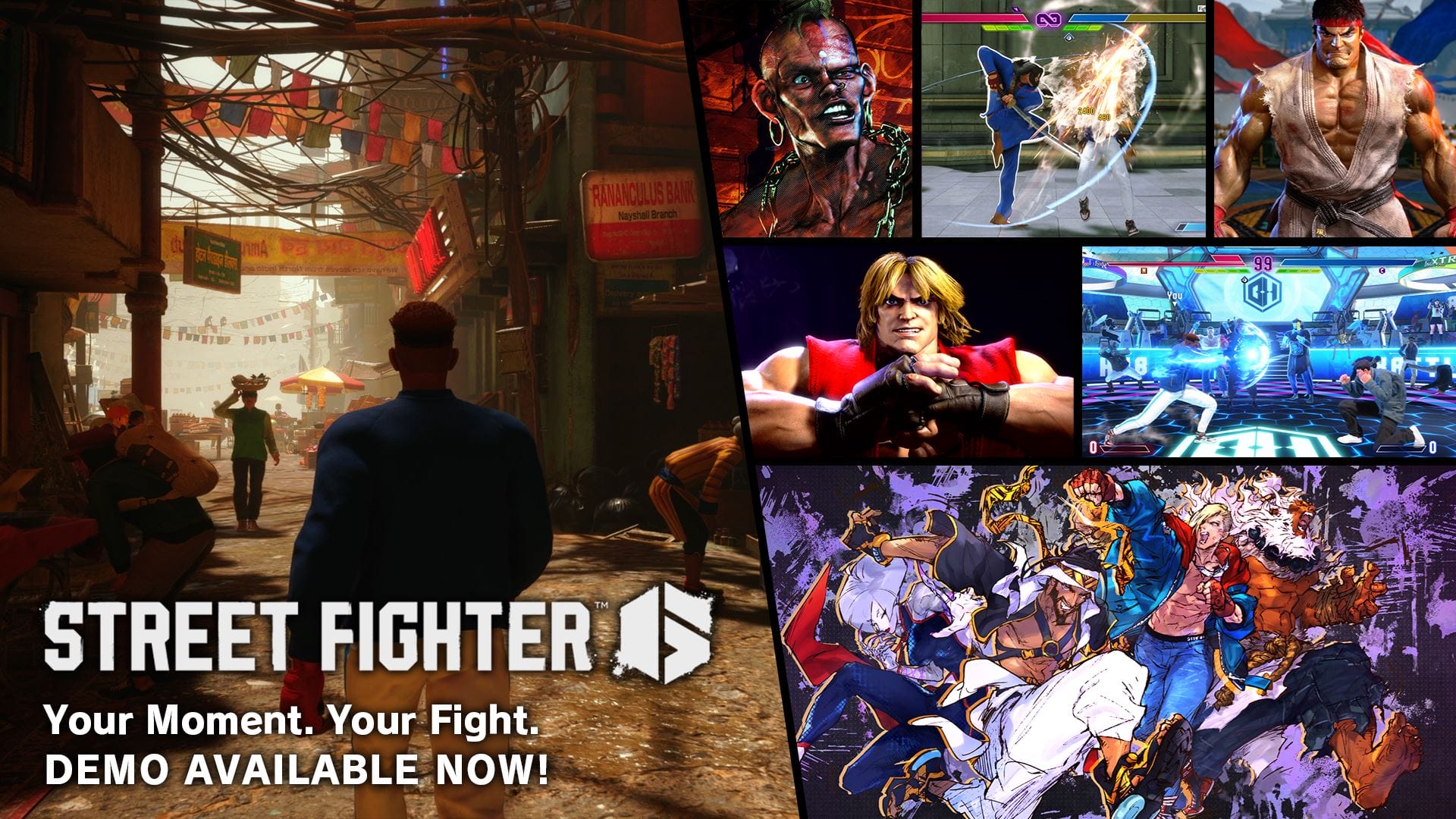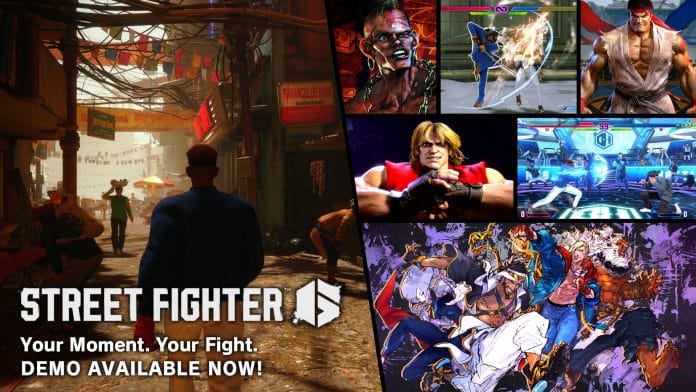 Street Fighter 6 Accessibility options
Street Fighter 6 is has increased accessibility with innovative sound design that tells you how far away you are from your opponent, the height level of attacks, whether an attack is a cross-up, how much Drive Gauge remains, and more.
For newcomers and veterans alike, there are fleshed out Tutorials, Character Guides, and Combo Trials, which provide a solid foundation for each character.
Capcom's third Control Type in Street Fighter 6 to go along with Classic and Modern is Dynamic, where you can unleash a character's flashy moves by pressing the Auto-Attack button and having AI assist your attacks and combos.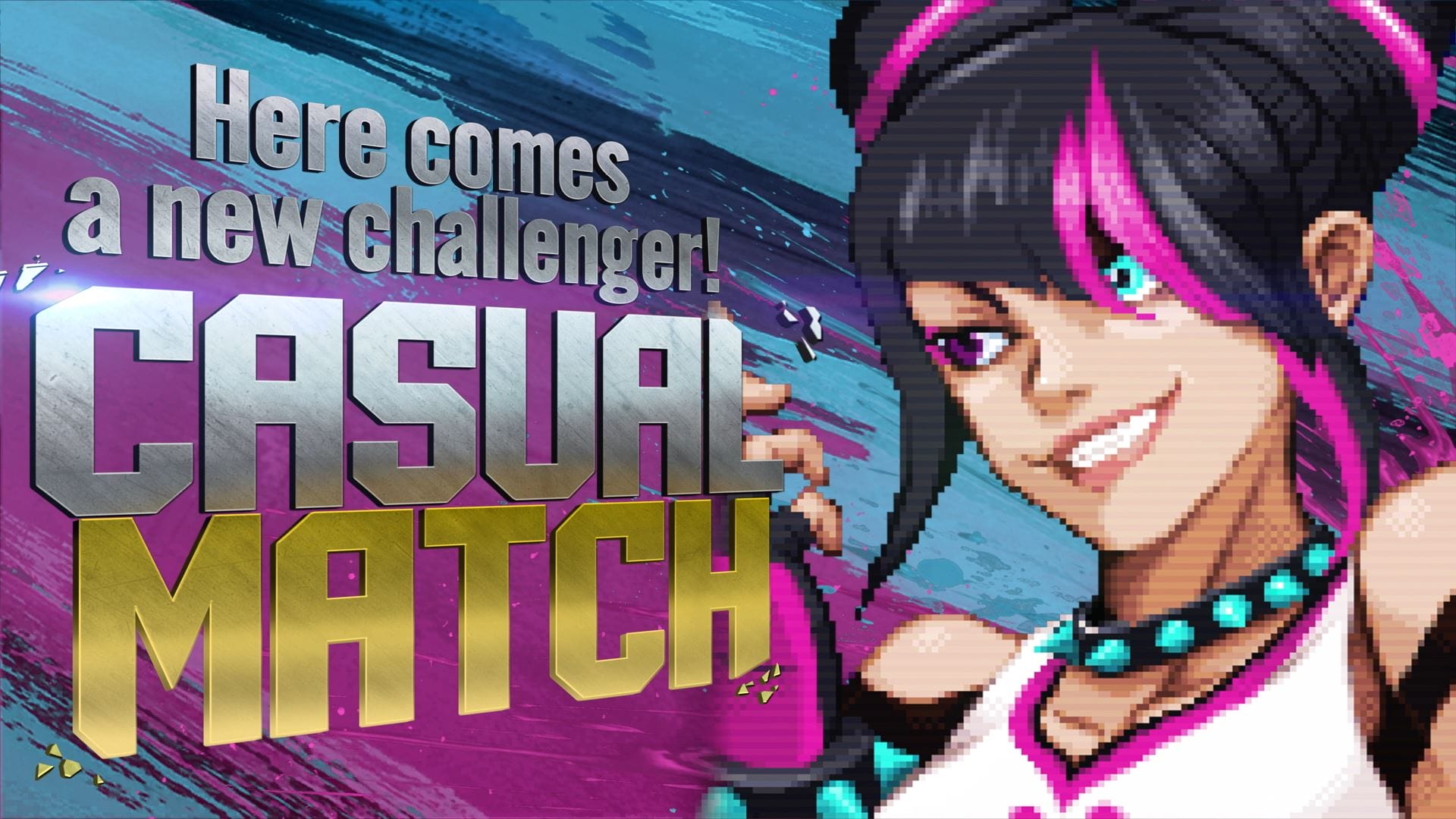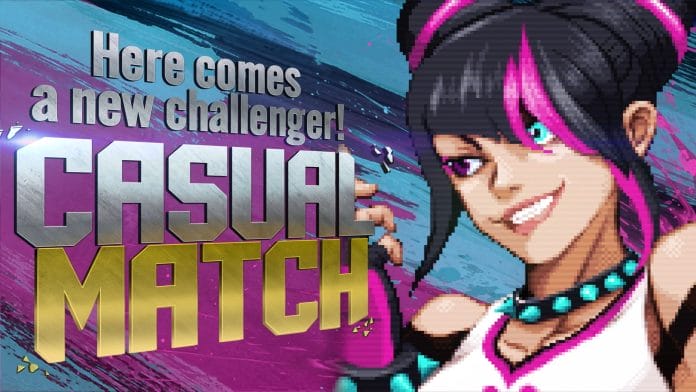 Street Fighter 6 Arcade Mode, Extreme Battles, and more
Classic Fighting Game Experiences with Some Extra Spice
Arcade Mode is a single-player mode where you'll face off against the computer and learn more about each fighter's story. Complete Arcade Mode with each character to unlock and view beautiful illustrations in the Gallery. Your scores can also be uploaded to online leaderboards.
Play against other players or the computer by creating a team of up to 5 characters and customize the Match Format to your liking such as Single Elimination, Doubles, and Teams.
Extreme Battle introduces rulesets you'll need to follow, along with fun features like Running Bulls or our own special version of hot potato. Play in Extreme Battle to learn more about the basics of the game or to unleash pure havoc at a party.
Play online against other players by creating a Custom Room. The four virtual cabinets in the room can be set to One on One, Extreme Battle, or Training. Custom Rooms can now include up to 16 players at a time and makes Online Training and Match Spectating easier than ever before.
Compete Against the World
Ranked Matches return and we've taken steps to reduce the pressure of losing a match in certain Ranks. First, we've added a one-time Rank-down protection feature for those in Diamond rank and below. Next, Rookies will no longer lose League Points upon defeat to encourage online play. Finally, Iron-Gold and Master rank players will not incur League demotions. Each character also has their own individual Rank, so trying new characters in Ranked Matches is more approachable than ever.
Street Fighter 6 Battle Damage feature
As a celebration of the entire Street Fighter series, Capcom introduced the Battle Damage Feature. During fights, characters will get sweatier, develop cuts and bruises, along with other signs of heated battle appearing on their faces and clothing. This is only available in certain offline modes and can be turned off in Settings.
Capcom also showed off how players can create a Club in the Battle Hub to play with friends and find like-minded players. You can customize your Club emblem and design a uniform that only your Club's members can show off.
Street Fighter 6 Year 1 Roadmap – new characters
Street Fighter 6 Year 1 includes four new characters:
Rashid of the Turbulent Wind, who debuted in Street Fighter V, returns in Summer 2023. The enigmatic A.K.I. struts into the roster in Autumn 2023. Ed, the Young Commander from Street Fighter V, also strikes back in early Winter 2024. And finally, the legend himself, the beast, the transcendent Akuma will rage into Street Fighter 6 in Spring 2024. All four of these characters will be included as Masters in World Tour following their release and are also included in the Deluxe and Ultimate Editions of Street Fighter 6.
Street Fighter 6 demo download links
Download the demo for Street Fighter 6 here on PS5, here on PS4, here on Steam, and here on Xbox Series X|S.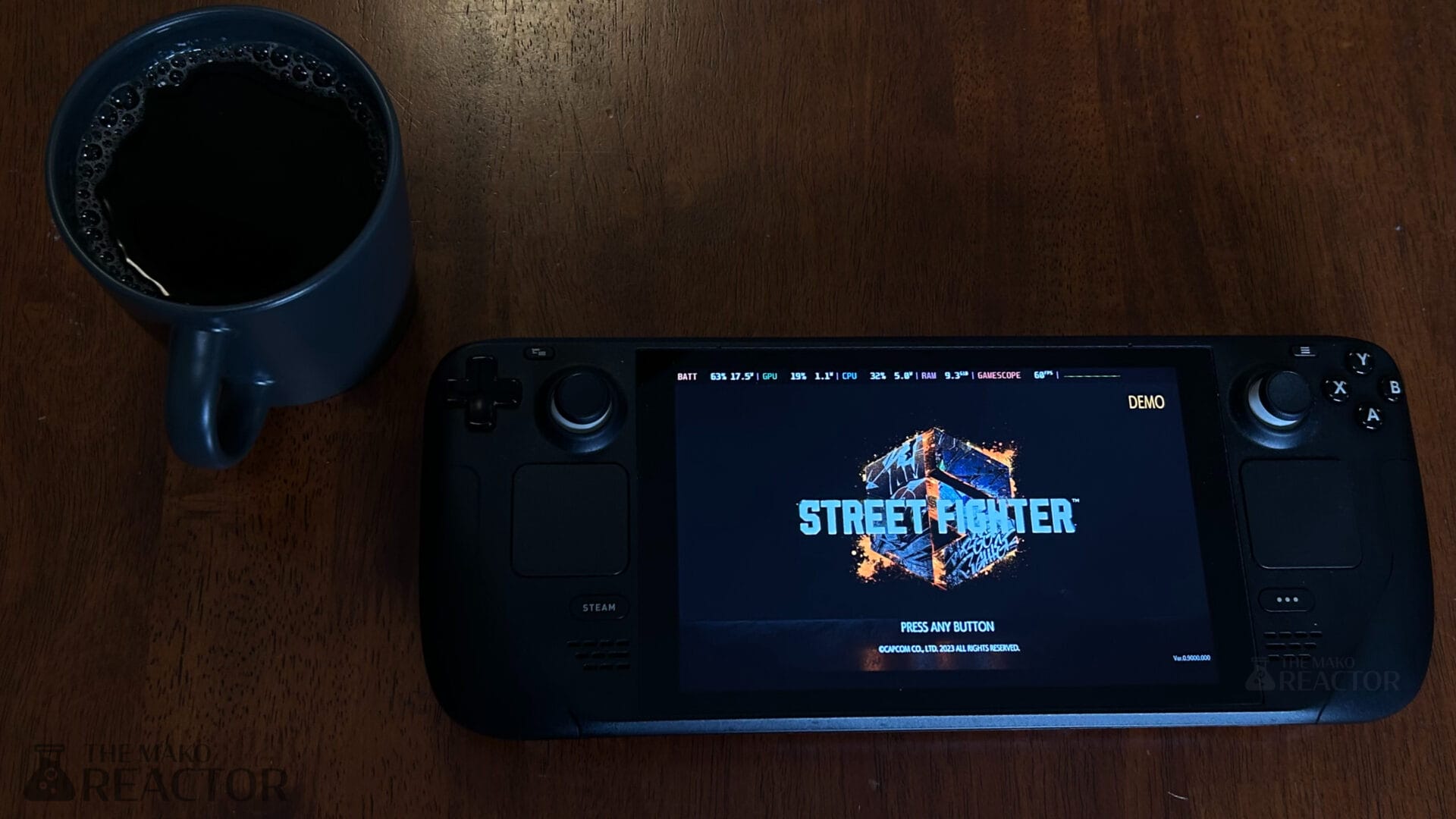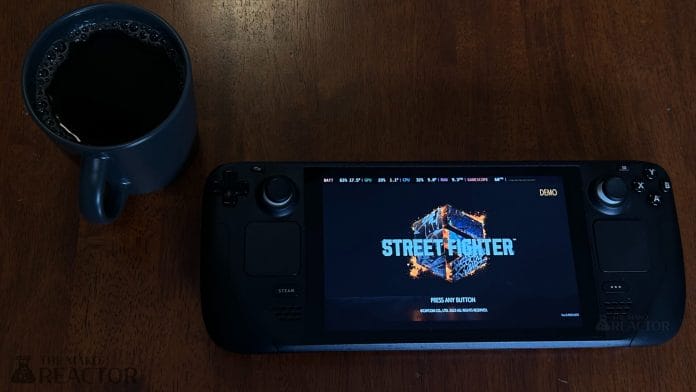 How to play the Street Fighter 6 demo on Steam Deck
It crashed before getting to the title screen on the default Proton for me. I swapped to Experimental (Bleeding Edge) and it worked with a color bar pattern for the RE Engine screen. I will be testing it with Proton GE soon.
Street Fighter 6 demo contents
You can learn basic battle mechanics from the Tutorial and practice Luke & Ryu's moves and fighting style in the Character Guide. You can also sample World Tour where you can experiment with the deep avatar creation feature. Custom avatars can be transferred over to the full game on the same platform once it releases. There is no online play as of now.
Street Fighter 6 pre-order bonus
All pre-orders will receive alternate colors for Chun-Li, Jamie, Manon, Dee Jay, Juri, and Ken's Outfit 1, while PlayStation 5 and PlayStation 4 digital pre-orders will also receive exclusive items like 18 in-game Special Titles and 18 Stickers featuring unique art from the launch roster to personalize their profile.
Street Fighter 6 Collector's Edition pre-order and price
The Street Fighter 6 Collector's Edition Mad Gear Box has:
Luke and Kimberly Figures
Figure Diorama Boards
Art Book
Sticker Set
Base Game
Year 1 Ultimate Pass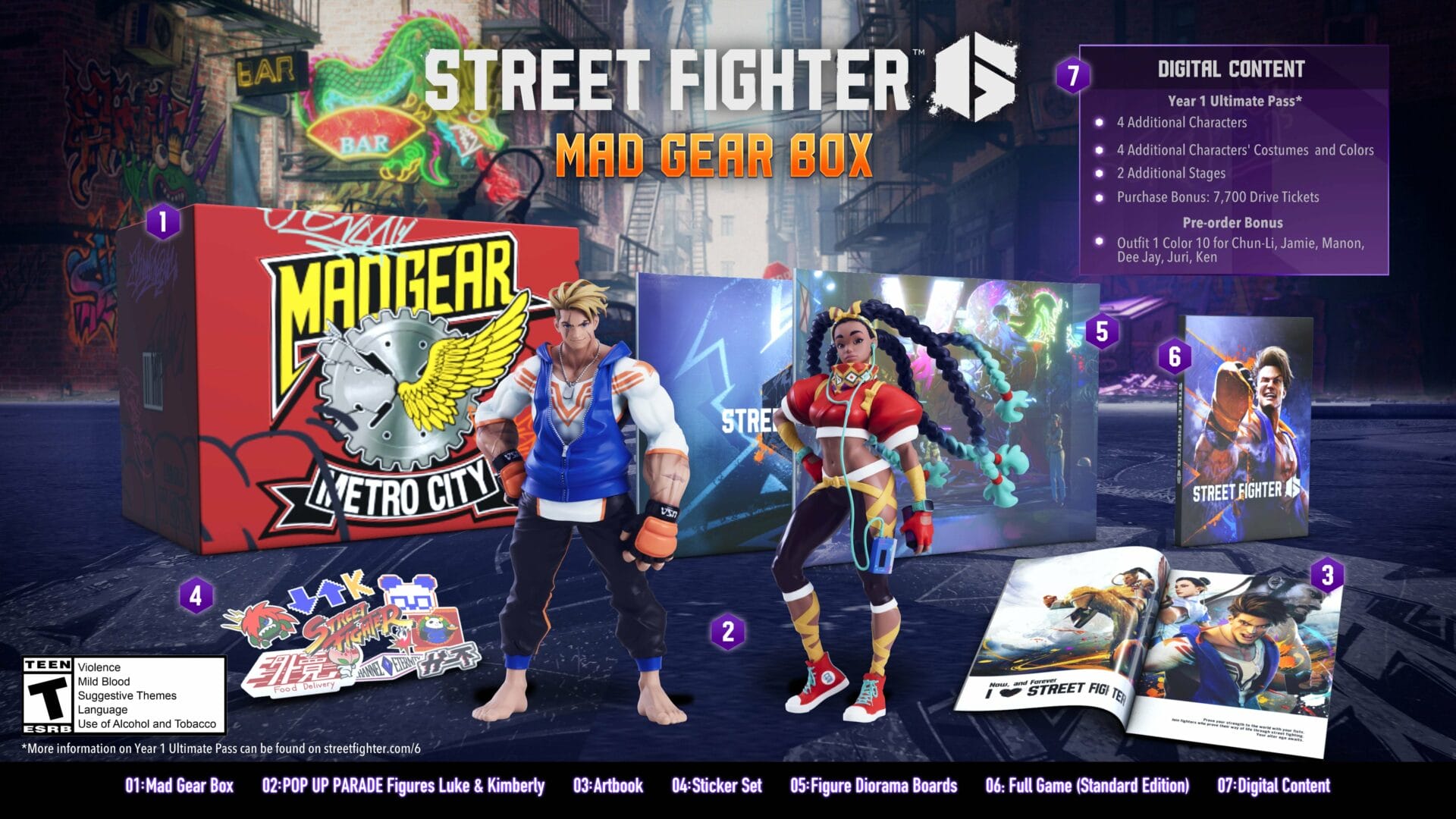 Street Fighter 6 Ultimate Edition contents and price
The Deluxe and Ultimate Edition are below:
Deluxe Edition ($84.99; Physical/Digital) – Includes the base game and the Year 1 Character Pass (containing four characters), colors 3-10 for each of those Year 1 characters' Outfit 1, and a bonus of 4,200 Drive Tickets for in-game purchases
Ultimate Edition ($104.99; Digital) – Includes the base game and the Year 1 Ultimate Pass, which contains content from the Year 1 Character Pass, two additional costumes and their alternate colors for the four Year 1 characters, two more stages, and a bonus of 7,700 Drive Tickets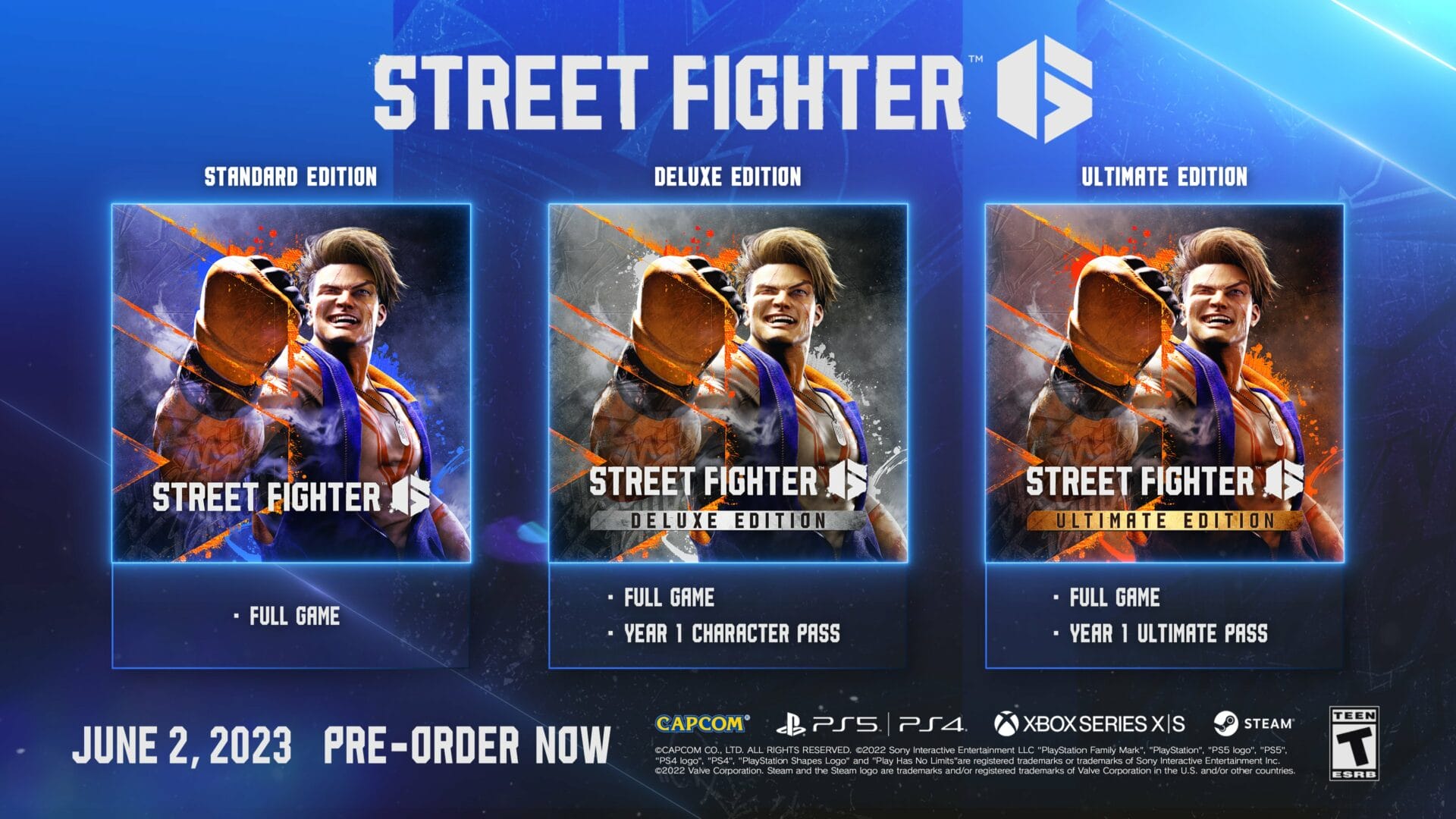 Pre-orders are now live on the PS Store, MS Store, and Steam. Physical pre-orders are live in India as well, but only on PS5 and PS4.
Street Fighter 6 releases on June 2, 2023 worldwide for PS5, PS4, Xbox Series X|S, and PC.