The Taiwan Digital Game Rating Committee rated a new Super Monkey Ball game for PS4, Nintendo Switch, and PC from Sega a few days ago as spotted by Marigold News and Reviews. Today, a rating for the PS4 and Nintendo Switch platforms for the same game went live on the website for the Game Rating and Administration Committee of Korea.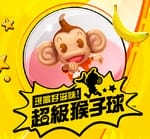 The image above is also present with the rating for consoles and PC. Since the game has now been rated in Korea as well, an official announcement is likely coming soon. The last release for the Super Monkey Ball franchise was Super Monkey Ball Bounce in 2014 for iOS.
It is worth noting that when this is announced for the West, an Xbox One version is very likely with SEGA bringing most of its non exclusive games to Xbox One in the West in addition to PS4 and Nintendo Switch on the console side.