Nintendo of Europe just announced pre-order details for the upcoming mech action game Daemon X Machina that has been developed by Marvelous for Nintendo Switch. If you missed the newest trailer for it, watch it below:
Daemon X Machina download size
Daemon X Machina is up for preload on the Nintendo eShop in Europe over a month before release. The download size on the eShop in UK right now is 5.8 GB.
Daemon X Machina digital pre-order bonuses
Nintendo of Europe also announced pre-order bonuses for digital pre-orders of Daemon X Machina. The bonuses include the following:
Prototype Arsenal
Prototype Plugsuit
Metallic Plugsuit
ZAW-S08C Habakiri
HAW-R01C Grim Reaper
SAW-AM02C Thunderbird
HAW-MO1C Silver Raven
SAW-B17C Gillingr Impact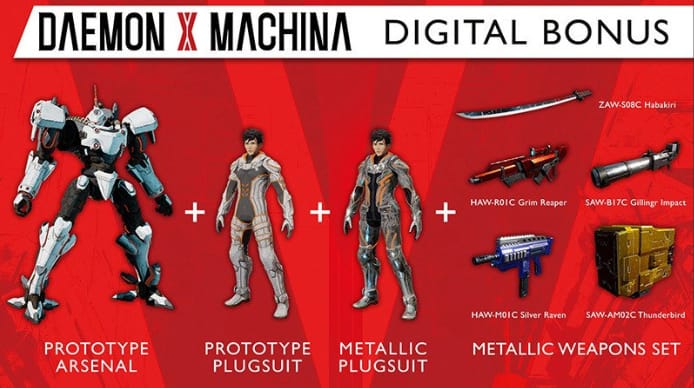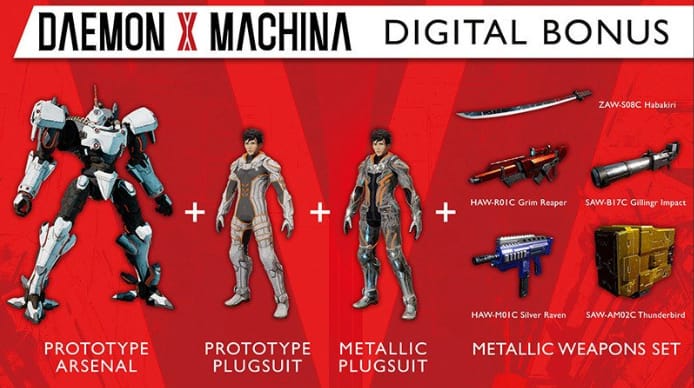 Daemon X Machina pre-order price:
While the MRP for the game is £49.99 which is the norm for full priced Nintendo published games, you can pre-order it at 10% off for £44.99 or use a Nintendo Switch Voucher. The pre-order discount is available until September 12.
Daemon X Machina releases on September 13 for Nintendo Switch.