Earlier in the month we exclusively reported that the PS5 India trade mark is not held by Sony. However it appears that the company's PS5 India trade mark status has changed. Previously it's trade mark application was "Opposed" now it's "Advertised bef acc" which means it has been advertised before acceptance. The status of a trade mark application being advertised before acceptance is one of the final steps in seeing Sony gain the PS5 trade mark in India. This could suggest we see a PS5 release date and perhaps pre-order information soon.
According to patent and trade mark attorneys L.R. Swami and Co. this "allows for any third parties to oppose the trade mark application within 4 months from the date of advertisement in the Trade Marks Journal. Where an application is Advertised before Acceptance and there is no opposition lodged during the opposition period, there is a procedural requirement for the application to be accepted by an Accepting Officer before the registration certificate is issued. Once accepted by the Accepting Officer, the trade mark status changes to 'Accepted and Advertised' and then 'Registered'. The registration certificate is usually issued in approximately 3 months upon expiry of opposition period."
The change in trade mark status was brought to our attention by multiple readers of The Mako Reactor this week and a post on the Indian Gaming subreddit as well. Interestingly, while the previous opposed listing still remains on ipindia.gov.in, another domain held by the Indian government for public search of trade marks, ipindiaservices.gov.in shows the Sony's trade mark filing as advertised before acceptance.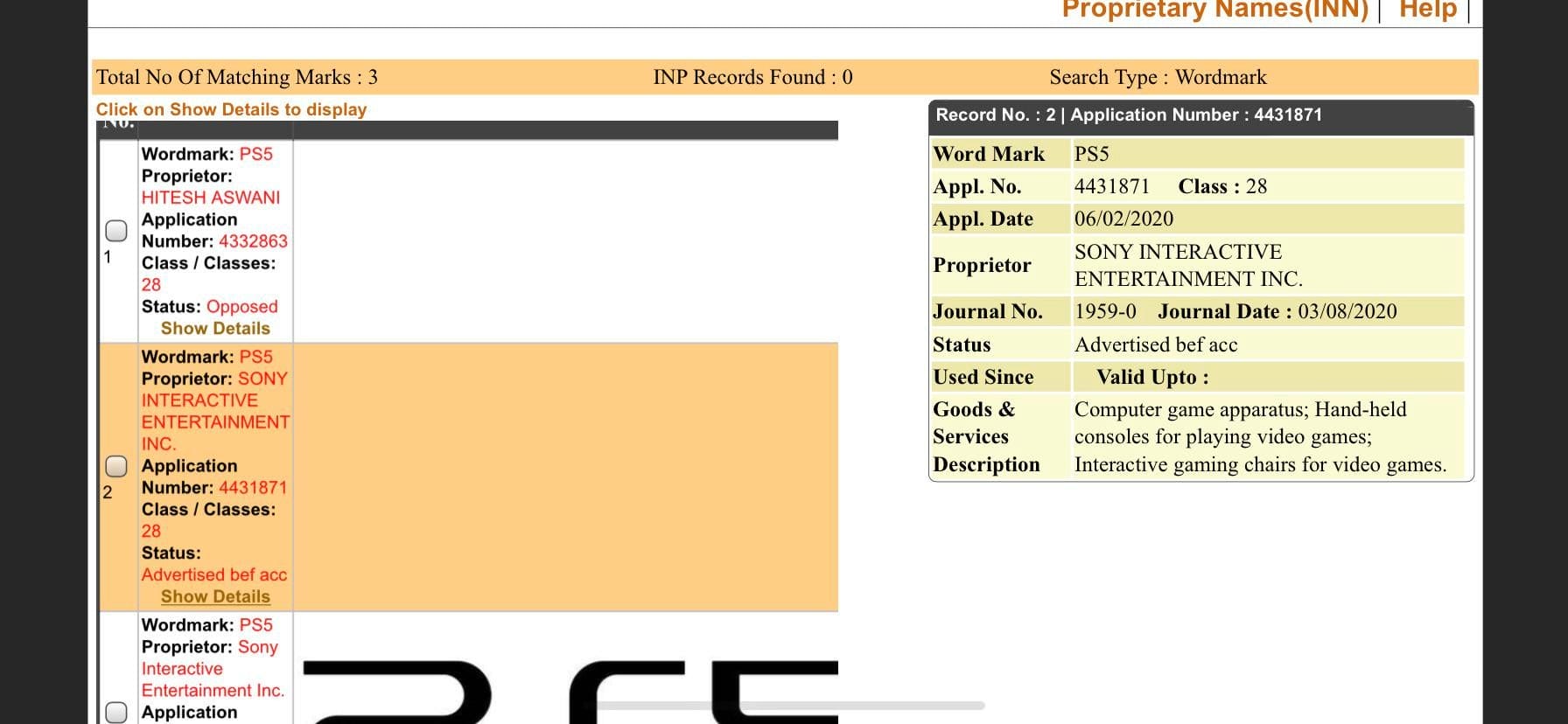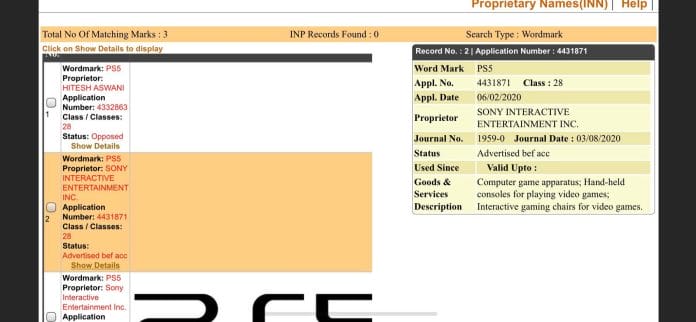 PS5 India price
After a month of silence, Sony has finally revealed the PS5 India price. The PS5 India price is Rs. 49,990 and the PS5 digital edition is Rs. 39,990. The company also confirmed that PS5 games will cost Rs. 3,999 upwards. In addition to this several accessories for the console will be making it to India as well. There's no release date with the company citing local import restrictions as an issue.
PS5 India launch availability: will all stores have it?
Given that only six stores have the PS5 listed, it's safe to say that Sony has a preferred partners list and they're on it. No independent retailers appear to have any PS5 listings at the moment. It will be interesting to see if more stores stock the PS5 at launch in India. While we have asked Sony if it would be exclusive to these outlets, there's been no reply to our request for comment just yet. With supplies expected to be limited, we don't expect most Indian game stores to stock the PS5 officially at launch in the country.
With so many unknowns at this point of time and Sony's lackadaisical attitude towards protecting its own trade marks , it's no surprise that Indian gamers are considering other options such as the Xbox Series X. Granted Microsoft's console was available in limited quantities for pre-order with around five or six Xbox Series S available for every Series X, but it shows at least one company is interested in staying competitive despite India being a PlayStation nation.