Ever since the Nintendo Switch launched back in 2017, many publishers and developers have been bringing multiple retro collections to the hybrid system. These range from arcade classics to collections of home console releases from the 80s and 90s. The shoot 'em up genre has found success on the platform as well with games like Ikaruga and the Psikyo releases being great to play on the go on Nintendo Switch.
One series was missing in action on Nintendo Switch until recently. Taito's Darius series makes its Nintendo Switch debut with two collections released on the same day in the form of Darius Cozmic Collection Arcade and Darius Cozmic Collection Console. Read my review of Darius Cozmic Collection Arcade here.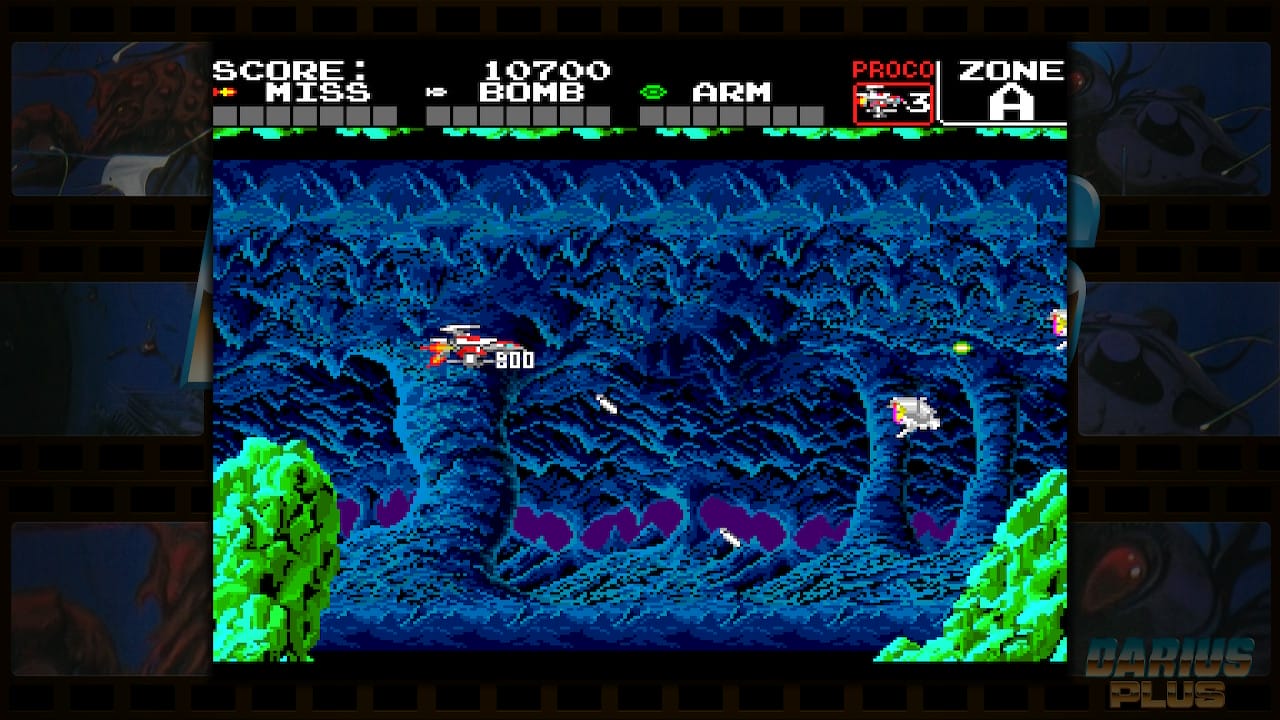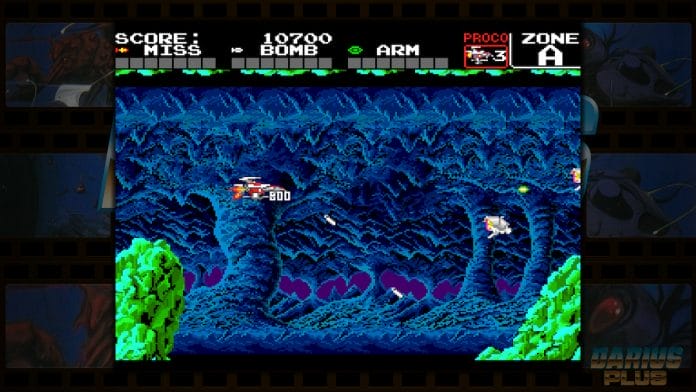 If you've never played a Darius game before, Taito's long-running 2D shoot 'em up series debuted in arcades before seeing home console ports. The franchise has had aquatic-themed enemies and bosses as a staple in most of the entries alongside music from Zuntata (Taito's sound team). The other aspect of the games that drew more people into them is the non-linear progression that results in loads of different possible paths in a single run.
As the name suggests, Darius Cozmic Collection Console collects multiple Darius console releases. This collection has six Darius games with a few variants bringing the total titles included here to nine. The asking price for this collection is much higher than it should be because of how much the prior collection costs and I can only see the most hardcore fans of the series want to buy this. The problem with this is that the hardcore Darius fans probably already imported the collections from Japan so this release so I'm not sure who this release is for.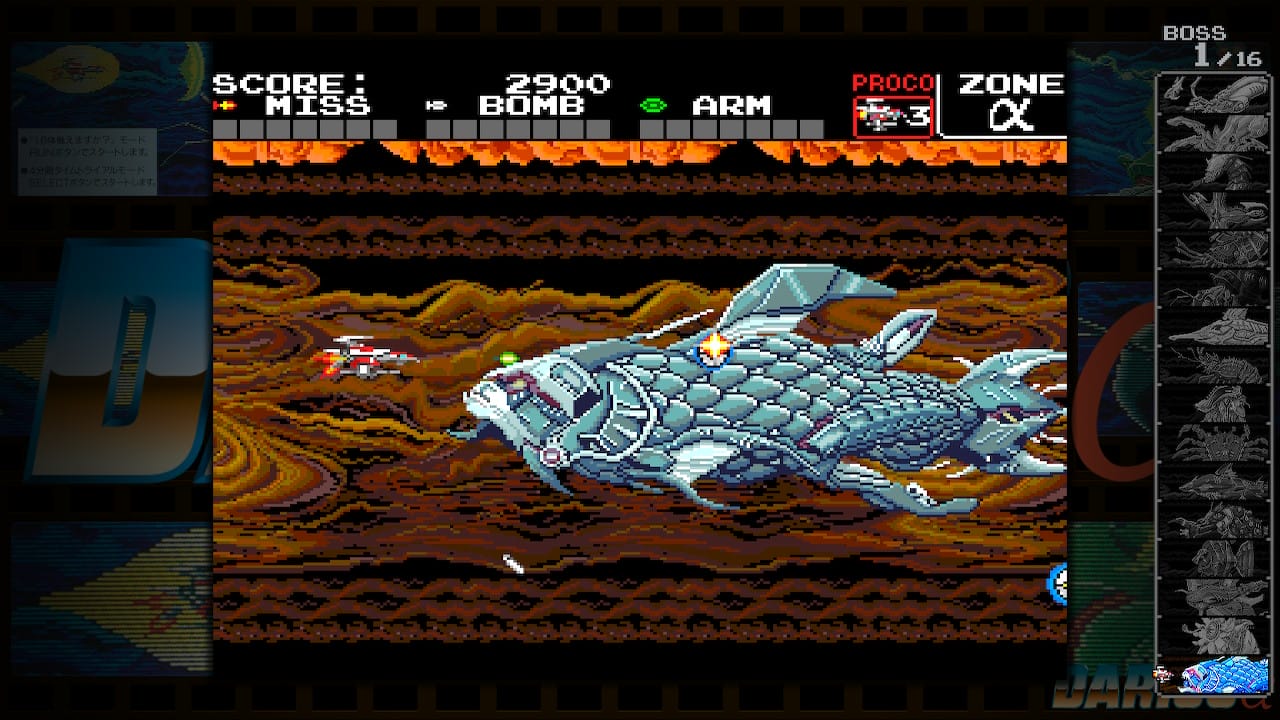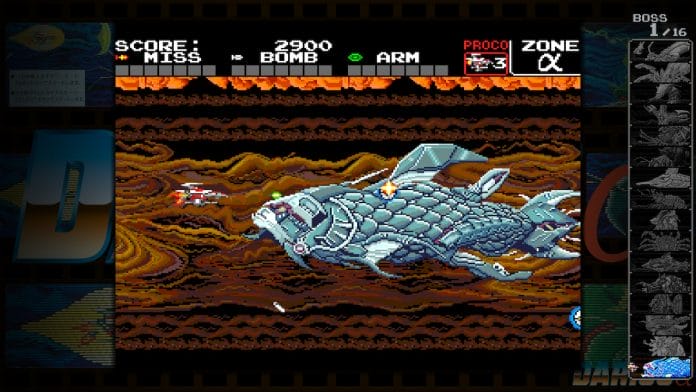 Darius II for the Mega Drive, Sagaia for the Sega Genesis, and Sagaia for the Sega Master System are three ports of Darius II. While Darius II is definitely worth playing, Sagaia for the Sega Master System is definitely a nice release to have for novelty value. I don't really see the point of Sagaia for the Sega Genesis being included here as most people would just play Darius II.
Darius Twin for the Super Famicom was the first Darius game built for home consoles instead of arcades. Darius Twin was a great entry that only suffered because of audio quality. This audio quality issue was fixed in Darius Twin for the SNES. Darius Twin is definitely a highlight of the collection for me for how different it feels compared to the arcade games or the ports of the games built for arcades.
Darius Force for the Super Famicom is another Darius entry built for home consoles over arcades. Darius Force changes things up by not only including bosses based on undersea creatures but also those based on dinosaurs, bacteria, and more. Darius Force also lets you choose from more than one ship with different capabilities. This was localised as Super Nova for SNES which is also included in the collection. Barring some name changes, these two releases are the same.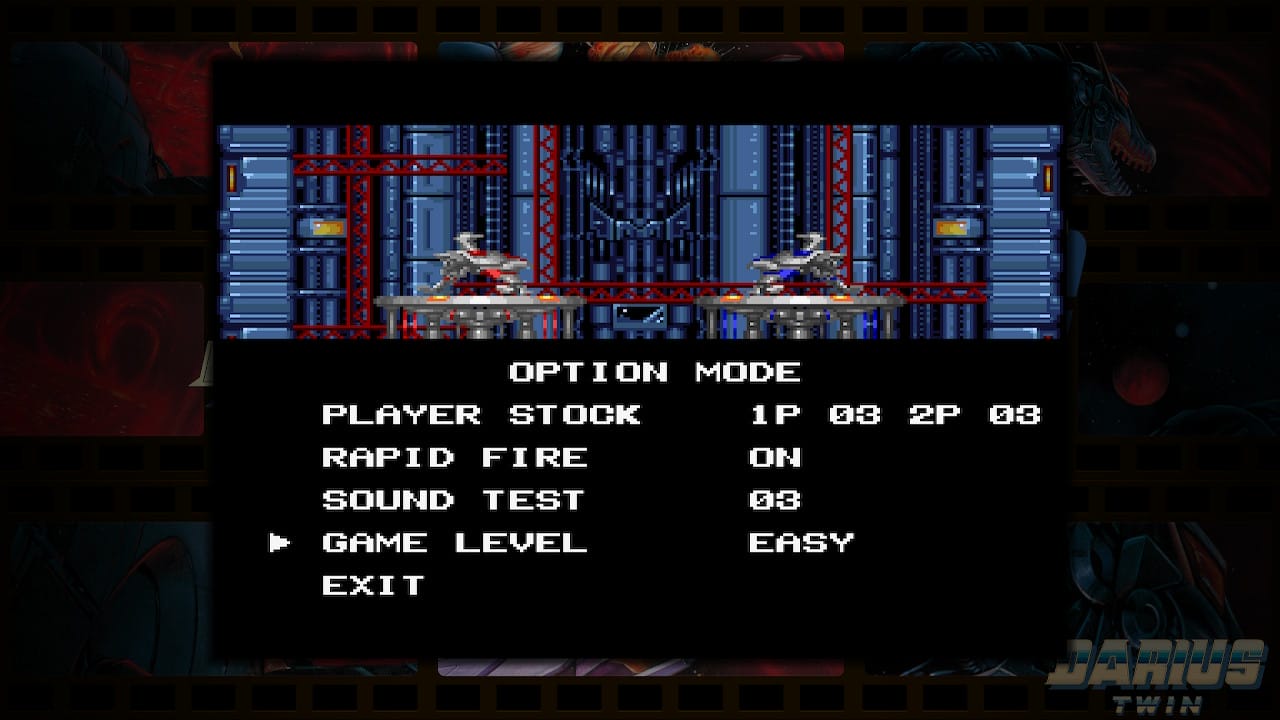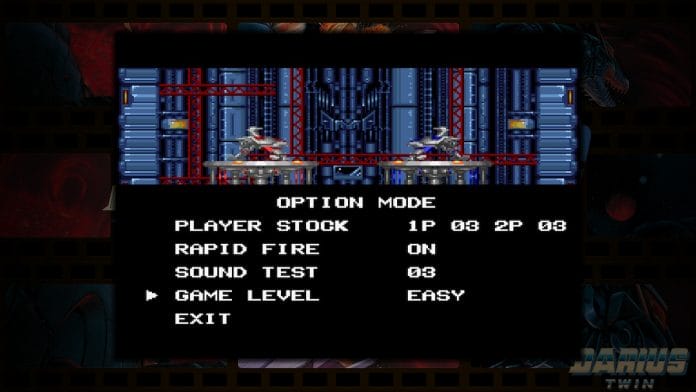 Darius Plus for the PC Engine originally released in 1990 as a home console take on the original arcade release. It is an interesting conversion adapting the original arcade triple screen game to the PC Engine but isn't really a headlining inclusion. Darius Alpha is related to Darius Plus because it was originally only available as a bonus for people who bought Darius Plus in a special campaign with only about 800 people owning it from the original release. Darius Alpha is a boss rush version of Darius Plus but again not a full game by any means.
In terms of actual emulation for the collection, M2 (Collection of Mana) has handled things and it is one of the best in the business with perfect emulation and screen options. This collection lets you play with many visual options including fullscreen, fit to screen, and pixel perfect for display types. There are smoothening, scanlines, and background options as well. There are also various gadget options to adjust the interface and fully remappable controls. A lot of care clearly went into making these games more accessible.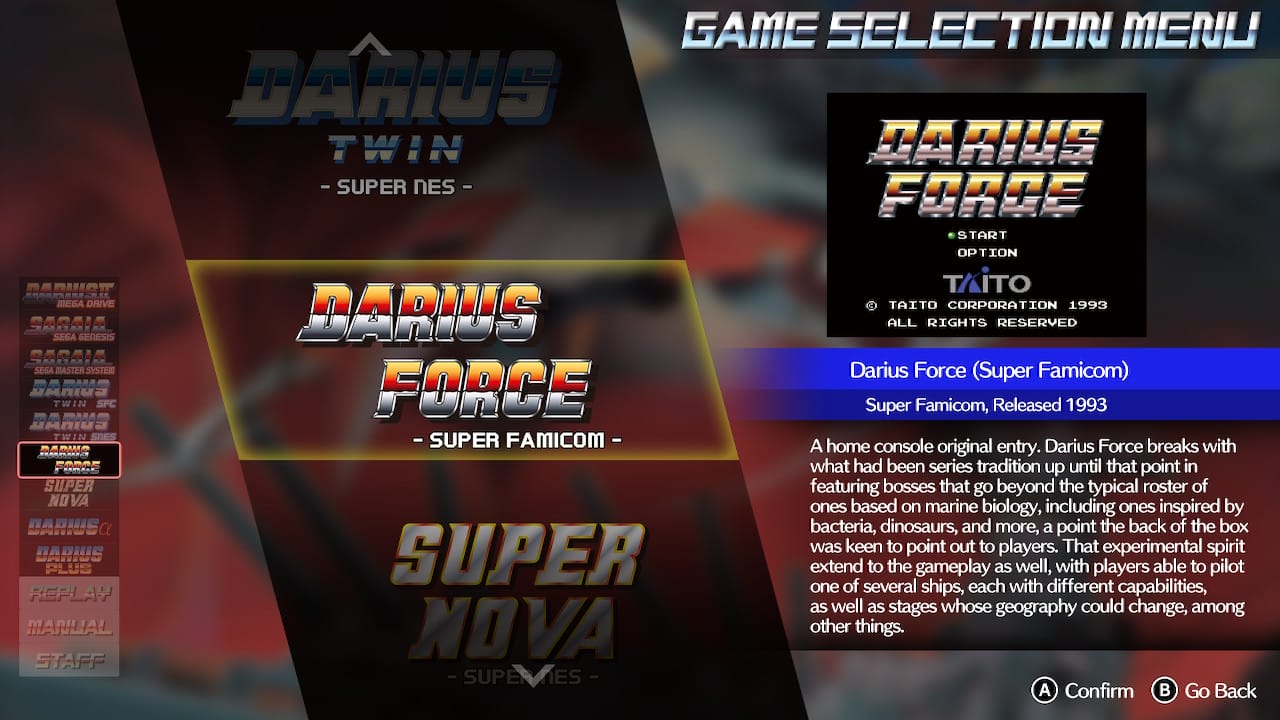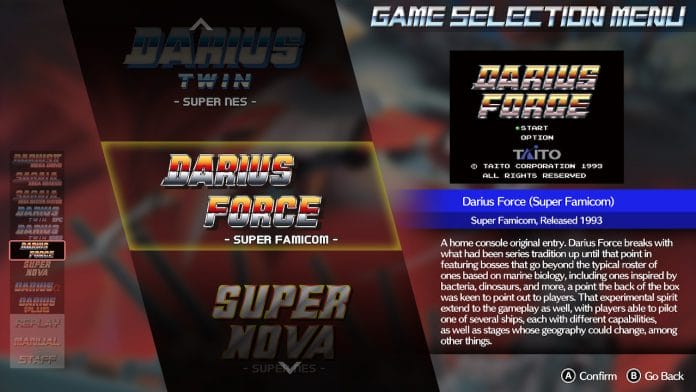 As you can probably see, a lot of the games included here are just variants or tweaked versions of games rendering a lot of this collection redundant. If you originally played these games on the systems they released on and want a convenient way to experience them today, this collection will deliver in spades. But it is disappointing that there are no extras like manual or artwork scans, interviews, and developer commentary here. A lot of these collections are played by fans who haven't played these games in the past so having some sort of history always helps.
Overall, Darius Cozmic Collection Console is only an easy recommendation for the most hardcore fans. The asking price being higher than the Arcade collection makes sense on paper because of the number of titles included but this feels like a situation where a set of bonus goodies costs more than the main release which definitely feels like Darius Cozmic Collection Arcade.