Drainus from Record of Lodoss War: Deedlit in Wonder Labyrinth developer Team Ladybug and publisher Playism was announced and released on Steam last year. I adored it on Steam Deck. Read my review here. If you've not played it on PC, Drainus is a 2D side-scrolling shoot 'em up with excellent visuals, sublime gameplay, and an interesting story. Drainus is one of the best shoot 'em ups I've played in recent years, and I was hoping it would see a console version following its PC launch. Playism and Team Ladybug have brought Drainus to Nintendo Switch now, and it has been a joy to revisit with all prior updates included. For my Drainus Switch review, I will cover what has changed since the game's launch on PC, the Switch version, and more.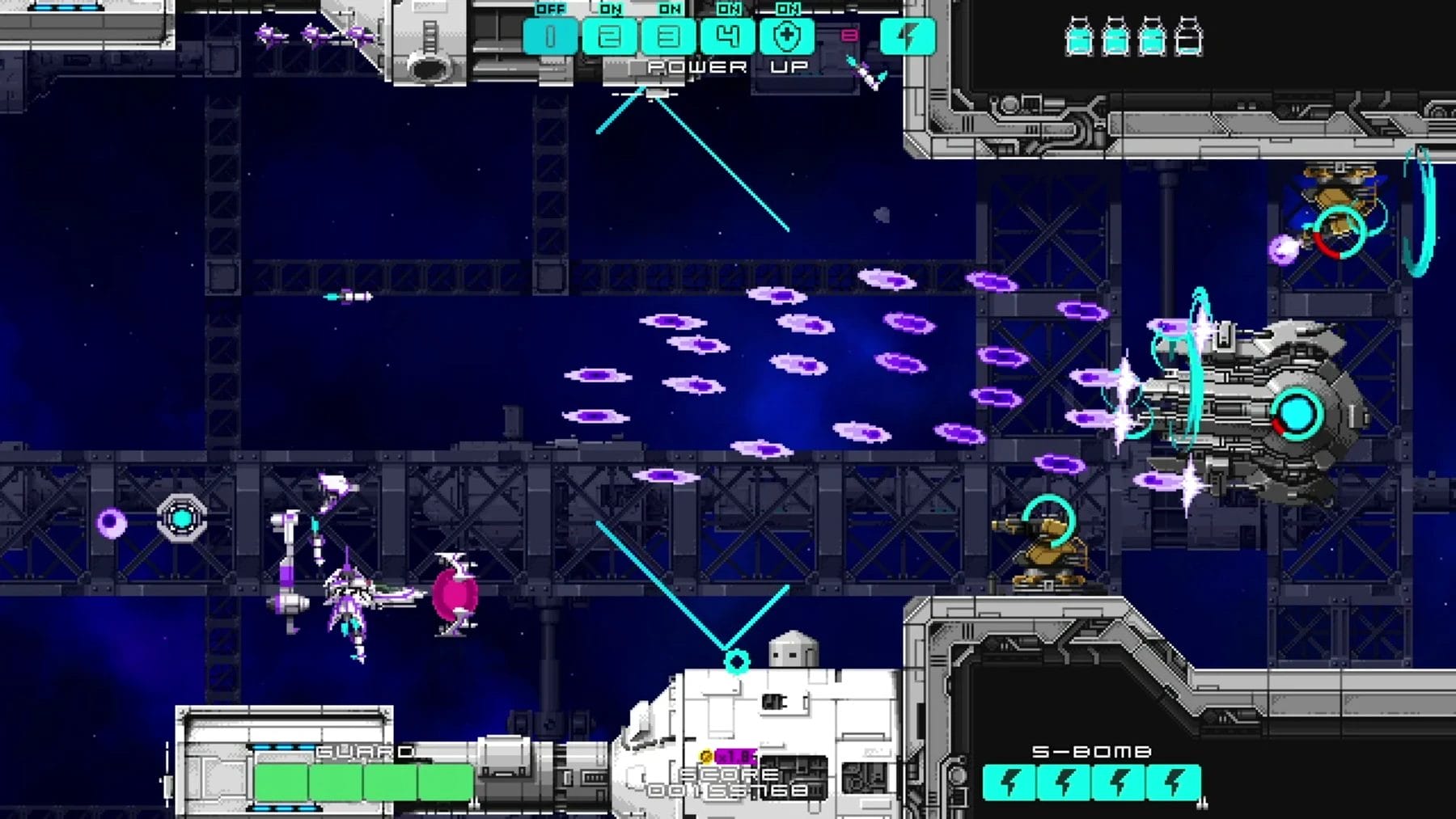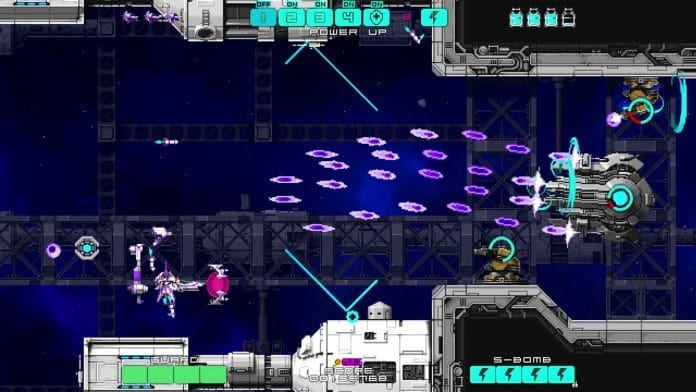 In the last few months, I've been obsessed with G Darius HD and Darius Gaiden on Nintendo Switch. I've enjoyed Drainus as much as those. Drainus' core mechanic is using your ship's Reflector to absorb purple enemy bullets, lasers, and other projectiles to build up energy and unload a powerful attack on enemies. This varies depending on how much energy you have absorbed, and the amount of energy you can absorb depends on your guard meter. This mechanic drastically changes how Drainus feels compared to most modern shoot 'em ups, and it is elevated by the upgrade system.
You collect energy tanks as you take down enemies, and these serve as the in-game currency you use to upgrade your ship through the addition of more-powerful weapons or enhancements to the various meters you have. Drainus doesn't end with a single playthrough, and things get very hectic as you've unlocked and set multiple new attacks, small ships or weapons following you, shields, and mines. You do need to collect power-ups so the new ship enhancements you have set are functional. This whole gameplay loop is excellent.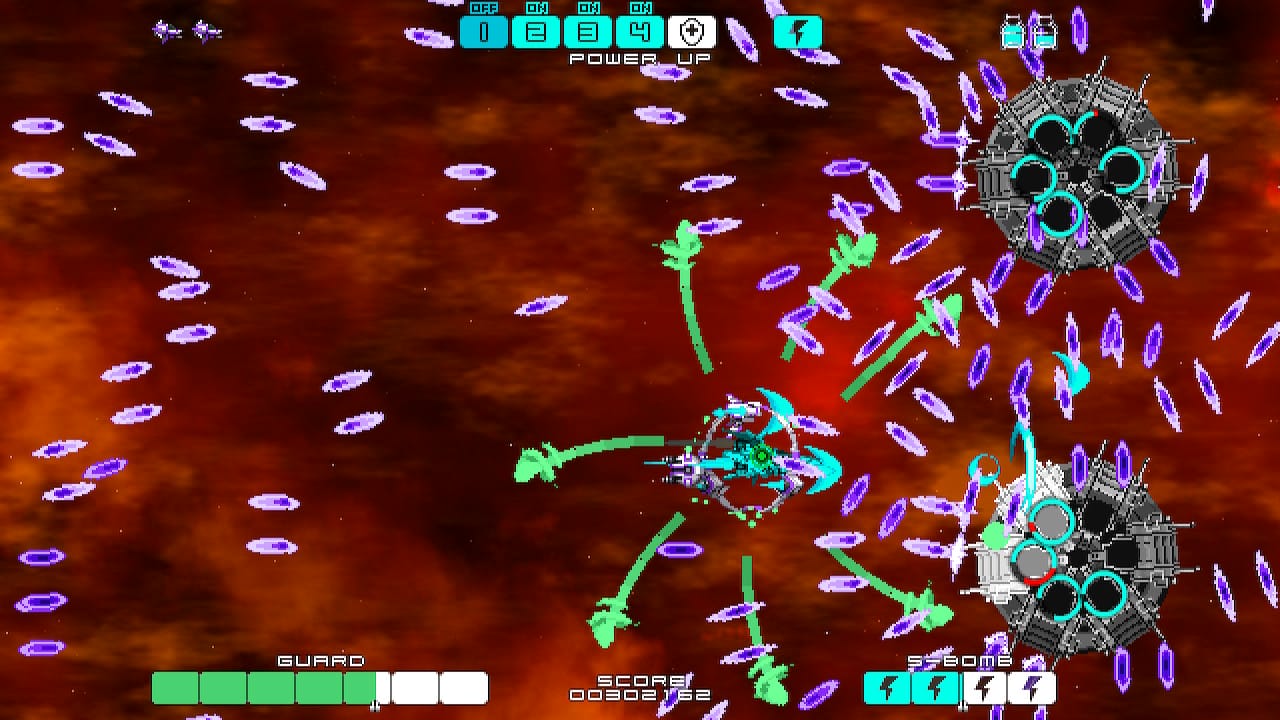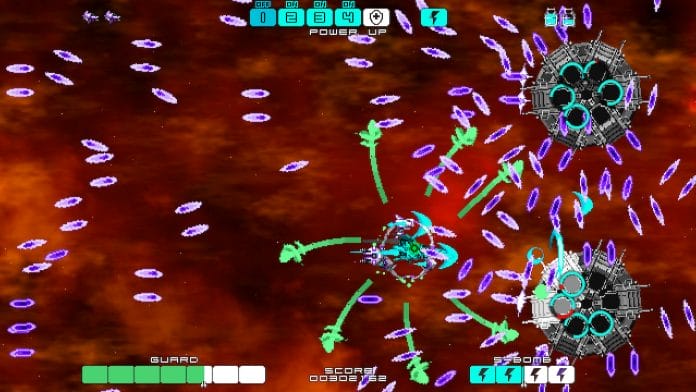 Drainus also lets you adjust your movement speed while holding down the right shoulder button. The in-game pause menu where you adjust your ship functions and upgrade lets you choose the speed to use when slowing down and the normal speed. This lets you toggle between normal and slow by holding down the aforementioned right shoulder button, but you can also hold the left shoulder button to adjust speed on the fly during levels. Drainus' stages are brilliant with carefully-placed enemies, power-ups, obstacles, and multiple phase boss battles that have some dialogue before and after. There are also recorders in each level with some lore about the world and story.
In terms of content, Drainus on Nintendo Switch has everything the PC version had including the post-launch updates that added accessibility options, a setting to turn off screen shake outside events, and more. The stealth bumper option wasn't present when I reviewed the PC version of Drainus, and it is a nice addition to make one aspect of the game easier for newcomers to the genre. With it enabled, you don't take damage when you come in contact with walls and some other obstacles in the environment. While you only have the standard mode initially, completing it fully gives you access to more modes including the ridiculous difficulty and arcade modes that add longevity and replay value to Drainus.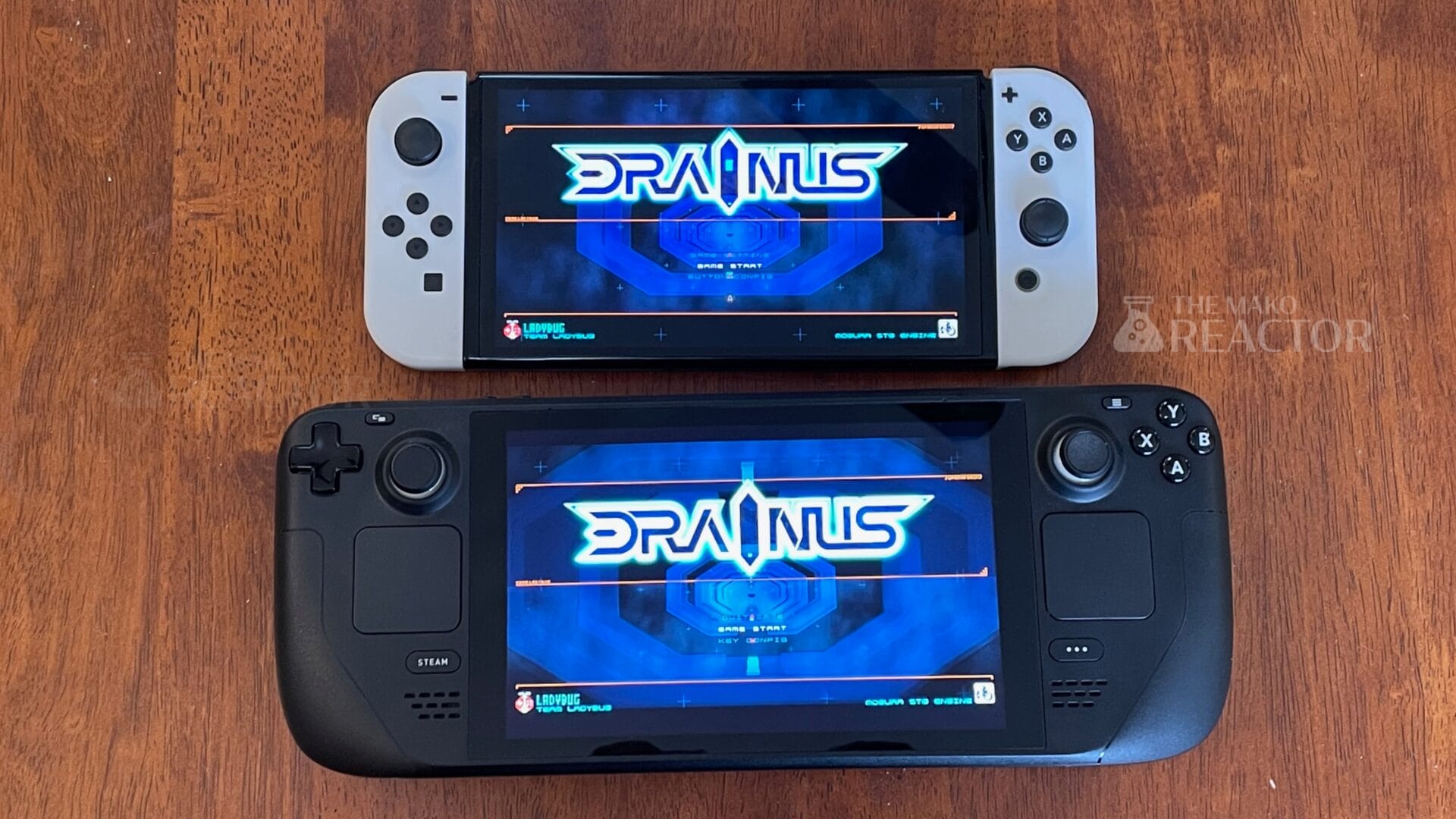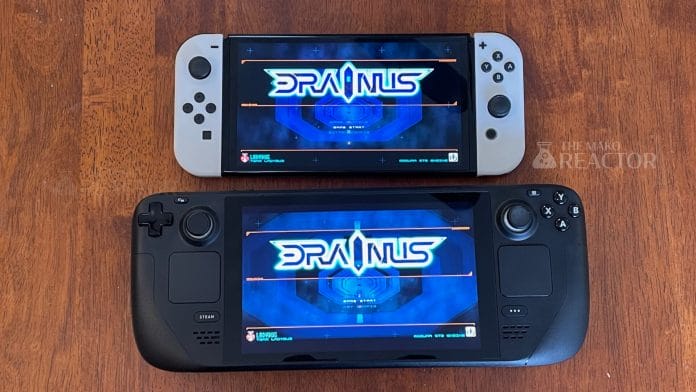 Drainus was already great on Steam Deck, but I'm glad to see it arrive with such an excellent conversion on Nintendo Switch. It looks good both docked and handheld on the OLED screen, and runs well. The only downside is the load time between levels is a bit too long like in the PC version and the fact that the speed adjustment cycles back to zero from nine making adjusting on the fly a bit difficult in some situations. In terms of performance, I didn't run into any major issues. I even played Drainus with my 8BitDo Arcade Stick on Switch with no problems. The control settings let you adjust movement from analog to eight way directional controls which is what I set when using the stick.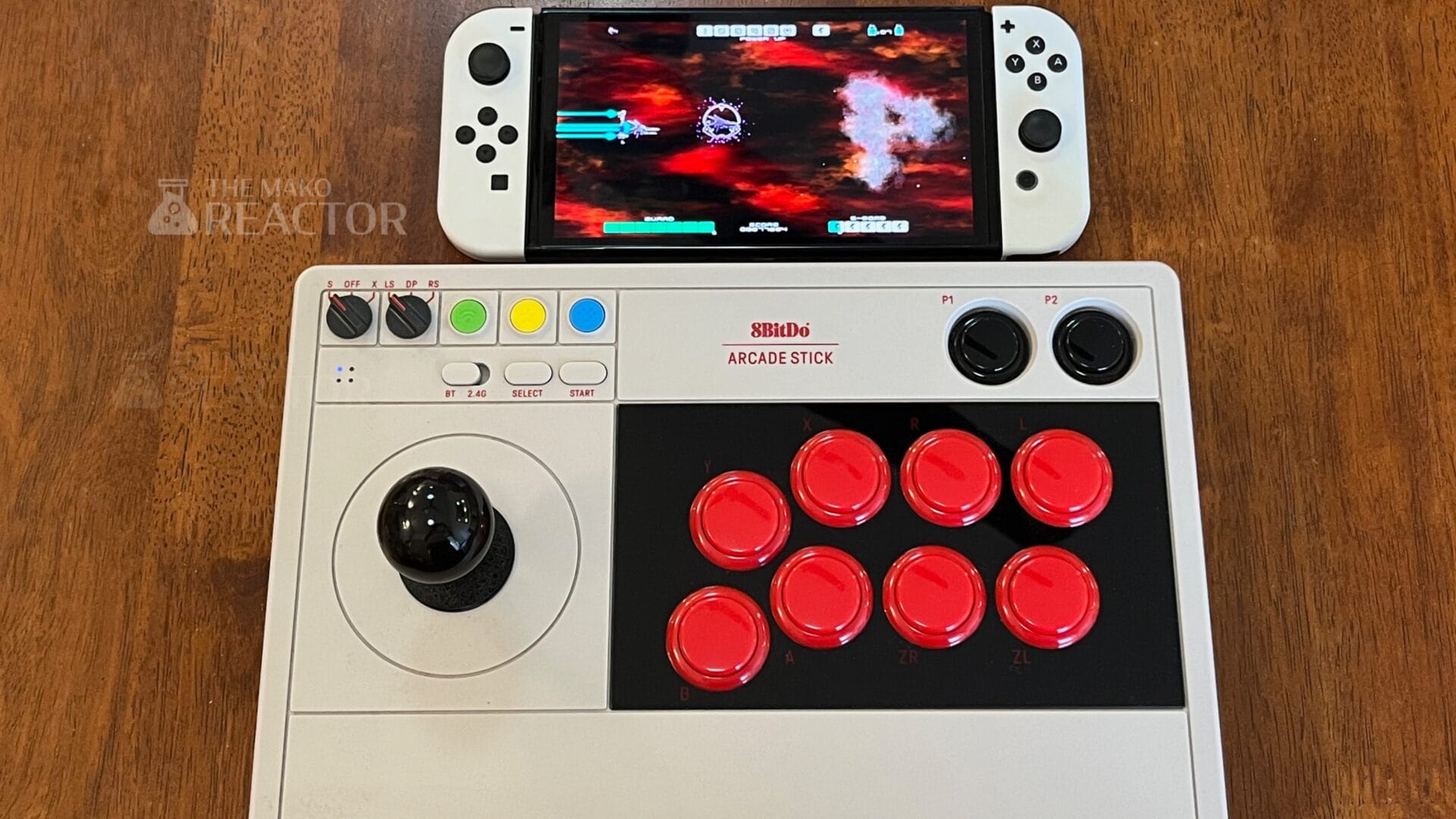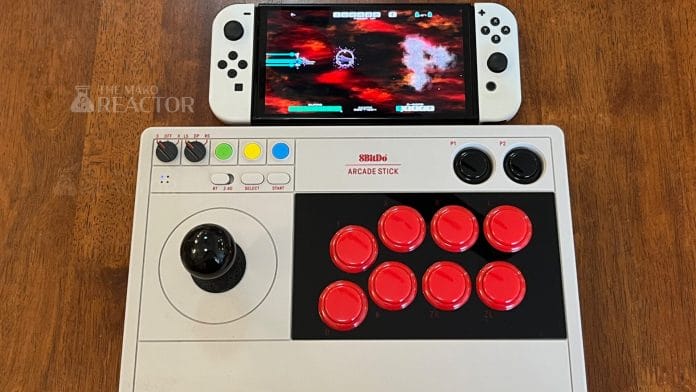 If you enjoy shoot 'em ups or are a newcomer to the genre, Drainus is an easy recommendation. While the long load times in between stages are still an issue even on Nintendo Switch, the updates since launch make Drainus a much better game. Having recently been playing many of the genre greats thanks to M2 ShotTriggers releases on all consoles, I'm still enjoying Drainus a year later, and it has been a joy to replay it on Nintendo Switch.
Drainus launches on February 2 for Nintendo Switch worldwide. Details for the current physical release are here.
Switch port review: This review focuses on the Nintendo Switch version and port quality of a game that was either previously released on other platforms or one that simultaneously launched on Nintendo Switch and other platforms. Read my Drainus Steam Deck review here.