Persona 4 Golden is an enhanced release of the PS2 JRPG classic Persona 4 that released eight years ago in Japan on PS Vita. Persona 4 Golden added additional story content, quality of life features, visual improvements, and more similar to what newer Persona fans would have encountered in Persona 5 Royal. Persona 4 Golden on PS Vita was the best way to experience Persona 4 until the PC port from Atlus that arrived last week via Steam.
Persona 4 Golden is one of my favourite games of all time and I didn't think it would be the first game in the series to arrive on Steam for one reason. Most publishers and developers port their PS4 games to PC via Steam since it those conversions are much easier than going from a much older handheld system. Persona 4 Golden went from PS Vita to Steam and is a very good port that is held back by a few annoying issues in its current state. I've been playing it on Steam over the last week and here's what you need to know.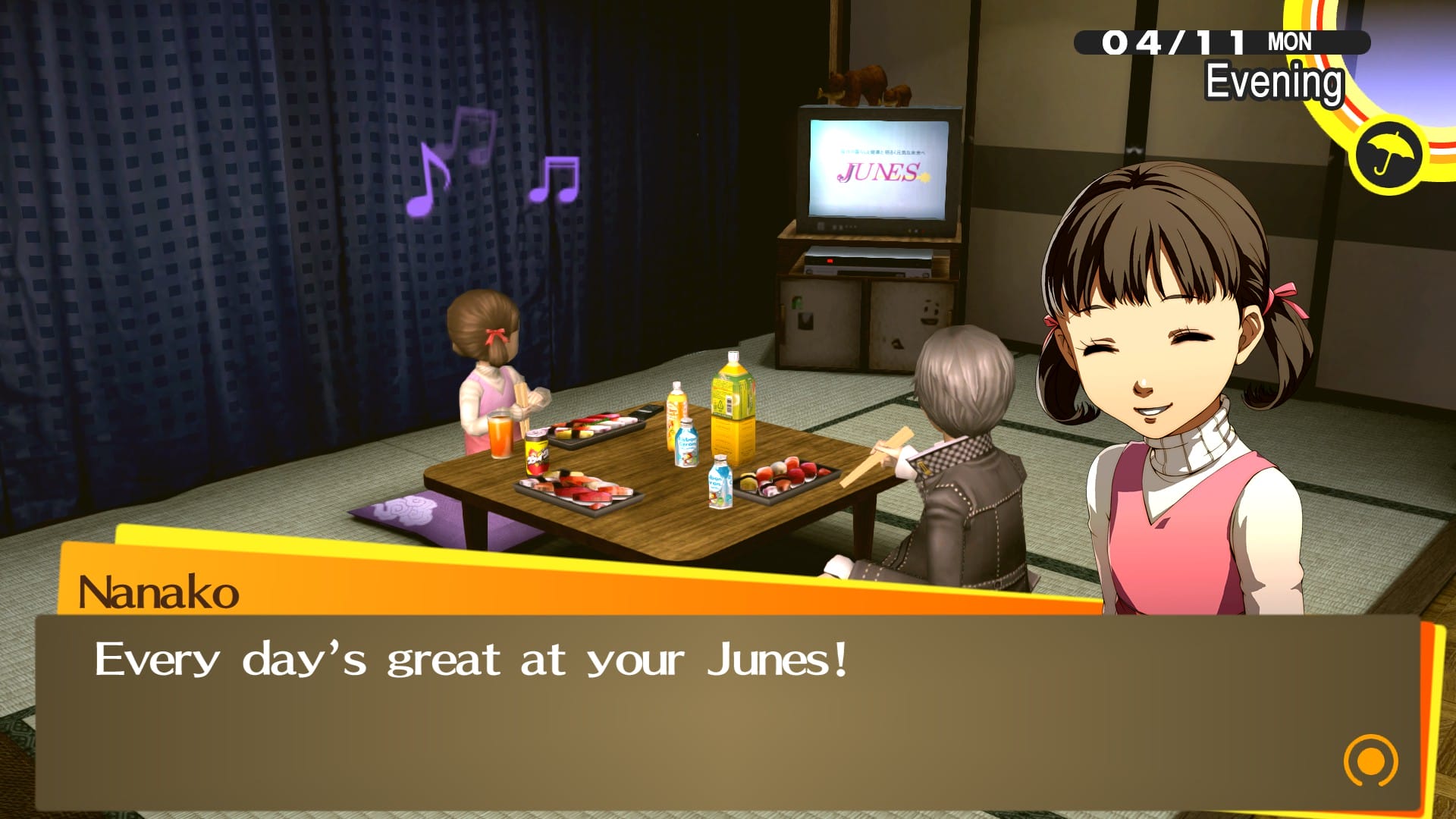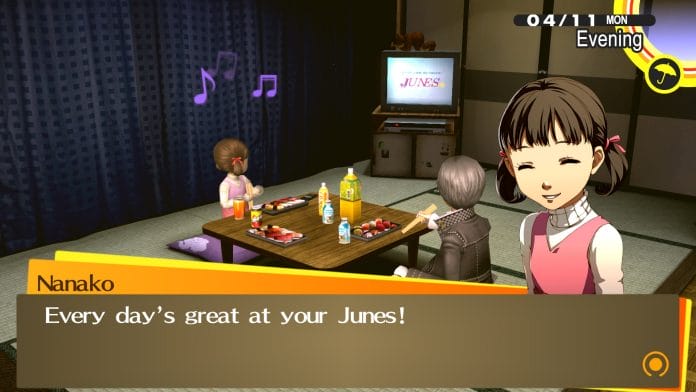 Persona 4 Golden PC requirements
Given that Persona 4 Golden on Steam is based on the PS Vita release, the requirements are very low. You will likely have no trouble running this game even on older hardware including laptops with an integrated GPU thanks to the plethora of settings letting you scale the visual fidelity.
Persona 4 Golden minimum requirements
OS: Windows 8.1
Processor: Intel Core 2 Duo E8400 OR AMD Phenom II X2 550
Memory: 2GB RAM
Graphics: Nvidia GeForce GTS 450 OR AMD Radeon HD 5770
DirectX: Version 11
Storage: 14 GB available space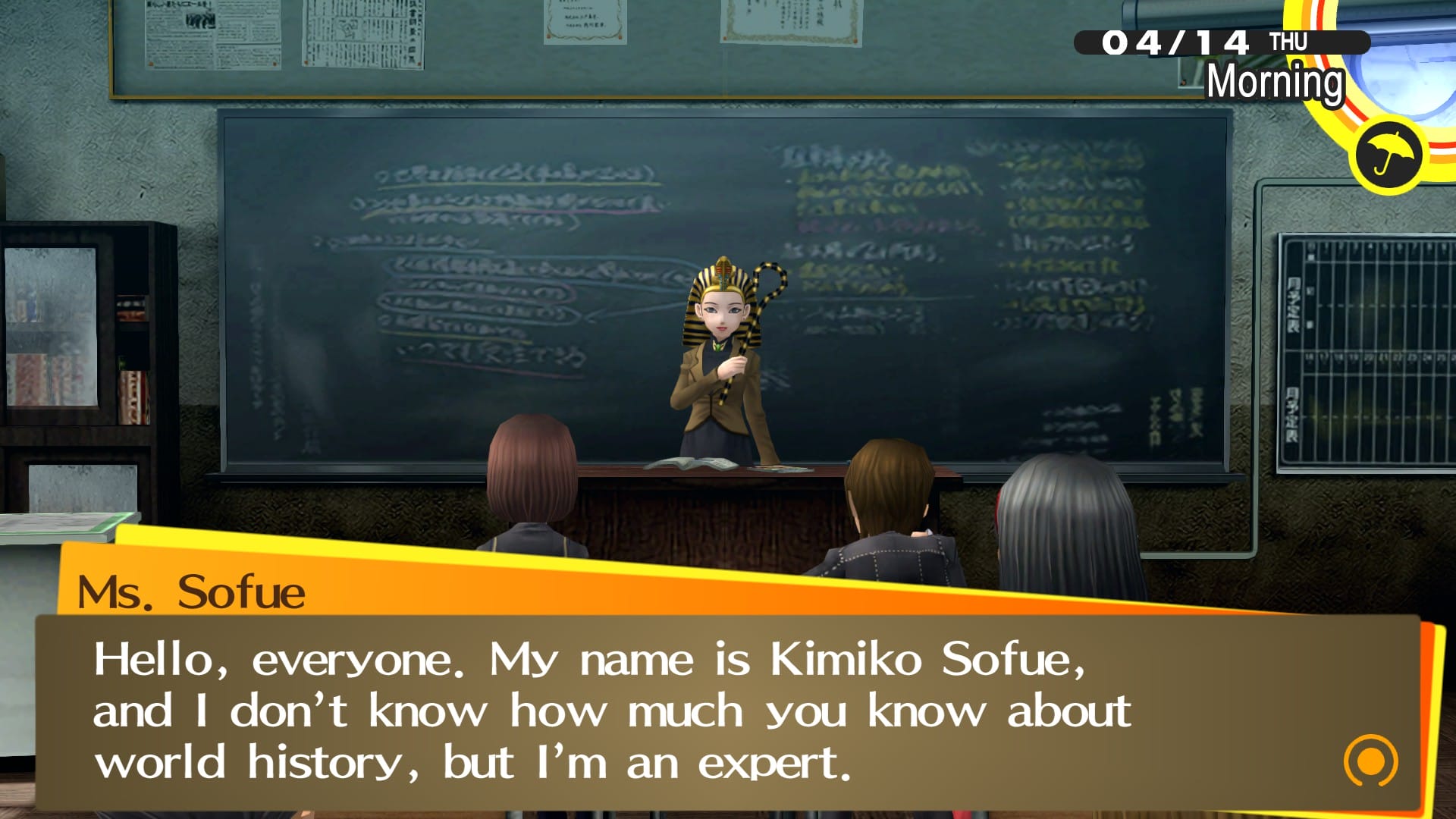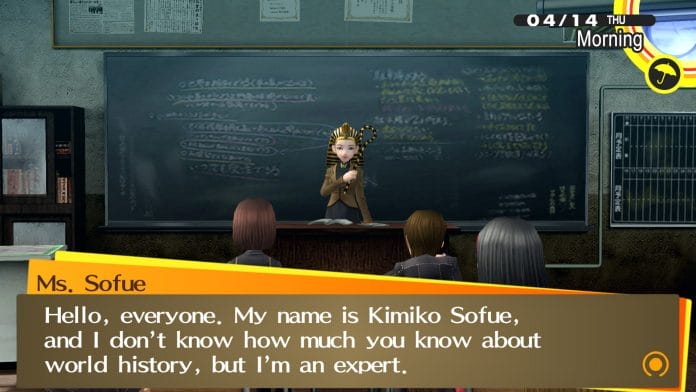 Persona 4 Golden recommended requirements
OS: Windows 10
Processor: Intel Core i5-650 OR AMD Phenom X4 940
Memory: 4GB RAM
Graphics: Nvidia GeForce GTX 460 OR AMD Radeon HD 6870
DirectX: Version 11
Storage: 14 GB available space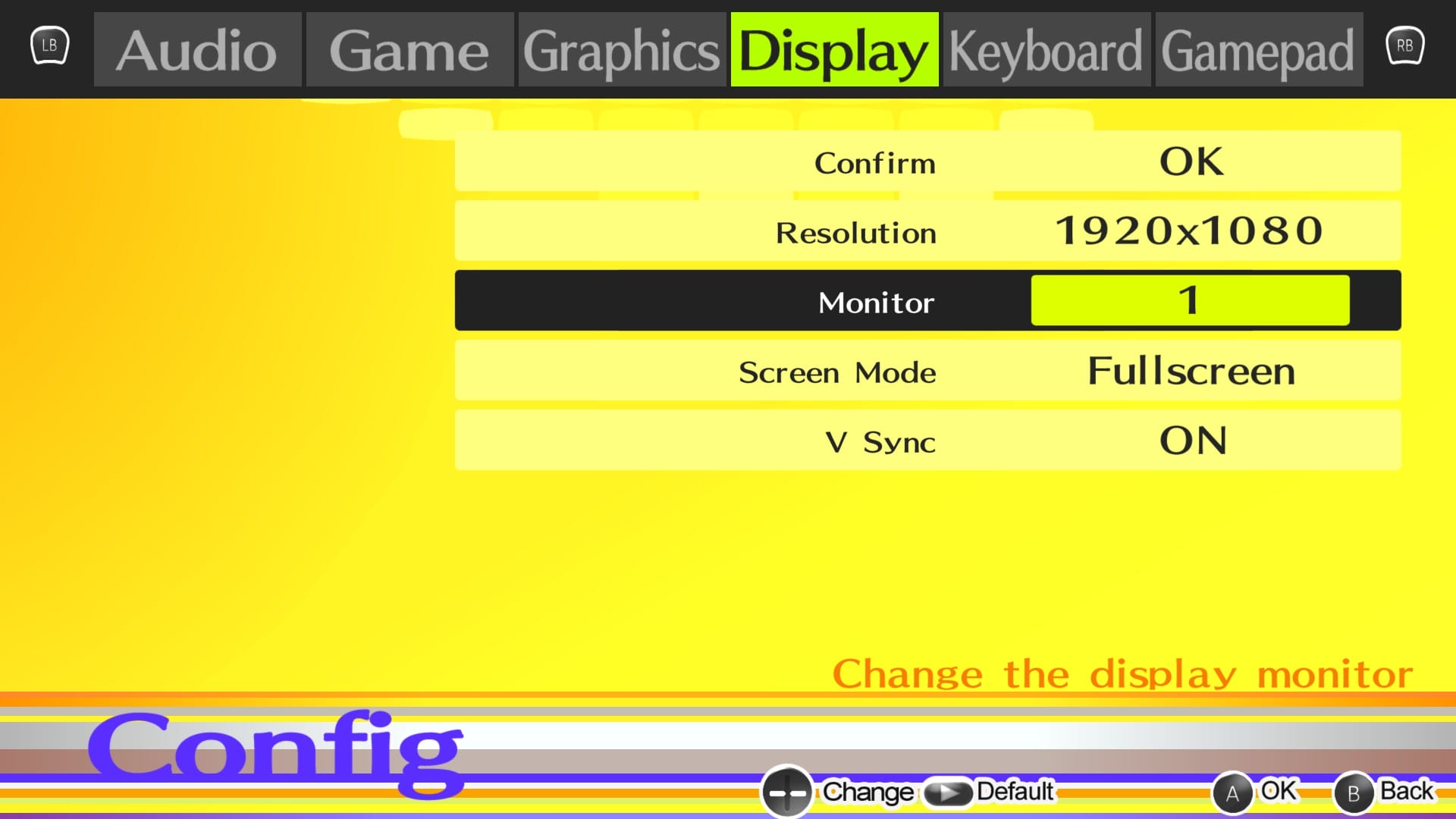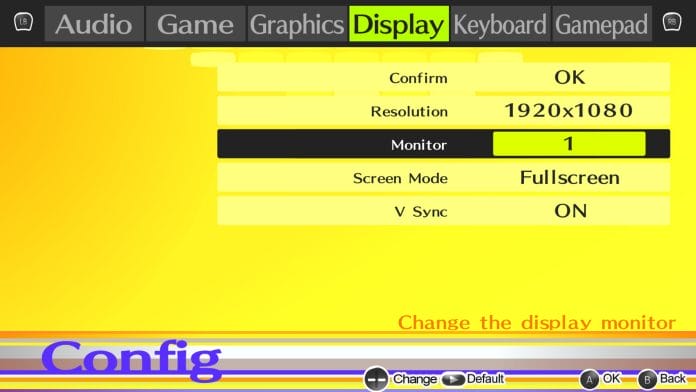 Persona 4 Golden PC settings
Given that Persona 4 Golden on PC is based on the PS Vita version, I expected a very barebones port. The actual port is quite good when it comes to PC settings. There are some baffling omissions in settings but the overall set of options you get is very good.
Rendering scale is a welcome addition here. It lets you sub-sample (render at a lower percentage of the target resolution) and super-sample (render at a higher resolution scale for improved image quality) natively. The one downside to the implementation of this option is that it affects the actual interface as well as the gameplay. In situations where games need to scale down the image quality depending on the hardware, having a native resolution interface definitely helps as is the case with many games on Nintendo Switch. Hopefully a patch can fix how this feature works because it is less useful at lower resolution scales thanks to this.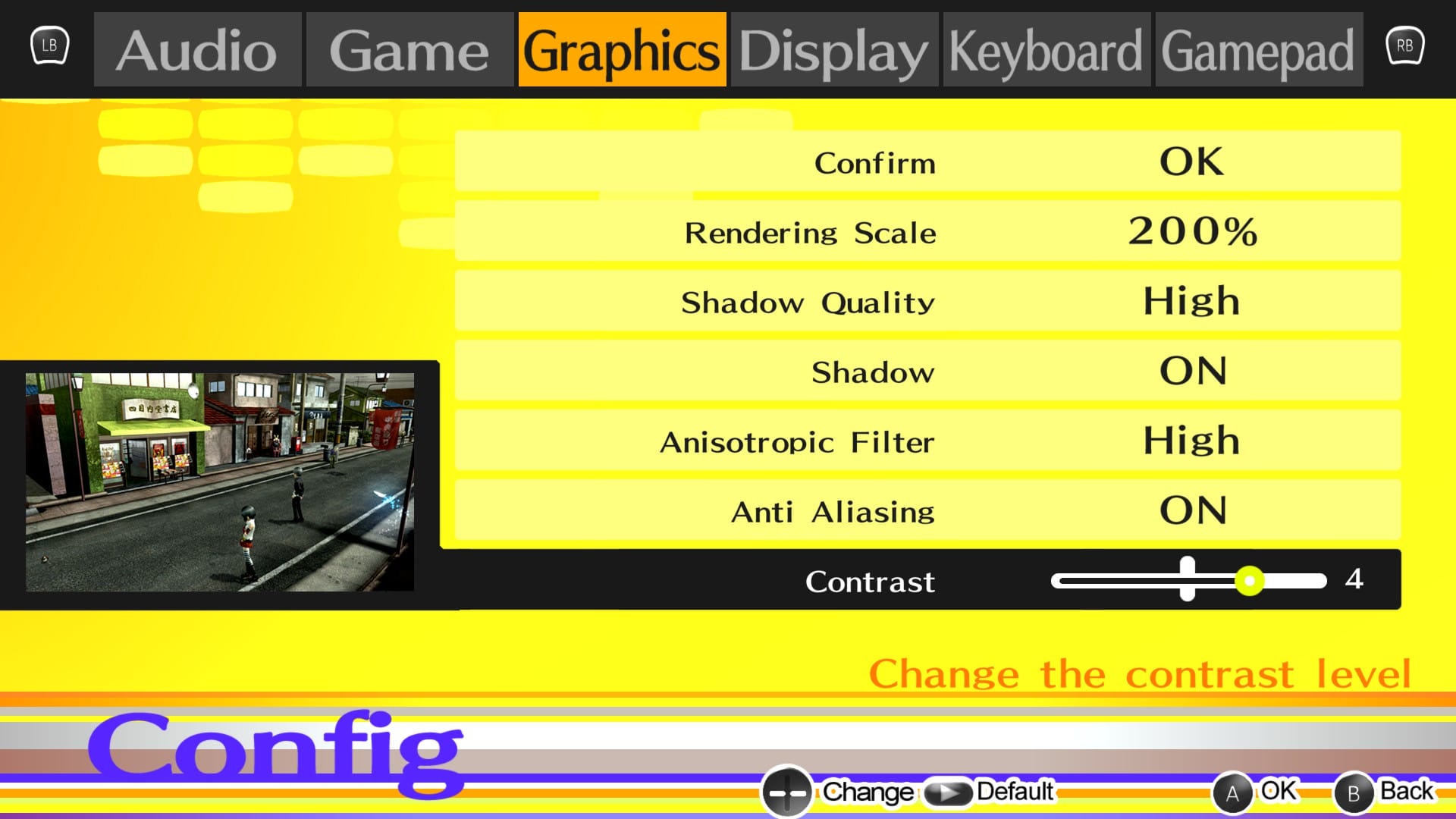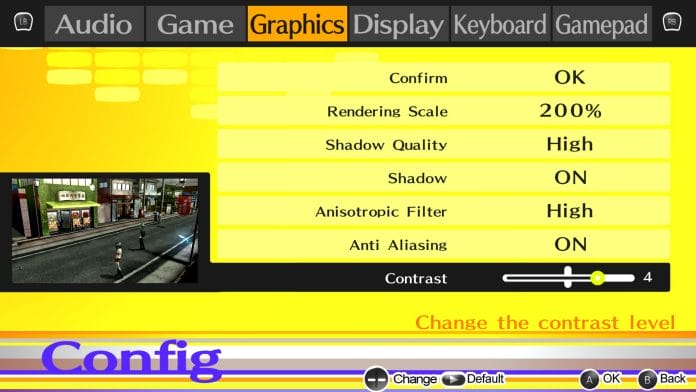 In addition to this, the game has settings for anisotropic filtering, anti-aliasing, shadow quality, and a very interesting contrast setting. This lets you pick between a few settings for adjusting the contrast during gameplay with a preview image. These aren't detailed graphics options or anything but are great additions for what most people thought would be a straight PS Vita port.
In terms of display settings, the game supports windowed, borderless, and fullscreen modes with multiple resolution options. A V-sync option is available but there is no frame rate limiter in the game. By default, the game attempts to run at the highest frame available an offers no cap. If you want to run the game at a lower frame rate, you will have to resort to your GPU control panel.
Persona 4 Golden PC performance — frame rate and resolution
With Japanese games on PC ranging from the gold standard of Trails of Cold Steel III to the bare minimum of My Hero One's Justice 2 in terms of port quality, it has been interesting seeing how Persona 4 Golden fared because it was ported in Japan at an external studio (going by the credits) with Atlus involvement and production. Most Sega and the one prior Atlus port to PC so far have been done externally in Western studios from Sega. Persona 4 Golden on PC gets a lot right and will run great for most people barring one annoying bug.
I played Persona 4 Golden on a laptop that has an Intel i7-4750HQ at 2.00 GHz, 8GB RAM, and an Nvidia GTX 950M with 4GB VRAM and could get a locked 1080p 60fps at everything turned to the highest setting barring resolution scale. To get a locked 60fps, I left the resolution scale at 100 percent. If I turned it to 200 percent, the frame rate fluctuated between about 40 and 60fps. This is still a massive improvement over the PS Vita original. Load times are near instant as well even on a regular hard drive.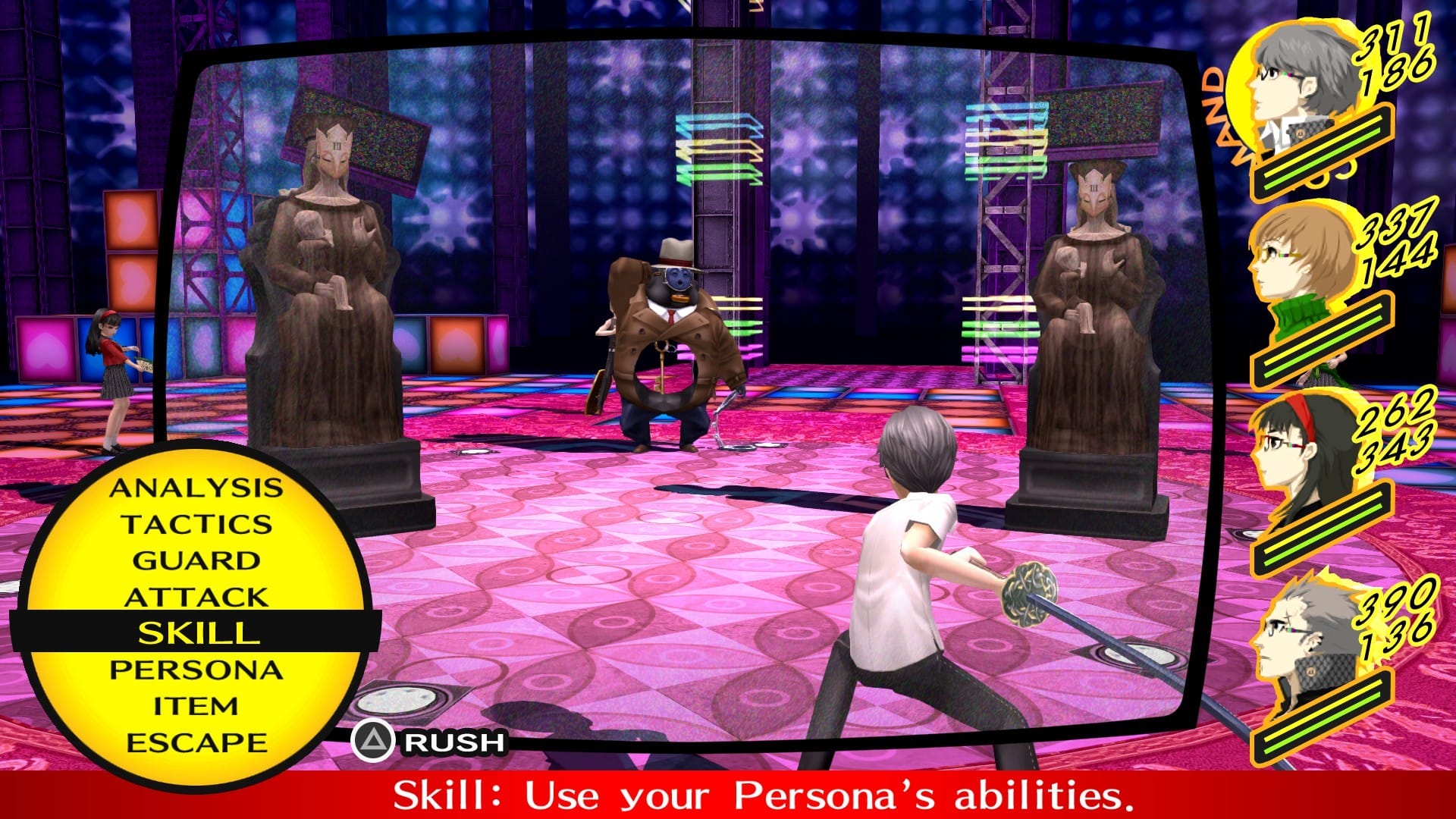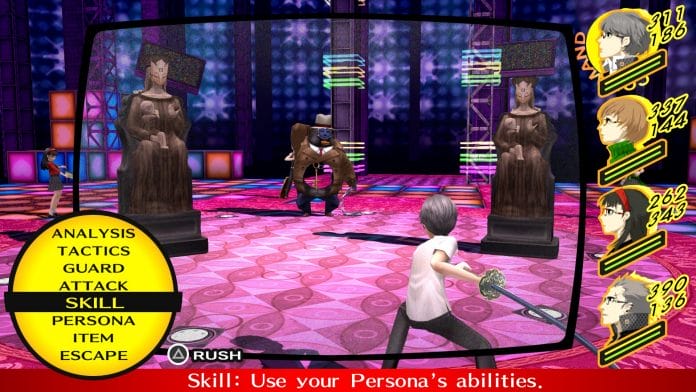 The one area that the port falters quite a bit for me is the cut-scene lag. Regardless of the graphics and display settings, cut-scenes including the opening video refuse to run smoothly. This can be rectified temporarily or with another fix, but the game needs a patch to address this very soon. It is the only glaring flaw in an otherwise great port.
Some small annoyances in this port include textures being inconsistent. Some assets have scaled up well while others look blurry. The only interface problem is with the portraits during combat where the scaling looks bad around edges as shown in the combat screenshot.
Should you play Persona 4 Golden on PC?
Before getting into whether the game itself is worth getting on PC or not, I can safely say that the deluxe edition is absolutely not worth the extra price. The songs included are encoded at a low bitrate and the digital artbook isn't great. If you're considering getting Persona 4 Golden on PC, stick with the standard edition.
The game itself isn't demanding at all and likely will be able to run without issues at any resolution on your setup. The only problem is the cut-scene lag which hasn't been fixed yet. Barring that, it is a great port with support for a variety of control methods including keyboard and mouse and button prompts for the DualShock 4 as well as the usual Xbox One controller support.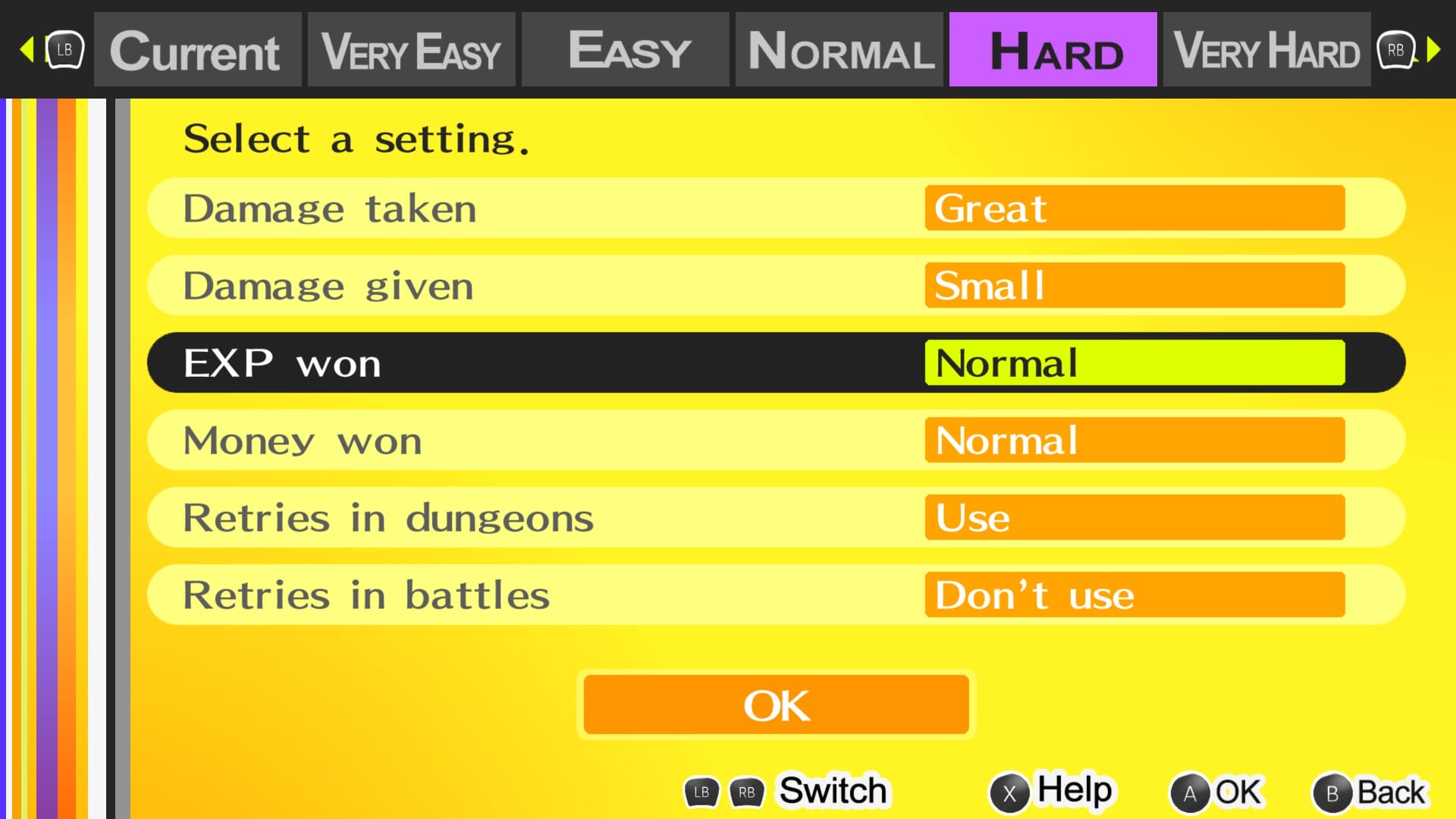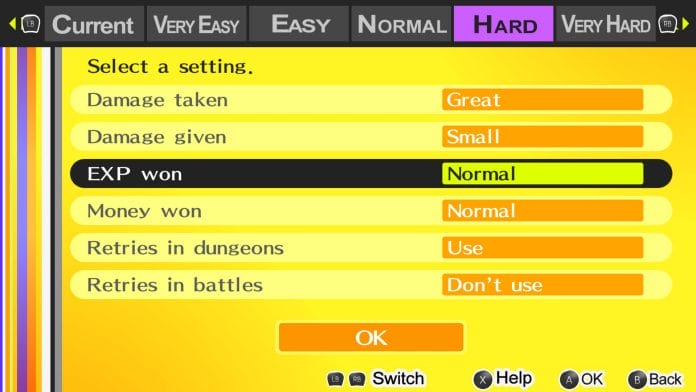 If you've already played Persona 4 Golden on PS Vita, the PC port is still worth getting because it is priced well (albeit not following Valve's recommended regional pricing) and is a mostly great conversion with a plethora of improvements. This includes difficulty toggles that were previously locked behind new game plus mode being available right from the start on PC and dual audio support which was never available on PS2 or PS Vita for Persona 4. Hopefully Atlus can address the few issues this port has to make it as perfect as the game itself.
Persona 4 Golden is now available on PC and PS Vita.