Guilty Gear Strive from Arc System Works just had its final Season Pass 1 character revealed alongside the confirmation of crossplay and Season Pass 2 at the Arc Revo America Finals 2021. We featured Guilty Gear Strive as one of the best games of 2021 and one of the best soundtracks of 2021. The final playable character of Season Pass 1 is Testament who is now available on PS5, PS4, and Steam alongside the new battle stage for Season Pass 1 owners. Testament has arrived alongside Guilty Gear Strive version 1.16 update on all platforms. The update download size is 3.4GB on Steam and 1.6GB on PS4. Maintenance will be on for a little while until servers come back online. Watch the Guilty Gear Strive Testament gameplay showcase video to see gameplay of them in action below:
Guilty Gear Strive version 1.16 update patch notes
General / Game Modes
Added "Testament" as a playable character.
Added additional stage "White House Reborn."
Players who have purchased "GGST Season Pass 1" will have access to this content after the update patch is applied on March 28. Individual sale for the PS4 and PS5 versions will begin on March 31. Individual sale for the Steam version will begin on March 28.
Added Testament's BGM, "Like a Weed, Naturally, as a Matter of Course." Testament must be selectable in order to use the BGM.
Added avatar items for Testament. The new avatar items can be obtained via "fishing."
Added the BGM below to Gallery Mode: A Fixed Idea (GG Testament's Theme) A Fixed Idea (Arranged) Bloodstained Lineage (GGXX Testament's Theme) The BGM items can be accessed after obtaining them via "fishing."
Network Mode
Reduced the connection time for some network connections. Due to this change, the avatar icons displayed on the Ranking screen, etc. will not be displayed until logging in after applying the Ver 1.16 patch.
In Player Matches, the match will no longer start until the spectator is ready.
When viewing other players' R-Codes, you can now cancel loading with the cancel button.
Offline Modes
Added new Digital Figure Mode, where players can create original dioramas by combining characters and scenery that appear in the game. This mode can be accessed via Collection > Figure from the Main Menu.
A network connection is required to upload your works and view those of other players. See here for more details about Digital Figure Mode.
Added a dedicated fishing option for only Digital Figure related items.
Digital Figure Mode items for Testament will be added in a later update.
Other
Guilty Gear Strive Testament DLC download links
If you own Season Pass 1, you can download Testament here on Steam and here on PS5 and PS4. The new battle stage is available here on Steam and here on PS4 and PS5.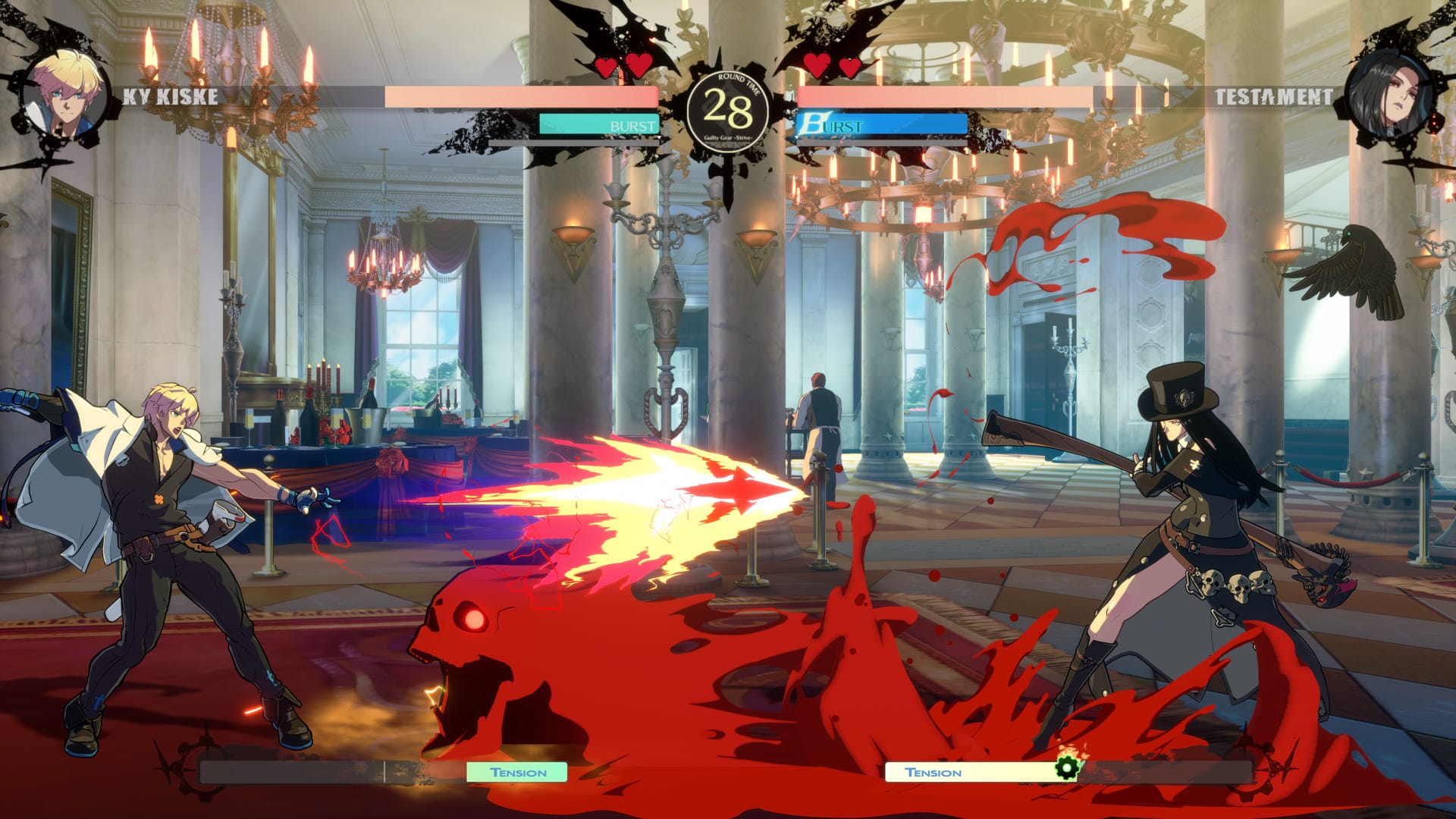 Guilty Gear Strive Another Story release date
Arc System Works confirmed that the Another Story DLC arrives in late April.
Guilty Gear Strive crossplay and Season Pass 2
Guilty Gear Strive will get crossplay between Steam and PS5, PS4 and Season Pass 2 this year.
Guilty Gear Strive DLC roadmap for season 1 characters and stages
The Guilty Gear Strive DLC roadmap includes free updates, paid DLC, and more. The following characters are all out now.
July 2021: Additional character 1 – Goldlewis Dickinson
August 2021: Additional character 2 – Jack O
November 2021: Additional character 3 – Happy Chaos
January 2022: Additional character 4 – Baiken
March 2022: Additional character 5 – Testament
Guilty Gear Strive is out now on PS5, PS4, and Steam.