Monster Hunter Rise from Capcom is a game I never expected to hit PlayStation and Xbox platforms. It always felt like Rise would just be on Switch and PC until we get the next mainline entry hitting current generation platforms and eventually see another entry for Nintendo's next platform. Capcom clearly had something else in mind, and Monster Hunter Rise with all of its updates has hit PS5, PS4, Xbox Series X|S, Xbox One, and the Microsoft Store on PC. This version is also on Xbox Game Pass and PC Game Pass from day one. Having put in hundreds of hours into Monster Hunter Rise and Sunbreak across both Switch and Steam, I was both excited and disappointed about revisiting Monster Hunter Rise on new platforms. I will not be covering the main campaign or core parts of Monster Hunter Rise here. You can read my review of the Switch version here and the Steam version here for that. For my Monster Hunter Rise PS5 review, I'll be covering what you need to know about this version, some surprising features, and whether you should grab it now or wait for Sunbreak in Spring 2023.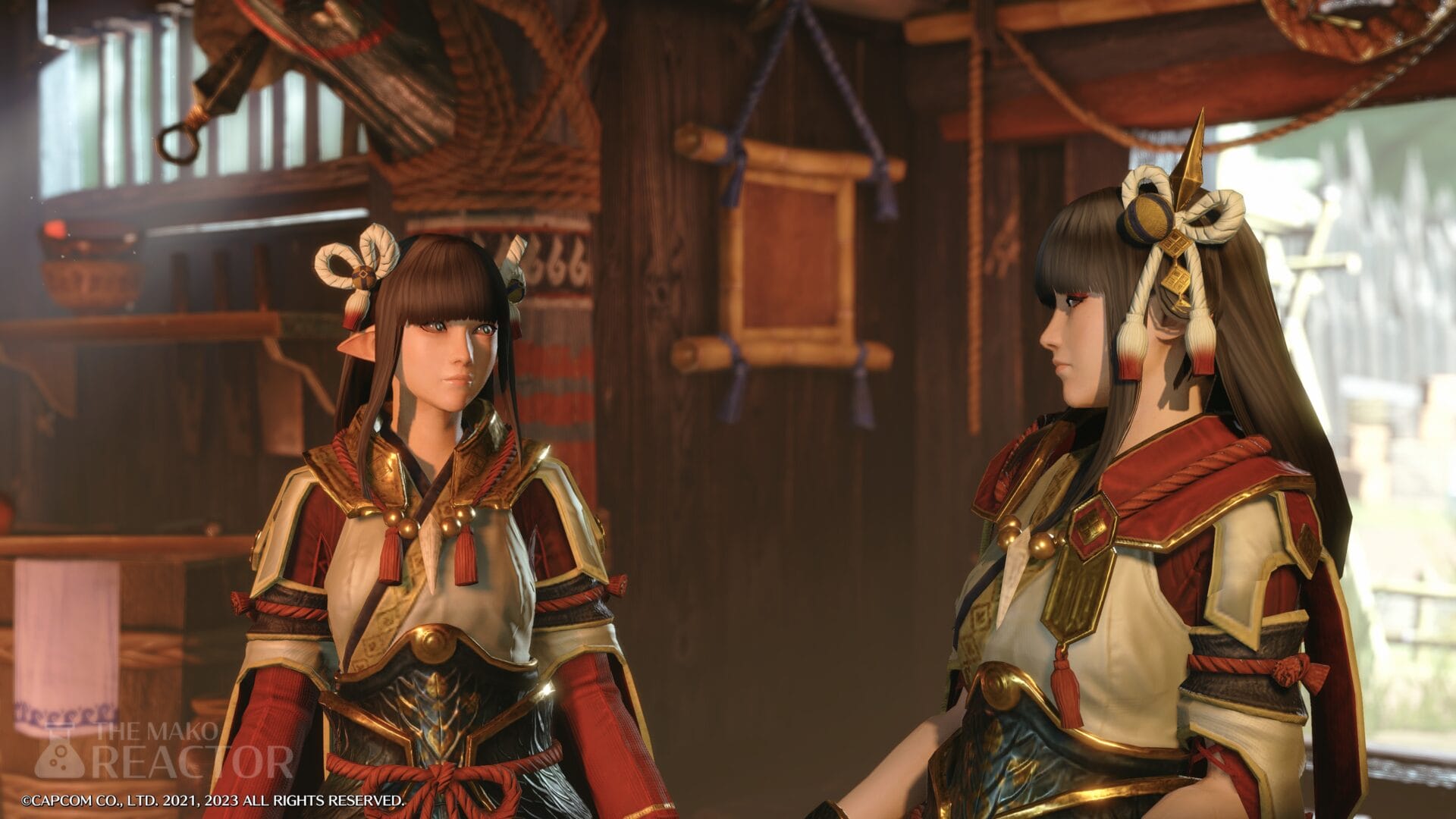 Monster Hunter Rise PS5 Features – Dualsense, Gyro, and Activity Cards
Monster Hunter Rise on PS5 has full gyro support like you'd hope. You can enable or disable this (it is disabled by default) in the Motion Sensor part of the options menu. The DualSense support is limited with adaptive triggers only being used for select things. When I played Monster Hunter Rise on PC, I used my DualSense controller. I was hoping to see Capcom take full advantage of the haptic feedback and adaptive triggers for this native PS5 release, but the implementation is lacking. Capcom's other titles have been better with the DualSense functionality so far.
The other PS5 feature is support for Activity Cards. These let you track your progress in the village and hub, and jump back into your save quickly by skipping through the usual prompts when you boot up the game. I like this implementation a lot as it saves time like with Guilty Gear Strive.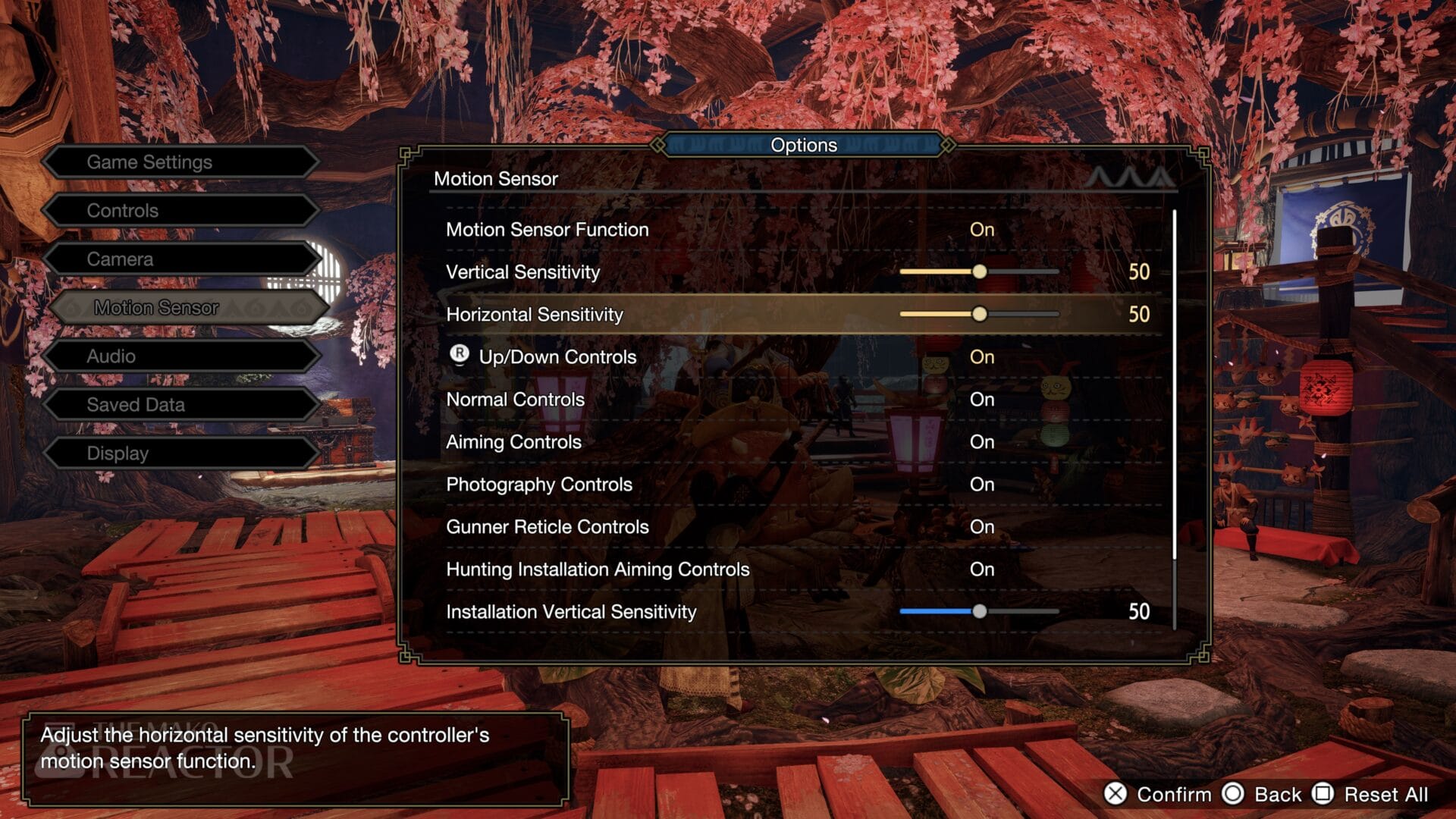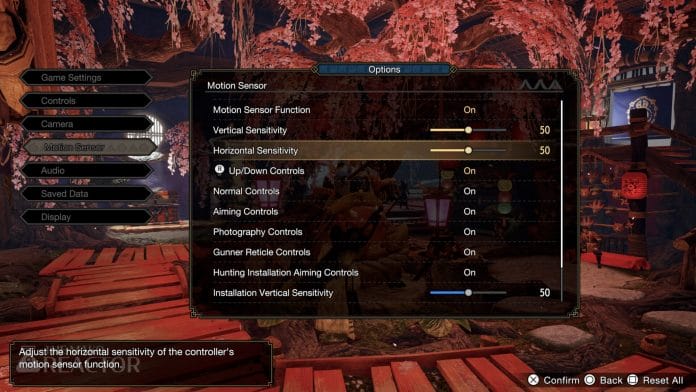 Monster Hunter Rise PS5 Graphics Options, Performance Mode, and More
In recent console games, you usually have options to prioritize frame rate or resolution. The PS4 Pro and Xbox One X gave rise to many console games allowing you to pick a higher frame rate or opt for a higher resolution instead. This carried over to many PS5 and Xbox Series X games with the difference being a 120hz target included for some games like Overwatch 2 or the new Uncharted collection. The display options for Monster Hunter Rise let you set the performance settings to Prioritize Frame Rate (lower resolution for a 120hz target), default, or Prioritize Graphics (4K 60fps target). This is what Capcom advertised, but I didn't expect the developer to include the full advanced graphics settings menu from the PC version here.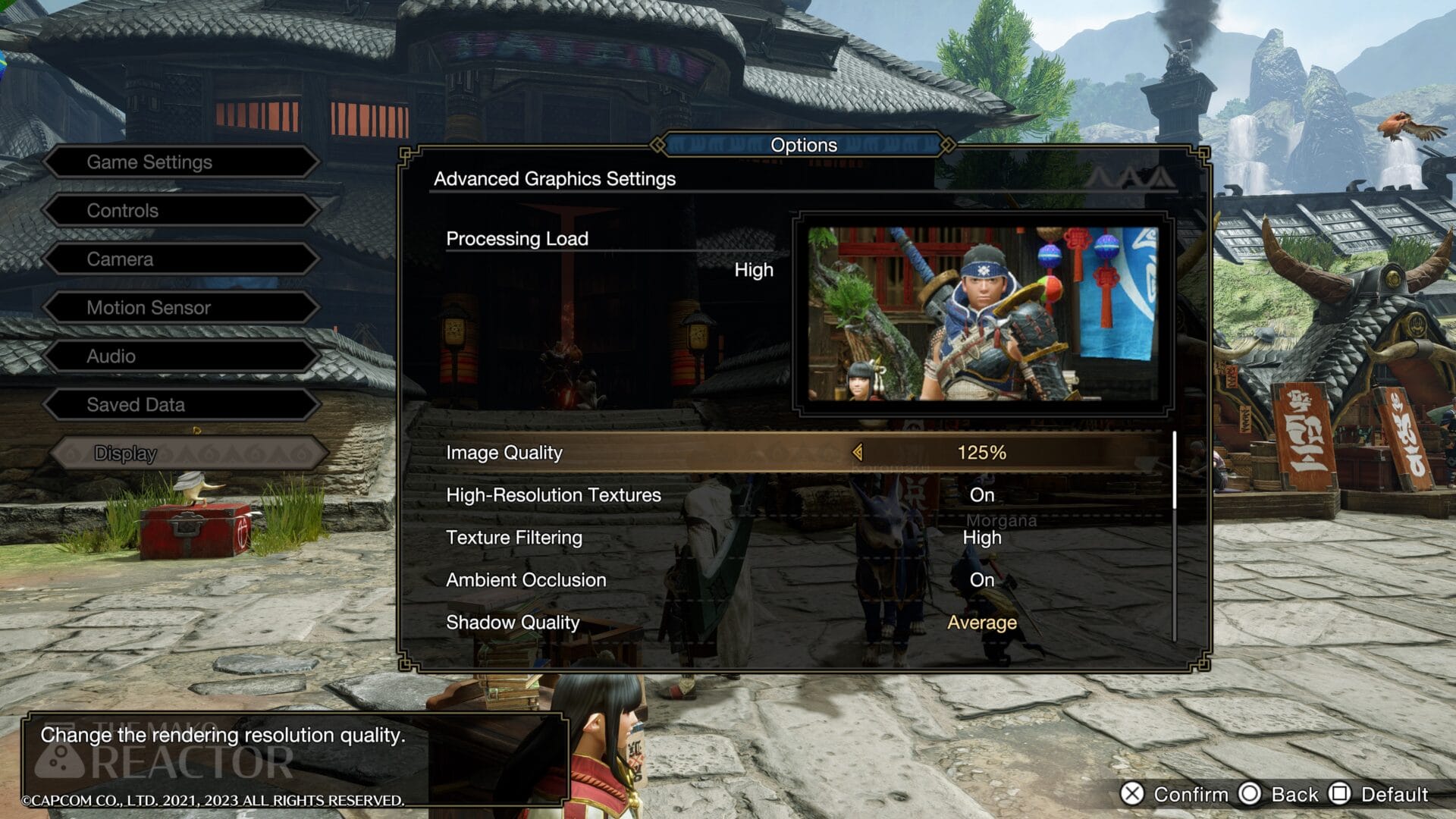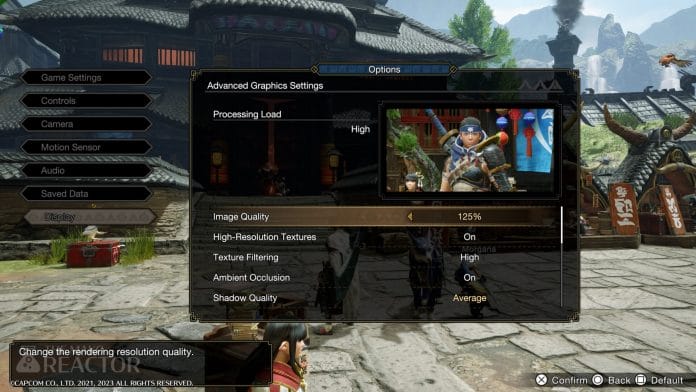 This was surprising and great to see because I wasn't happy with how the game looked at the Prioritize Frame Rate setting. The advanced menu lets you adjust image quality (70%, 100%, 125%), toggle high resolution textures, toggle ambient occlusion, change shadow quality (low, average, high), toggle dynamic shadows (only from the title screen), toggle foliage sway, adjust motion blur (off, default, heavy), toggle lens distortion, adjust vignette effect (off, default, heavy), toggle depth of field, toggle film grain, and also use the visual filters like warring lands style. All of these settings also include a preview with a mention of how much processing load they require.
I imagine most people will stick to the presets, but I spent a bit of time in the more demanding maps to tweak the settings to get it running well above 60fps and not look too bad on my 1440p monitor. I'm looking forward to a full technical analysis here from Digital Foundry if they do cover this release. It was interesting seeing how much the PS5 could be pushed with Monster Hunter Rise in my testing though. I'm very pleased with the performance and visual options here. I was hoping to see the 21:9 option (like with Death Stranding Director's Cut) included here, but it isn't present as of this writing.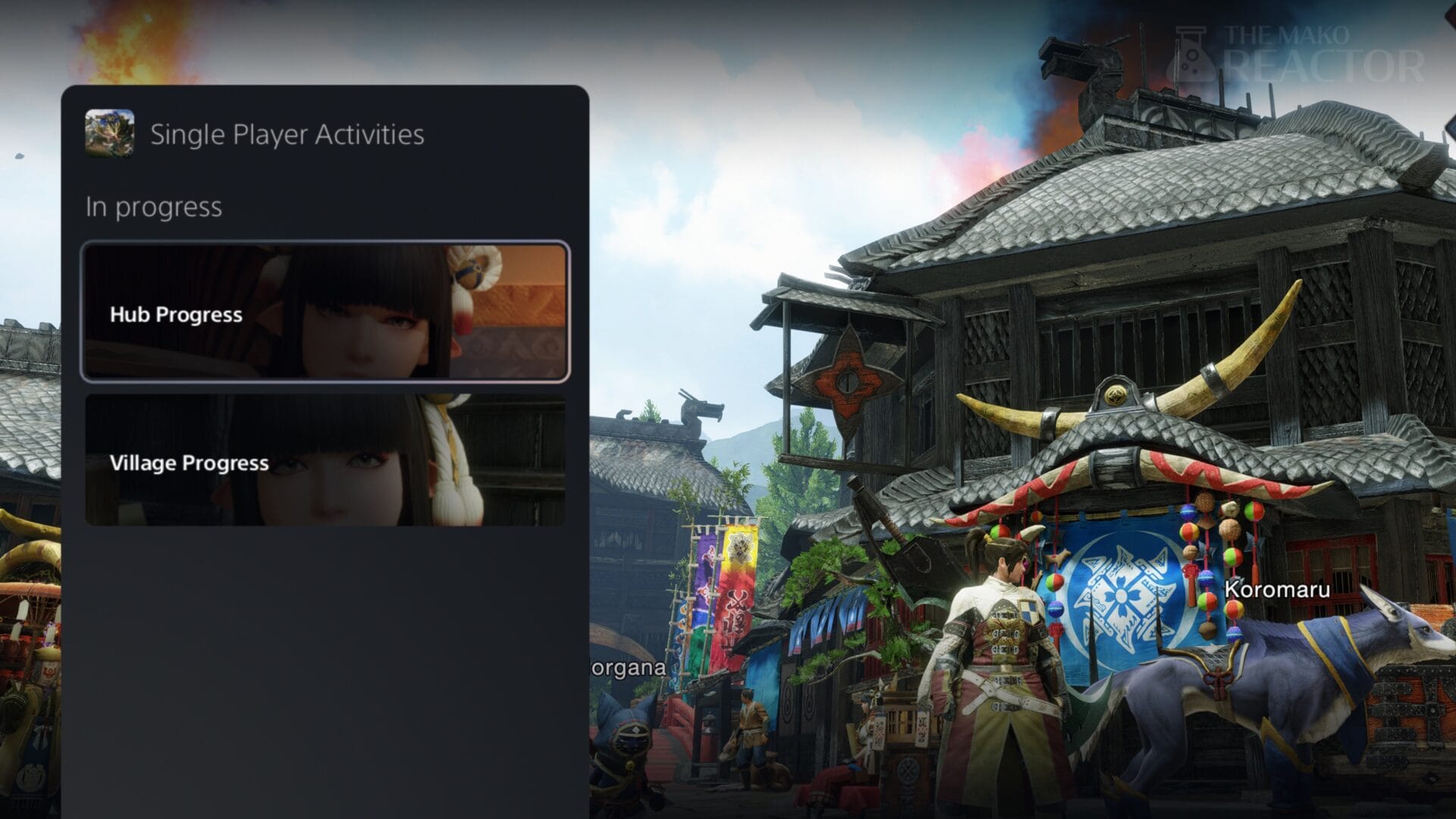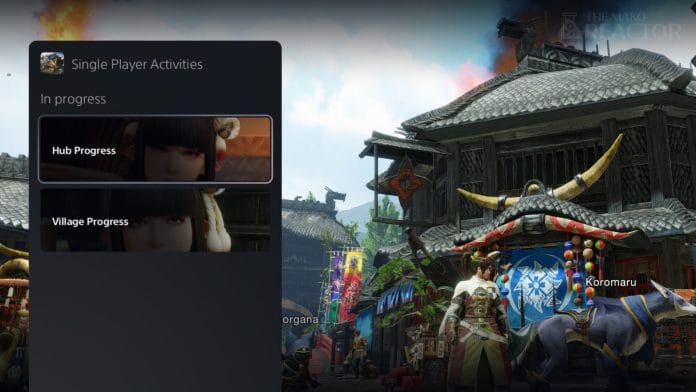 Monster Hunter Rise – is it worth playing the base game in 2023?
This is something that depends on how much time you have to play the game right now leading into Spring 2023. Getting Monster Hunter Rise out before Wild Hearts is smart for sure, but I'm still conflicted because of how amazing Monster Hunter Rise: Sunbreak is. The bright side to this situation is that this version of Monster Hunter Rise actually has the Sunbreak updates for the base game like the improved wall running included. That allows for a much nicer Rise experience. If you are the kind of person who puts in tons of time into a game at launch, you might end up disappointed with Rise's endgame compared to how Iceborne was.
If you are ok with getting Rise to play with friends slowly and then do event quests on and off, you might end up finishing all the content on offer by the time Sunbreak is available. I wish Sunbreak was available at launch so this could've been the perfect package with all its superb performance, improved visuals, and PS5-specific features. Right now, this is a brilliant version of Monster Hunter Rise, but it is still Monster Hunter Rise and not Monster Hunter Rise: Sunbreak. Hopefully my Monster Hunter Rise PS5 review helped you decide if it is worth spending your time on this right now or waiting for Sunbreak in Spring 2023.