Yesterday, Arc System Works revealed a new Guilty Gear Strive trailer during its stream that also finally revealed the release date, editions, and more for the highly anticipated fighting game. In addition to confirming not one but two characters, Arc System Works also revealed an open beta, pre-order bonus, and season pass in addition to many editions for all platforms. The company previously confirmed that Guilty Gear Strive is coming to PS5 and PC via Steam in addition to PS4. Today, Arc System Works has confirmed the editions for consoles and PC in North America. Watch the Guilty Gear Strive trailer below:
Guilty Gear Strive PS5 Ultimate Edition physical edition contents
The Guilty Gear Strive PS5 Ultimate Edition at retail will be up for pre-order here for $99.99 and at other online retailers soon for North America. The contents are below:
Guilty Gear Strive Main Game
Season Pass 1
GGST Digital Soundtrack and Artworks – an application that displays various illustrations while playing music from the game. As a bonus, the music can be transferred to personal storage devices such as USB drives as well.
GGST Ultimate Edition Special Colors that adds 5 colors for each character
GGST Special Colors for Sol and Ky (Early Purchase Bonus)
GGST Heavy Metal Game Case
GGST Premium Box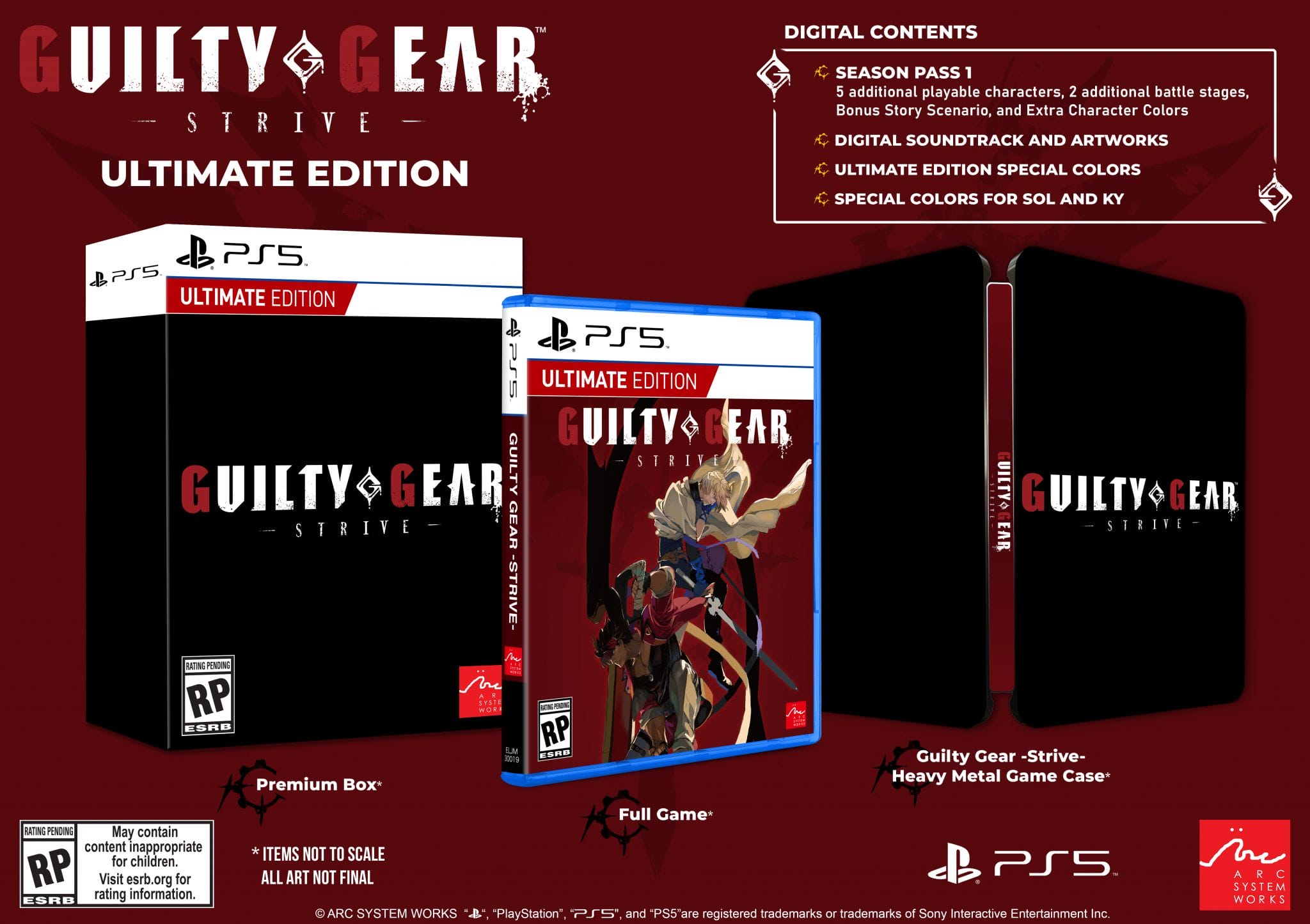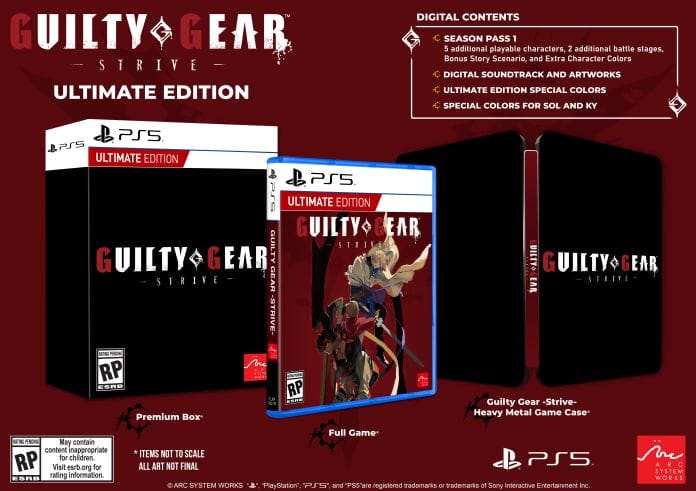 Guilty Gear Strive PS5 editions
In addition to the standard and ultimate physical editions, Guilty Gear Strive has a standard, deluxe, and ultimate edition available digitally. Check out the differences below: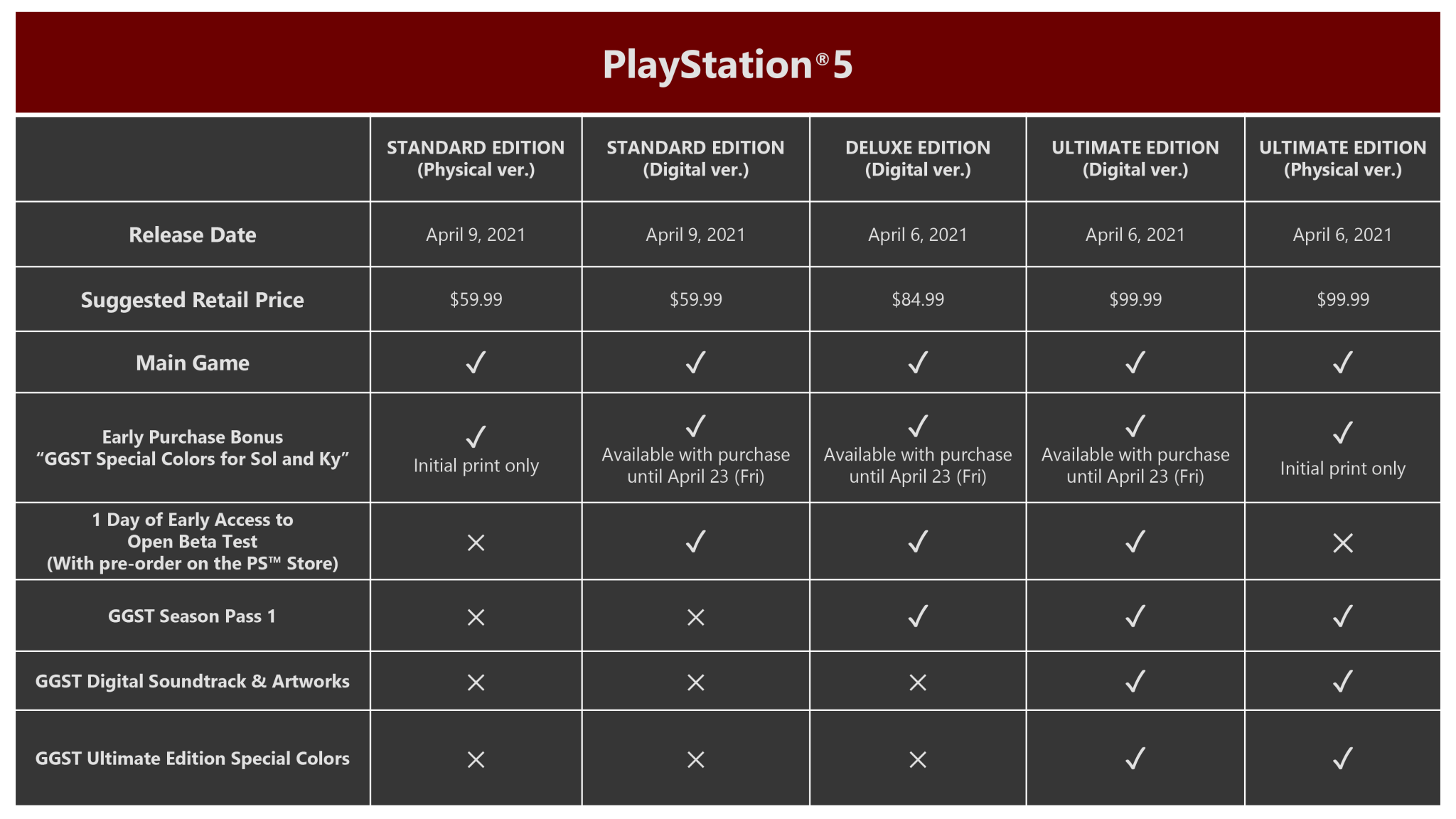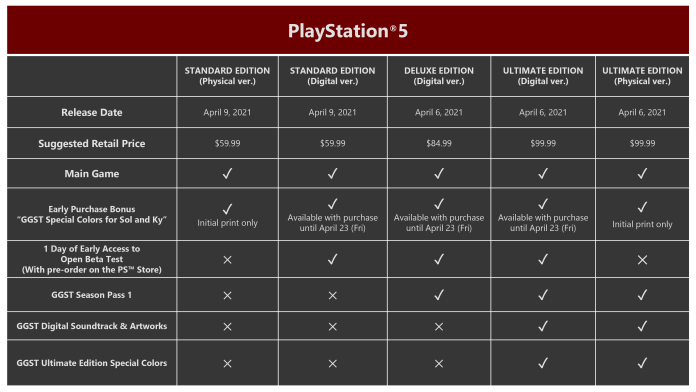 Guilty Gear Strive PS4 editions
Guilty Gear Strive on PS4 has one retail edition and multiple digital editions in North America. Check the editions out below: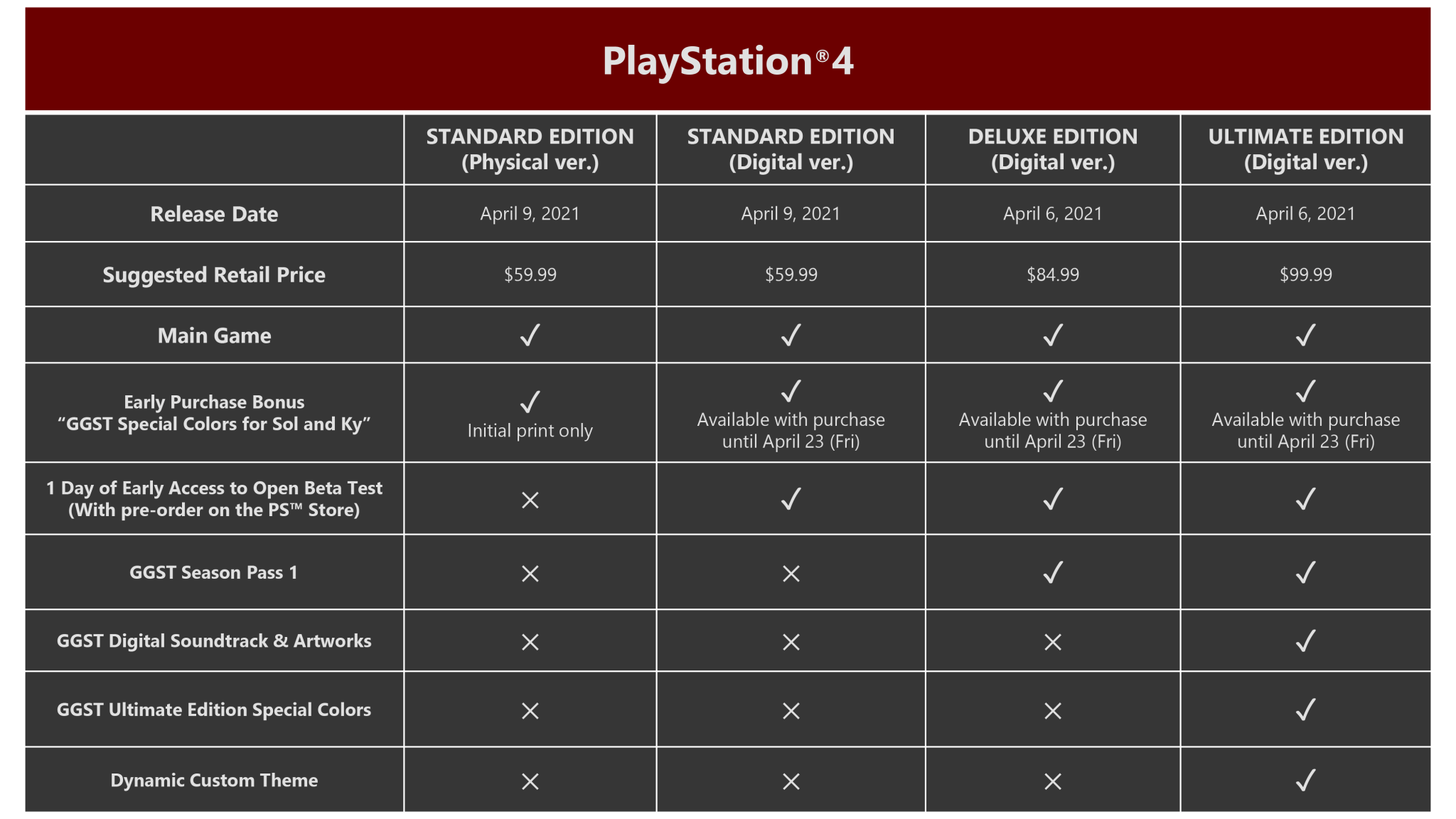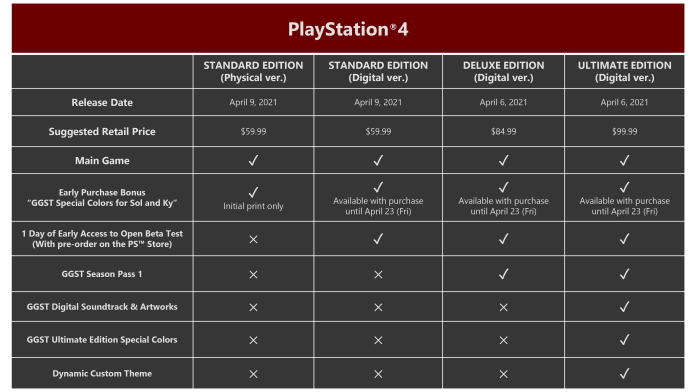 Guilty Gear Strive PC editions
On PC, Guilty Gear Strive has only a standard and a deluxe edition. There is no ultimate edition for PC. Check out the pricing and editions for Guilty Gear Strive on Steam below: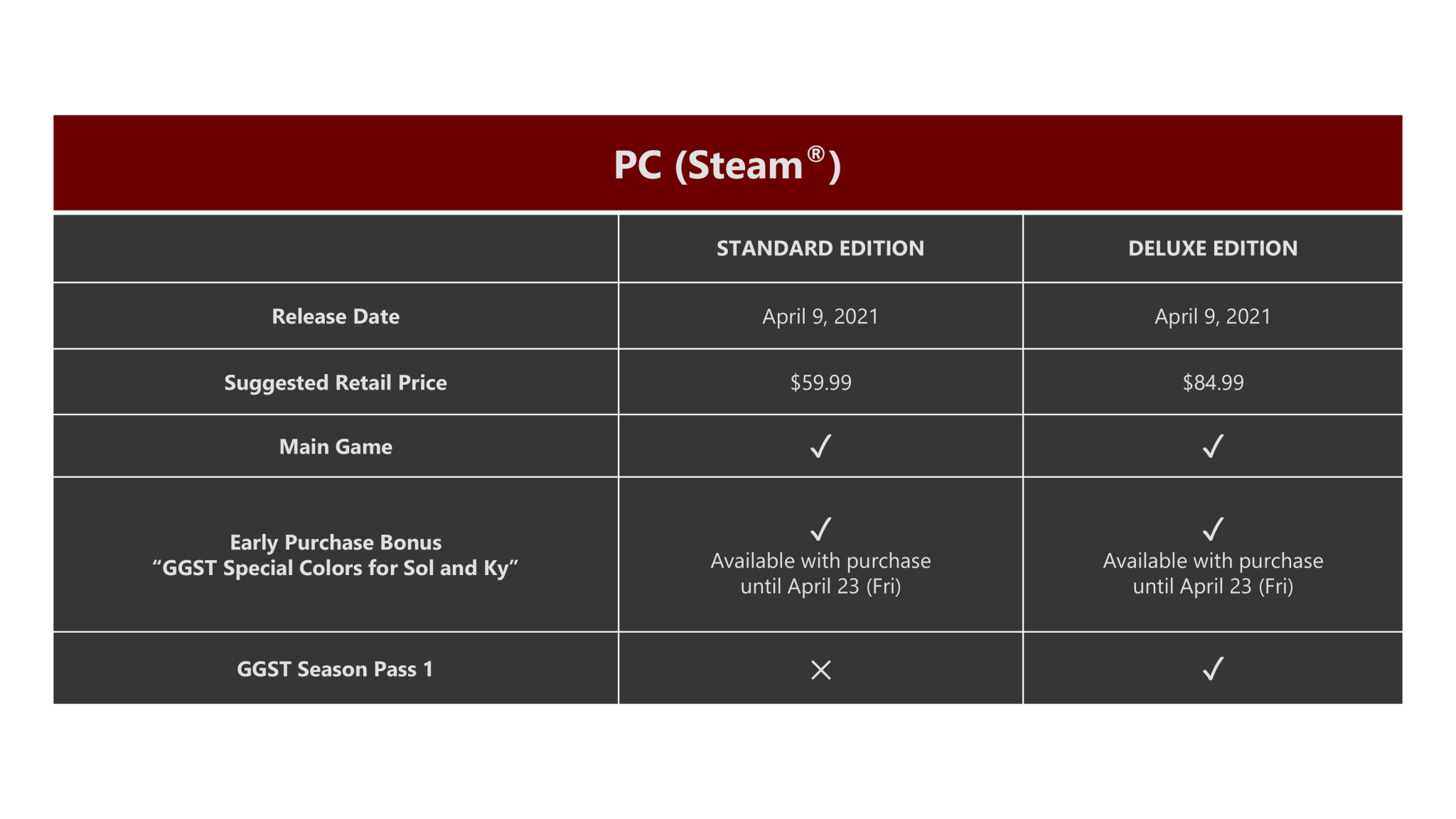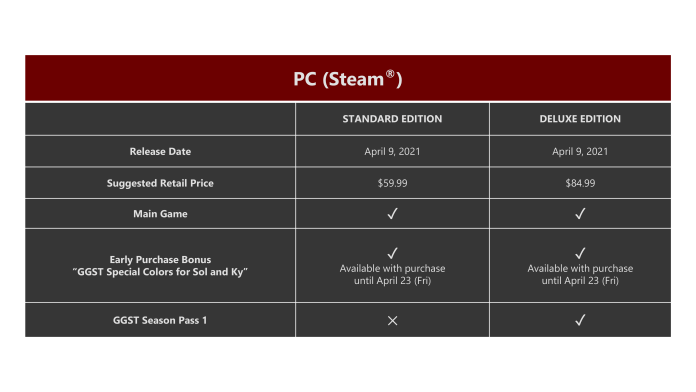 It is good to see Arc System Works keep the pricing of the PS4 and PS5 versions same. For Guilty Gear Xrd Sign, the PS3 version was $49.99 while the PS4 version was $59.99.
Guilty Gear Strive pre-order bonus
The Guilty Gear Strive early purchase bonus is a set of special colours for Sol and Ky that swap their colours. Digital pre-orders also include one day early access to the open beta.
Guilty Gear Strive new character announcements
Today, Giovanna was announced for Guilty Gear Strive alongside a tease for Anji Mito. The next character will be revealed on January 1, 2021. Watch the new trailer below:https://www.youtube.com/embed/RDIV-1WbI8c?feature=oembed&enablejsapi=1
Guilty Gear Strive base roster
The Guilty Gear Strive base roster includes 15 playable characters. This includes
Guilty Gear Strive Season Pass 1 contents and price
Guilty Gear Strive Season Pass 1 includes five playable characters, five additional character colours, two stages, and additional story content. The pass will be priced at $29.99 on release.
Guilty Gear Strive open beta
An open beta is planned for early 2021 on PS4 and PS5 only.
Will Guilty Gear Strive release in India
While it will release digitally, it is unclear whether the game will see a retail release in India despite Bandai Namco Entertainment having an official distributor in the country. E-xpress Interactive has skipped bringing certain Bandai Namco Entertainment games in the past like Tales of Vesperia Definitive Edition, Digimon Story Cyber Sleuth, and more.
Guilty Gear Strive releases on April 6, 2021 for Ultimate and Deluxe Edition owners and April 9, 2021 for Standard Edition owners on PS4 and PS5. For PC, the standard and deluxe release on April 9, 2021.