Arc System Works recently revealed the Guilty Gear Strive release date for PS4, PS5, and PC via Steam and confirmed that the game has a free upgrade for owners of the PS4 version for PS5. PS4 disc owners will not be able to upgrade to the PS5 version if the console is a PS5 digital edition. Guilty Gear Strive PS4 will be playable via backward compatibility as well but it will be limited to the PS4 version's performance and support a maximum output of 1080p. Today, a new Developer's Backyard blog post for Guilty Gear Strive went up with a lot of details about characters but it also confirmed that Arc System Works is looking into bringing full crossplay for Guilty Gear Strive across PlayStation and PC. Watch the newest Guilty Gear Strive trailer below:
Guilty Gear Strive will not have crossplay at launch for PC
The post mentions that the team has gotten many requests for implementing crossplay between PC and consoles and that there are many problems that need to be addressed before implementing crossplay. It will not be there at launch for PC and console. PS4 and PS5 players will be able to play together though. The post also mentions that the team is looking into implementing it in the future. While this doesn't confirm that crossplay is guaranteed given the problems, at least the team is looking into it. Check out the full response for crossplay below: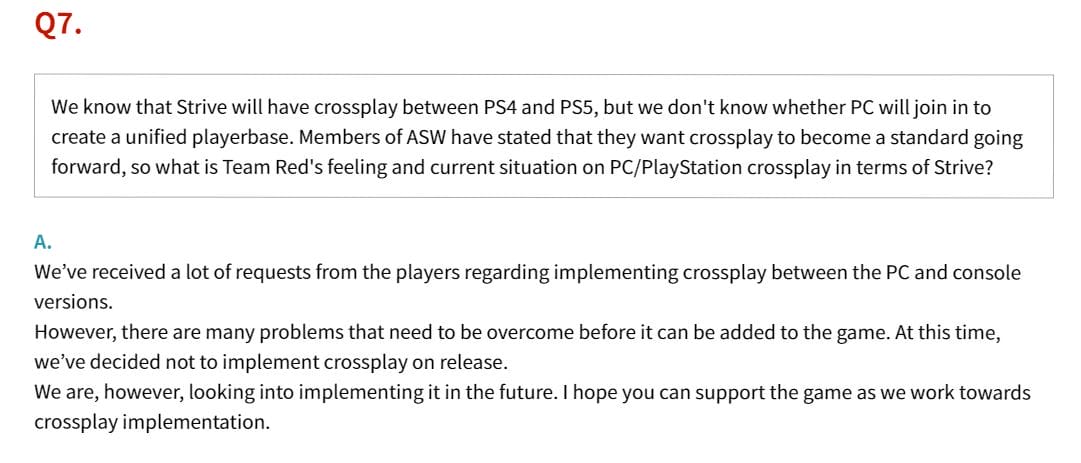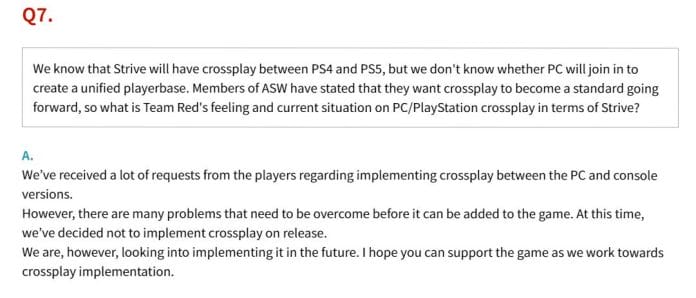 Guilty Gear Strive base roster
The Guilty Gear Strive base roster includes 15 playable characters. This includes
Guilty Gear Strive Season Pass 1 contents and price
Guilty Gear Strive Season Pass 1 includes five playable characters, five additional character colours, two stages, and additional story content. The pass will be priced at $29.99 on release.
Guilty Gear Strive open beta
An open beta is planned for early 2021 on PS4 and PS5 only.
Will Guilty Gear Strive release in India
While it will release digitally, it is unclear whether the game will see a retail release in India despite Bandai Namco Entertainment having an official distributor in the country. E-xpress Interactive has skipped bringing certain Bandai Namco Entertainment games in the past like Tales of Vesperia Definitive Edition, Digimon Story Cyber Sleuth, and more.
Guilty Gear Strive releases on April 6, 2021 for Ultimate and Deluxe Edition owners and April 9, 2021 for Standard Edition owners on PS4 and PS5. For PC, the standard and deluxe release on April 9, 2021.