Updated on November 30 at 4:30 PM – Added purchase links for Happy Chaos DLC who is out now.
Earlier in the month, Arc System Works revealed Guilty Gear Strive's third DLC character from Season Pass 1 as Happy Chaos who is out now for Season Pass owners. The Guilty Gear Strive version 1.11 update will begin rolling out across platforms very soon with support for Happy Chaos, new room customization, and a lot more. Guilty Gear Strive from Arc System Works and Bandai Namco Entertainment Europe arrived on PS5, PS4, and PC via Steam earlier this year. It has since added Jack-O as DLC and Goldlewis Dickinson as DLC. If you've not gotten Guilty Gear Strive yet, it is one of the best games of the year. Read my review of the PS5 version here. Read my PS4 and PS5 comparison here. Watch the Guilty Gear Strive Happy Chaos gameplay showcase below:
Guilty Gear Strive Happy Chaos release date
Players who own the GGST Season Pass 1 will have access to Happy Chaos from now. Version 1.11 is required as expected. Those who don't will get access to Happy Chaos individually on December 3 for PS4 and PS5 and November 30 on PC via Steam.
Guilty Gear Strive Happy Chaos DLC link
You can buy Happy Chaos here on Steam and here on the PS Store for $6.99 once it releases for all. It should show up as free or in your library already depending on your platform if you own the season pass.
Guilty Gear Strive version 1.11 update patch notes
General / Game Modes
・Added "Happy Chaos" as a playable character.
※Players who have purchased "GGST Season Pass 1" will have access to the playable character after the update patch is applied on November 30.
 ※Individual sale for the PS4 and PS5 versions will begin on December 3.
 ※Individual sale for the Steam version will begin on November 30.
・Added Happy Chaos's BGM, "Drift."
 ※Happy Chaos must be selectable in order to use the BGM.
Network Mode
・Added "Room Customization" to Player Match.
 You can customize your player room by selecting NETWORK > PLAYER MATCH > ROOM CUSTOMIZATION from the menu.

・Added a fishing option exclusively for Room Customization items.
[Issue with Network Play]
We have confirmed several issues with network disconnections, connection errors, and difficulty matching in online lobbies and player matches.
We are continuously looking into the cause and trying to find solutions for these issues.
We apologize for any inconvenience caused.
Guilty Gear Strive version 1.11 update character balance adjustments
[System]
・Fixed a bug where characters would sometimes behave strangely after a successful throw clash.
・Fixed a bug where the character would be blown back in a different direction depending on the direction they were facing after being hit with a Psych Burst or Roman Cancel while their position completely overlaps with the opponent.
・Fixed a bug with unnatural behavior occurring after activating Roman Cancel directly after inputting the dash button.

[May]
・Mr. Dolphin (Horizontal) HS Version Fixed a bug with the Wall Break value scaling after the Version 1.10 update.

[Chipp Zanuff]
・Zansei Rouga Fixed a bug where Chipp would sometimes land during the motion.

[Potemkin]
・Giganter Kai Fixed a bug where the hitbox would remain after it should no longer be active.

[Zato-1]
・Damned Fang Fixed a bug where the opponent would move to an unintended position after activating a Roman Cancel directly after being successfully grabbed by this move.

[Ramlethal Valentine]
・Fixed a bug where her swords would behave strangely under certain conditions such as after a successful throw clash, etc.

[Jack-O']
・Fixed a bug where Jack-O' would be unable to attack a Servant at a certain timing after the Servant lands.
・Fixed a bug where sometimes Servants would be erased by Jack-O's attacks.
・Fixed a bug where Servants would take an unintended trajectory after being hit by Jack-O's Standing Close S or
Standing Far S after the update to Version 1.10.

■Other
・Fixed other minor issues.
Guilty Gear Strive DLC roadmap for season 1 characters and stages
The Guilty Gear Strive DLC roadmap includes free updates, paid DLC, and more.
July 2021: Additional character 1 – Goldlewis Dickinson
August 2021: Additional character 2 – Jack O
November 2021: Additional character 3 – Happy Chaos
After Fall 2021: Additional characters 4 and 5, two additional battle stages, another story.
Another story will only be included in the Season Pass and not sold separately.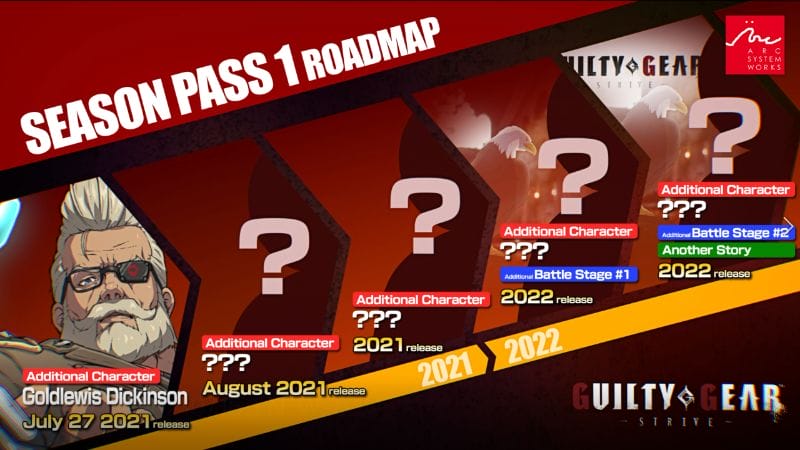 Guilty Gear Strive free update plans
Periodic additions after release for Guilty Gear Strive include:
Combo Maker
Additional customization features for player match rooms
Digital Figure Mode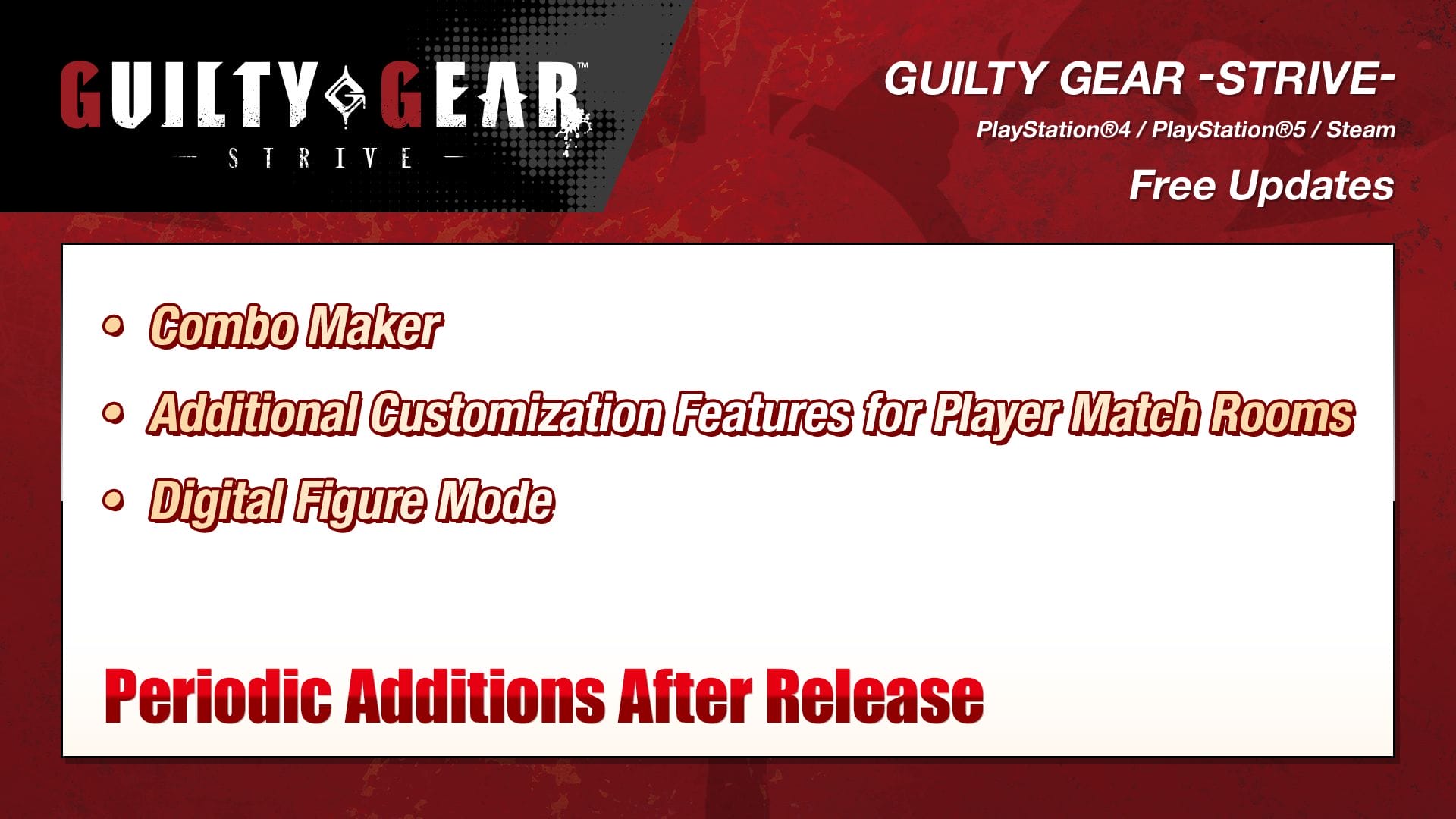 Guilty Gear Strive full roster
The Guilty Gear Strive base roster includes 15 playable characters. This includes
Guilty Gear Strive Season Pass 1 contents and price
Guilty Gear Strive Season Pass 1 includes five playable characters, five additional character colours, two stages, and additional story content. The pass will be priced at $29.99 on release.
Guilty Gear Strive is out now on PS5, PS4, and Steam.